Tiny Bath Tubs On Pinterest
Tiny bath tubs are a unique alternative to a standard tub. Pinterest is a great resource to find tiny bath tubs. I love how easy it is to find so many choices in one catalog with Pinterest. I love Pinterest over all social media because you can search for only what you want to see instead of being bombarded by all the trauma that is going on in the world.
Every cabin Dave builds is custom built to order and he follows what the customer desires. I would love to encourage everyone to check out the options that are out there to give your cabin it's own unique feel.  A gorgeous bath room is one way to express yourself and it is one room in the cabin that should promote peace and tranquility. All you need to add is soft towels, candles, essential oils  and your own touch, maybe a tile floor and a tiny bath tub.
Custom Tile And Tiny Bath Tub And Shower
Choose A 10′ Wide Cabin If You Want A Bath Tub
If you would like to add a bath tub / shower combination you will need to have a custom cabin built that is at least 10′ wide. The cabin Dave built for me is almost 11′ wide with a standard size bath tub/shower and it even has a stack-able washer/dryer in the bathroom and it is not cramped. My cabin is The Nostalgia Cottage and it is a rental. If you are building your cabin for a rental, a tiny bath tub will always be a hit with the ladies. After discovering all these beautiful tiny bath tubs, meant for small spaces, I wish I had chosen one.  I am going to share a few of my favorites.
Claw Foot Inspired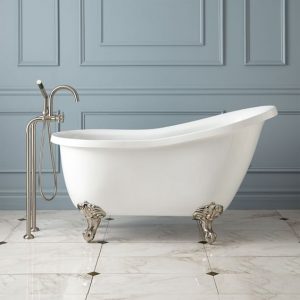 The Ultra Acrylic Slipper Clawfoot   has a Victorian-inspired shape and imperial claw feet make it a welcome addition to any home. It is sold by Signature Hardware.
Tubby Tub Short Roll Top Bath Tub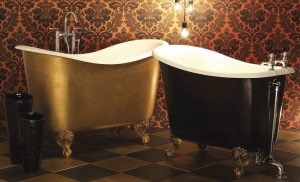 Tubby Tub short free standing bath tub measures four feet  in length, and is comfortably deep. This results in a short, compact bath that still allows an average sized person to submerge themselves.  The Tubby is sold by Albion Bath Collection .
Japanese Soaking Tubs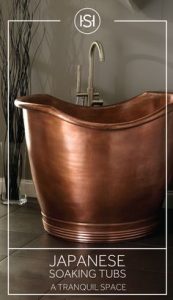 With its unique slipper design and round base, the 39″ Velletri Copper Japanese Soaking Tub offers a relaxing soak with a built in seat.  The tub is made  of glowing copper and elevated on an integral plinth. It is sold by Signature Hardware.  
Signature Hardware is a great source for farmhouse sinks and other unique sinks as well. There are many more choices of material for Japanese Soaking tubs made out of wood.
Compact Walk In Tub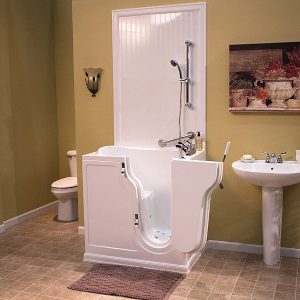 The Oasis Walk In Tub with the  side-opening door provides the perfect alternative to traditional bathtubs when working in a small bathroom space. This compact, deep soaking bath features a contoured, slip-resistant seat that allows you to sit down and bathe in a comfortable, safe, upright position while being completely supported.
The optional shower canopy transforms this deep soaking tub into a more traditional, yet safer, bath and shower combination. Complete with an adjustable shower-head with wall-mounted riser rails that can easily be moved to the ideal height for each bather, as well as a custom fit shower canopy. Sold by Premier Care In Bathing.
Horse Trough Inspired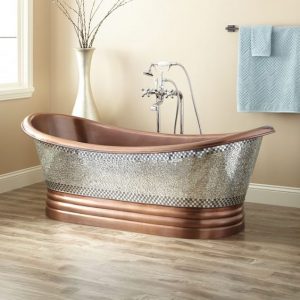 Constantine Mosaic Copper Double-Slipper Tub    
This double-slipper bathtub is truly a work of art. The antique copper finish contrasts beautifully with the mirror mosaic pieces that are intricately inlaid into the exterior. Sold by Signature Hardware. 
There are so many unique ways to have a bath tub including galvanized tubs and stock tanks  for a more rustic, masculine style.  When filling out the quote for your cabin, there is a lot of room for notes and you can add links and upload photos.
janet@tinyportablecedarcabins.com
509 770 1694
509 345 2013
Save
Save
Save
Save
Save
Save
Save
Save
Save
Save
Save
Save
Save
Save
Save
Save
Save
Save
Save
Save
Save
Save
Save
Save
Save
Save