Tiny Paradise Cabin: The Perfect Beach Cabin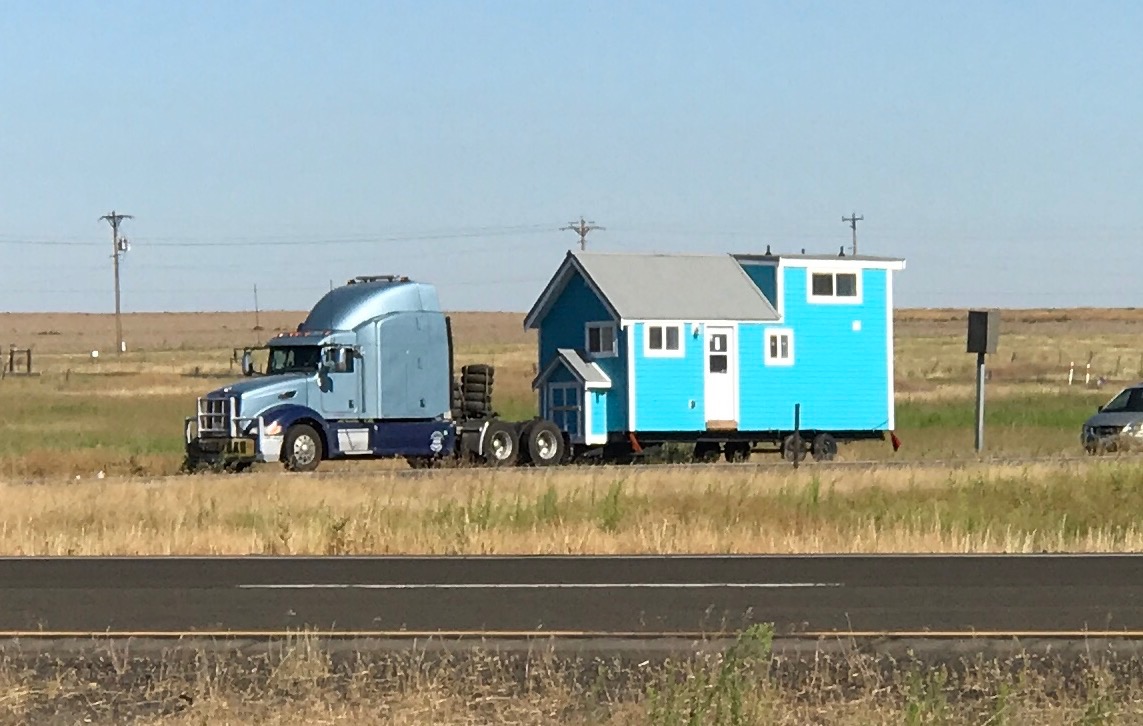 The Tiny Paradise Cabin was just delivered last weekend. In fact, as I was driving  to see Dave, it was parked at a rest stop across the highway and we got to get a great photo of it being delivered. The dimensions are 10′ wide X 25′ in length. It was also 15.6 tall which is considered over height. The delivery required a semi truck to deliver the cabin and 2 pilot cars because it was over height and over width. I LOVE this yummy blue color and white trim, so fresh and happy. The siding is hardie plank, an upgrade choice.
Raised Living Area
The living area is raised allowing for storage underneath.
Starting Price Is $46,500
The starting price for the Tiny Paradise  is $46,500.   The customer had a lot of upgrades. I will be listing the standard specs and the upgrades underneath. The standard interior is natural pine, she chose to have it painted white which is gorgeous with the wood accents. She also added an A/C, radiant floor heat, a dishwasher, a washer/dyer combo, butcher block counter top,  dishwasher and an on demand water heater which are all upgrades.
Built For All Seasons
Dave builds for all seasons. It is 2 X 6 construction, R21 Insulation, double pane windows and can adjust the trusses for any snow load requirements.
Every cabin is custom built to order. You are never limited to the style, floor plan or colors. You get to design right along with Dave. Review the Start Here page to understand your options.
Tiny Paradise Standard Base Price Includes:
Custom Built Steel Trailer
Metal roof ( Your choice of color )
8" Cedar lap siding ( Siding Options )
T&G 3/4 Sub floor
7/16 OSB sheet vapor wrap
2 X 6 walls 16" 0/C
2 X6 floor joist16" O/C
One 32 " Steel door
Light ladder that hooks on the wall
Laminate Flooring
Linoleum in bathroom
Pine Interior on walls and ceiling
Ceiling fan and light kit in living area
Standard toilet
32" to 36" shower or shower/standard tub combination
20 Gallon hot water heater
Stainless steel kitchen sink
Lower kitchen base cabinets
Rustic shelves over kitchen sink
Base board heat or wall mounted heat
2 Burner built in electric or propane cook top
Under the counter frig
50 amp electrical panel
Porch light
Light and fan in bathroom
Sconce lighting in loft
25 Foot RV Cord
R21 insulation in the walls, ceiling and flooring
Various Windows are included and will be discussed at the time of quote
Additional Upgrade Options
Radiant Floor Heat / $2000.00
EPA Certified Wood or Pellet Stove/From $1500.00 to $ 1800.00 : Includes Slate or Stone
Dickinson's Propane Marine Heater: Installation and inverter $ 1100.00
Propane OR Natural Gas Log Fireplace With TV Mantle 30" or 36"-$2200.00 to $2400.00
Washer & Dryer / $1250.00 ( $ 200.00 extra to convert gas dryer to propane)
Washer Dryer In One $1800.00 ( Includes Installation )
Propane on demand hot water heater / $950.00
10′ Cubic Refrigerator $599.00
17′ Cubic Refrigerator $799.00
20" 4 Burner Gas Stove And Oven $800.00
24" 4 Burner Gas Stove And Oven $950.00
30″ 4 Burner Gas Stove And Oven $1050.00
Dishwasher $ 600.00
AC / $550.00
Sliding Barn Door $ 600.00
French Doors 6′ $ 800.00
Sliding Patio Door 6′ $ 500.00
Nature's Head Compost Toilet $960.00
Two 5 Gallon Propane Tanks with gauge and regulator $ 250.00 ( propane not included )
Utility Shed for propane tanks $ 800.00
Stairs with storage $ 1000.00
Built in desk $250.00
Breaks and lights on trailer $350.00
Additional Upgrade Options: Add To Your Quote Notes
Decks
Lofts
One Inch Foam Insulation
Wainscotting
Granite Counter Tops
janet@tinyportablecedarcabins.com
509 345 2013
509 770 1694
Save
Save
Save
Save
Save