Oregon Clarifies Tilting Park Models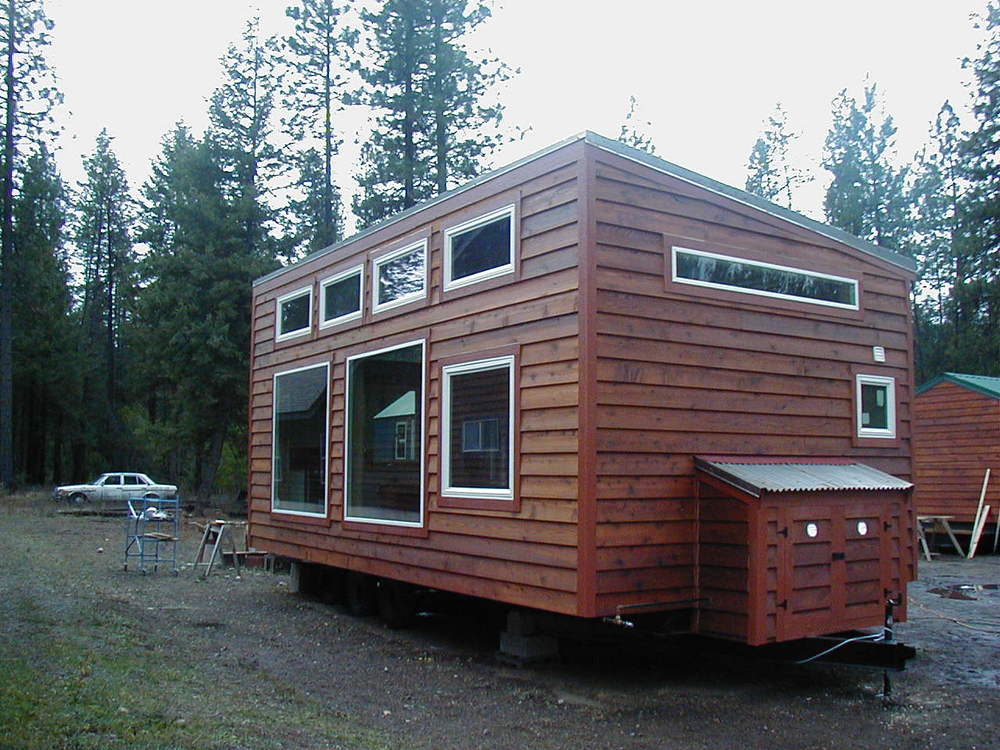 Continued Problems Between Two Agencies August 26th, 2019
The Oregon DMV, meanwhile, said state law until recently prohibited it from providing titles to park model RVs because they're not street-legal and aren't considered a vehicle. The Legislature passed House Bill 2333 to expand the DMV's responsibilities to include park model RVs, but that law doesn't take effect until Jan. 1.
Bill Update Effective January 1st, 2020
Allows Optional Titling of Park Model RVs by DMVHouse Bill2333 Effective Date: Jan.1, 2020
"Park Model Recreational Vehicle" (PMRV) is the term for a cabin-like structure, manufactured for temporary or seasonal use, mounted on a trailer, and having an area less than 400 square feet. Most exceed the usual 8.5 foot maximum widthto be considered a "vehicle" under current Oregon statute. They have been existing in a legal gray area for some time, with no state or local agency issuing them an ownership document. Such documents are routinely required for purchasers to secure financing. House Bill2333 codifies a definition of PMRVs, to be further detailedby DMV in rule, and specifies PMRV's eligibilityfor an ownership document at DMV via the optional titling statute. The bill specifically prohibits DMV from issuing registration ( license plates ) to a PMRV.
Oregon Update July 3rd, 2019
Article Source Tiny Home Industry Association
In 2017, The Oregon Building Codes Division Changed The Definition Of Park Models
In 2017,  Oregon decided not to allow park models to be titled at the DMV, after the Oregon Building Codes Division changed the definition of  park models.  I am simplifying the story, but it actually turned out to be a mistake. See articles at the end of the blog post for the backstory.
This decision caused an avalanche of problems for consumers, builders, lenders,  zoning and over all anyone involved in this industry in the state, or manufacturers from other states that sold to parties in Oregon.
We actually had an Oregon  customer in the middle of this mess. I spoke with an assessor's office in the state a year ago and he advised me to have the customer come into the office and they would be given a Home ownership's document and added to a personal property tax roll. He also told me they would then  appraise the home sometime after Jan. 1st. A title could not be issued.
Spring Forward To Today
I decided to do some research on this today to see if Oregon had changed it's views on titling park models. I found an article saying it had finally been clarified and they were going to be titling them again.
I called the same assessor's office and they told me that nothing had changed. I mentioned the article and they were not aware of it. I then googled a Bend builder and he clarified everything for me and in fact was a moving force of changing the ruling. I spoke to Micheal J of 121 Tiny Homes. He was gracious with his time and I was grateful that he cleared it up for me and potential customers.
After speaking to him, I found only about 3 more articles. You would think such an announcement would have been widely covered in the media and celebrated, but the new ruling was barely even
covered and not all parties that needed to know the ruling were notified.
Press Release From The State And DMV
After a lot of research, I found a press release from both the DMV and the State, so I feel confident that I am sharing relevant news, even though it is a year old. Yes park models can be titled in Oregon again!
Building Codes Division rule clarifies titling of recreational park trailers ("tiny houses on wheels")June 06, 2018
SALEM – The Oregon Building Codes Division (BCD), in cooperation with Oregon Driver & Motor Vehicle Services (DMV), filed an administrative rule June 1, 2018, to help provide a mechanism for recreational park trailer (tiny houses on wheels) manufacturers to obtain an ownership document from DMV.
The new rule defines a "recreational park trailer" as:
• A single living unit that is primarily designed and completed on a single chassis, mounted on wheels, to provide temporary living quarters for recreational, camping, or other seasonal use;
• Is certified by the manufacturer as complying with a nationally recognized standard for the construction of recreational vehicles; and
• Has a gross trailer area not exceeding 400 square feet in the setup mode.
"We believe this rule will help provide clarity for manufacturers and allow an unfettered path to titling these types of recreational vehicles in Oregon," said Mark Long, Building Codes Division administrator.
BCD filed the rule change after learning its attempt to deregulate this important emerging industry inadvertently affected the eligibility for tiny houses on wheels to apply for a vehicle title.
Under the new rule, DMV will be able to issue a title for recreational park trailers and file the ownership information in its records. Recreational park trailers may be moved in the following ways:
• Shipping by a commercial moving company
• Vehicle trip permit from DMV –http://www.oregon.gov/ODOT/DMV/pages/vehicle/trippermit.aspx
• Over-dimension permit from the Motor Carrier Transportation Division if the load is more than 8.5 feet wide – http://www.oregon.gov/ODOT/MCT/Pages/Over-Dimensio…
DMV is currently informing staff at its 60 field offices and headquarters processing center to start accepting title applications for recreational park trailers.
Any time you need to visit a DMV office, first check www.OregonDMV.com to find office hours and locations, and to make sure you have everything you need before your visit. You also can do some DMV business from home at OregonDMV.com.
The Building Codes Division is part of the Department of Consumer and Business Services, Oregon's largest business regulatory and consumer protection agency. Visit www.bcd.oregon.gov.
Contact Info:
Brett Salmon, stakeholder outreach/public affairs
Building Codes Division
503-378-8034
brett.d.salmon@oregon.gov
David House, DMV/Motor Carrier Public Affairs
503-945-5270
david.j.house@odot.state.or.us
Tiny Home Builders Say Rule Keeps Industry Small
This is a little bit of the back story in Oregon. Click Here.
Proposed Oregon Rule May Impact Park Models
Article  Click Here.
Oregon Ends State's Options For Movable Tiny Houses
Article Click Here
Where The Madness Began
BCD Issues New RV Construction Rule Feb 3th, 2017
The changes were developed because of confusion as to when a building is to be considered a temporarily occupied recreational vehicle and when it falls under the requirements of the building code. Many recreational vehicles can be designed to look like a regular house, such as is common with the so called "Park models." The rule change will allow the local community to regulate when temporary structures can be occupied and when building permits will be required for those that are deemed to not be temporary.
Article Source Oregon Home Builders Association
More Backstory: Public Comments On Reddit
Article Click Here