Block Project Seattle Backyards Needed
Yes In My Backyard: The Block Project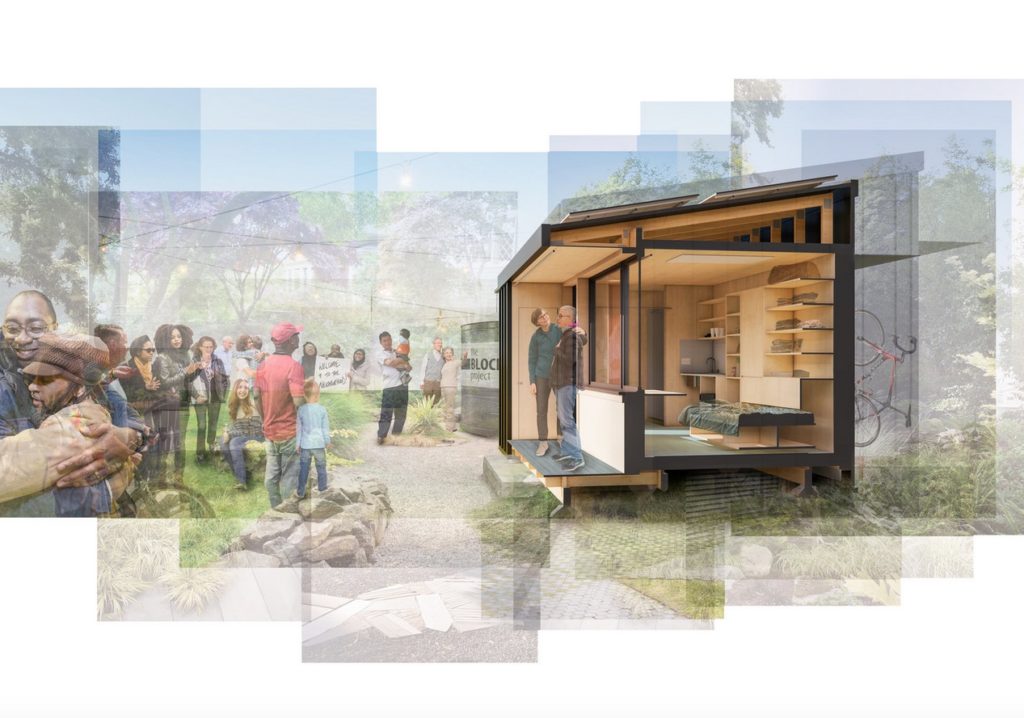 The Block Project in Seattle is uniting homeowners that have room to spare in their backyard with a resident that has been homeless, providing them with their own self sufficient Block Project Tiny Home. Their OWN  home, Wow! a term perhaps we take for granted if we have never been without one.
A home that can bring back safety, privacy and pride with a door that can be locked and they can sleep again in peace, knowing that they were seen and that they matter. For some it might mean they can get employment because they can be clean again. It can also mean that they are included in gatherings again like a family, sharing meals and projects together.
The Block Project and Rex Hohlbein, the founder  of Facing Homelessness  is on a mission to end homelessness one tiny home at a time. More backyards needs. Can you Say Yes In  My Backyard.
Rex is an architect and started Facing Homelessness on social media and it has transformed into a non profit and The Block Project.
Facing Homelessness connects a name, their face  and tells the story of each person, without judgement. Rex shares their hopes and dreams and immediate needs and so gently asks for a tent, a camera, a hotel stay, a dentist, paint supplies or whatever the person is in need of. I read every story, donate when I can, share and always cry at the beauty of the real humanity that I know we are.
Please listen to the Ted Talk and you will know that Rex is the real deal, he can ask for a donation and people come forward immediately and answer the call of love to our neighbor and it changes their life dramatically, restoring their hope and for some, it saves their life. Their smiles could light up the universe!
 Recently Post: Leah's Story On Facing Homelessness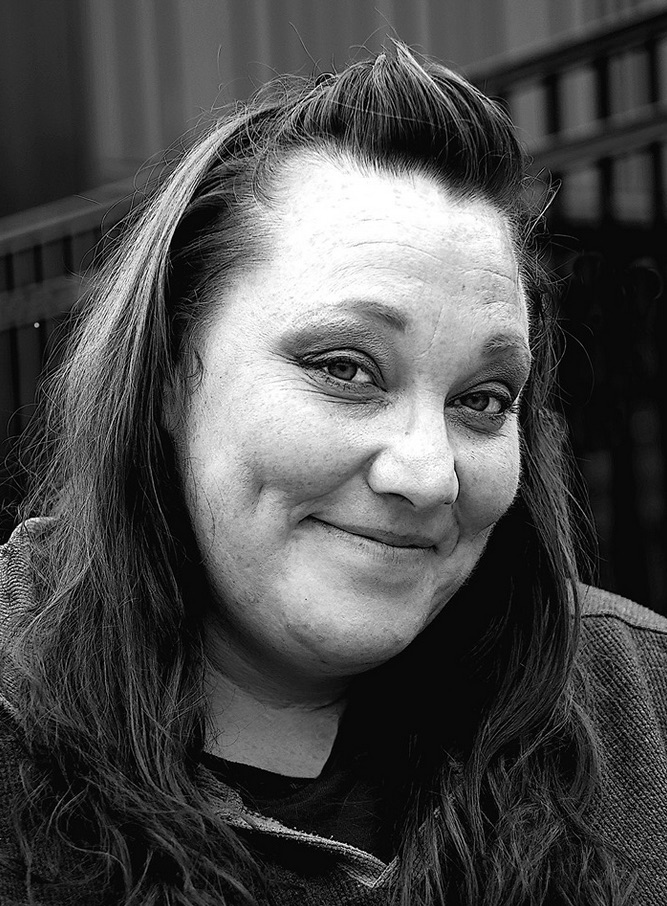 A few months ago we heard about a woman in a wheelchair living in a tent. We decided to check it out. Anyone home? An abrupt voice answered, "No help needed thanks". The anonymous woman confirmed she was wheelchair bound but little more. The voice was not trusting. Fair enough. This would make sense later. We walked away in the rain.
But  our visits and conversations grew over the following days. She finally opened her tent fly and we caught a quick glimpse. Not sure what we were expecting but it wasn't this. A smile and bright eyes. Her voice sounded different. Softer. Leah had been holding out on us.
We later discussed housing options with Leah. She was agreeable. On our way to the shelter she explained through tears how she had lost faith in humanity. There were no kind people left in the world. Darkness and exploitation were her constant companions. She was suspicious of anyone approaching her tent.
After a few weeks in emergency housing Leah graduated to her own apartment in a clean and modern building. She pointed with pride at clean clothes on hangers. Clothes folded in stacks. A neatly made bed and a Seahawks blanket. Products of epic dreams? Maybe so.
Leah spoke of her experiences on the street. "People look at you like you're garbage. But we are people just like everyone." She asked us all to consider how it would feel if she was one of our own children. When you get to know Leah you discover she is someone you already knew.
She likes to watch cloud shapes and put on makeup. She likes to cook and has visions of owning a food truck that serves home-style cooking. She loves her children. She likes Ben & Jerry's American Dream ice cream. She'll laugh with you and poke fun at you. She'll cry with you. She's a sweetheart and a smart aleck. She's everyone we already know. Because she is already all of us. Leah is everyone's child.
Rex Is Teaching Us To Say Hello And  Not Look Away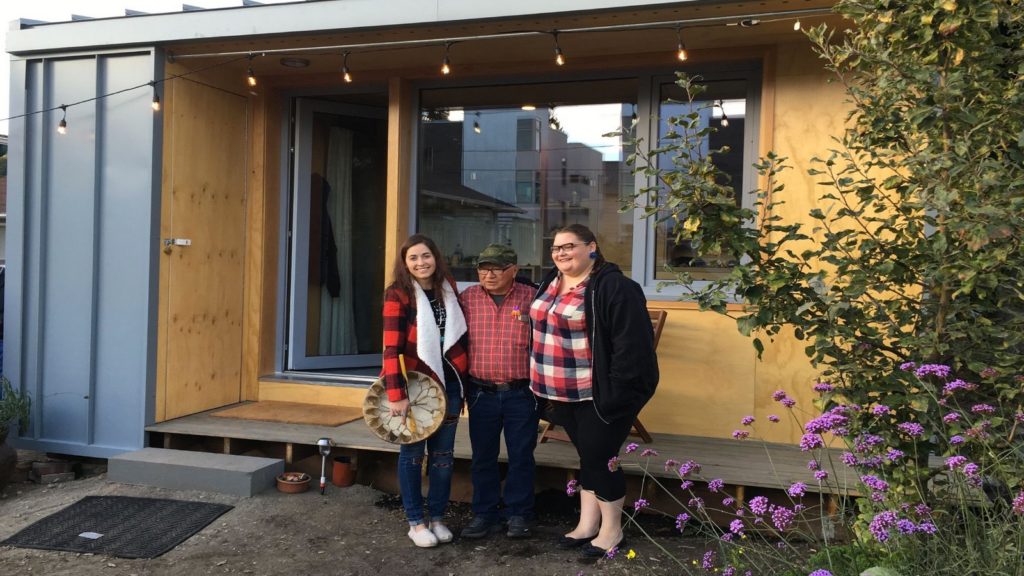 Through its integrated design, this project will not only offer opportunities for healing and advancement to those formerly living on the fringes of society, but it will also bring connection, relationship, and compassion to the center of our lives and communities.
Yes In My Backyard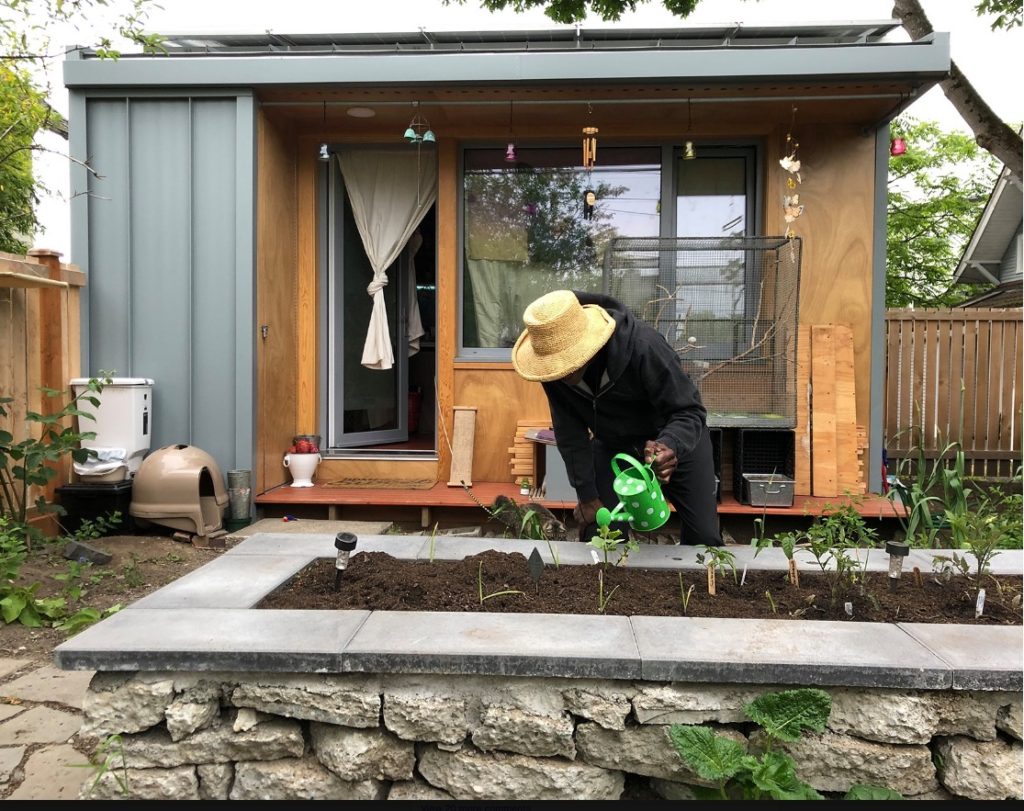 Many social injustices, including homelessness, are perpetuated through emotional and physical separation, which allows us to get stuck on the complexity of the issue. By literally saying, "Yes, in my backyard", we will begin to see the person afflicted by the issue.
Global Movement To Create Compassion And Empathy
Rex believes this will nurture the empathy needed to catalyze a global movement. Their  vision is to make this model accessible nationwide and create a foundation of compassion and empathy for future generations.
The Block Project Tiny Home Features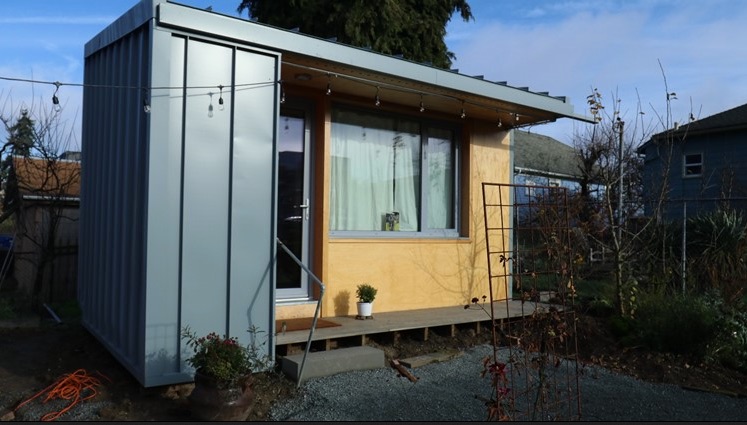 125 Square Feet
Off Grid And Self Sufficient
Bathroom
Kitchen
Sleeping Area
Solar Panels
Grey Water System
Compost Toilet
Deck
Storage Area
Host And Resident Create Their Own Criteria
Hosts and residents are encouraged to define and shape their own relationships, with the primary expectation being that each is a good neighbor to the other. Hosts and residents are united by a number of criteria, including their desired level of involvement in each other's lives. Some hosts and residents are very involved in each other's lives, regularly having dinner together and attending social events; while others happily share space but connect less frequently.
Goal For 2020 Is To Have 12 More Homes In Seattle's Backyards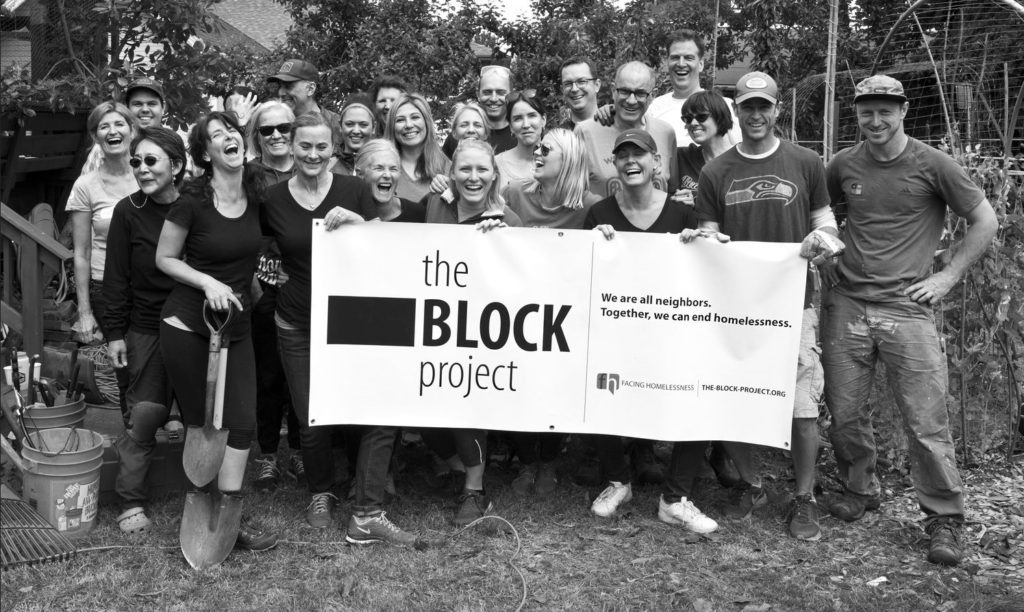 The Block Project has a goal to have 9  Block  Homes completed by the end of 2019, they are on schedule to make that happen, with all 9 Hosts already on board and in process!!!
The  2020  goal is to build 12 more Block Homes, they  have 6 excited Host potentials and are looking for 50 more applicants to select the remaining 6 for next year! Rex is asking if you do not have the backyard, then share, donate or be a messenger of this noble project.
Block Project First Host And Resident
Host Requirements
Own a single-family home in the City of Seattle

My lot is greater than 4,000 SF

I have a yard that can accommodate the BLOCK Home/patio (approximately 17′ x 17′)

I do not currently have, or plan to build, a Detached Accessory Dwelling Unit (DADU)

I will communicate early if I rent a spare unit (with full kitchenette) for greater than 30 day periods

I will communicate early about any known drainage problems and/or easements on my property

No one in my household has a history of violence or abuse

I am comfortable providing three (3) character references from diverse areas of my life

When equipped with the right information, I am comfortable reaching out to my neighbors about The BLOCK Project
Happy Faces Who Were Blessed With A Home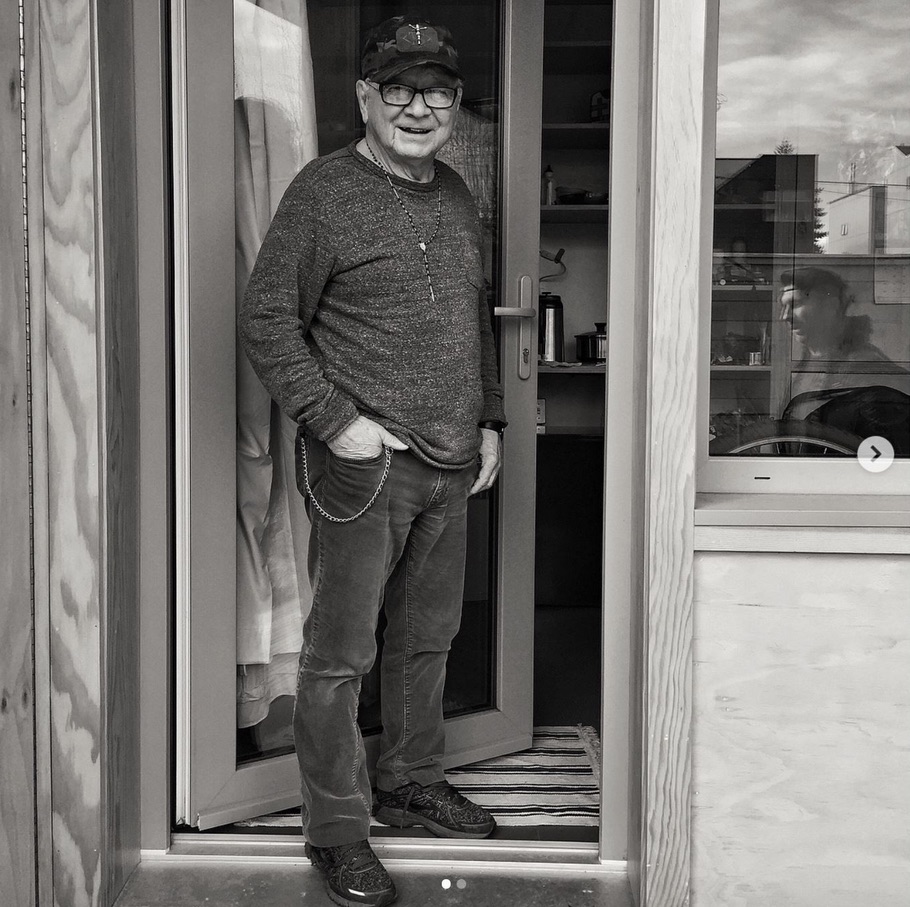 BLOCK Residents are referred to the BLOCK Project by one of our partner agencies; Chief Seattle Club, Community Psychiatric Clinic, or Mary's Place. BLOCK Homes are located in residential neighborhoods throughout the city of Seattle and prospective Residents and Hosts are matched based on location and common interests. Please check out our FAQs for more information. 
Are you an Architect? Do you know an Architect?
If  the answer is YES to either of those questions, this is your moment to get involved, or get your architect friend involved, with the very VERY prestigious organization Architects Without Borders
Everyone at Facing Homelessness & BLOCK Architects is inviting the local architectural community to step forward in partnership with AWB to help the BLOCK Project!
Architects Without Borders is an organization which creates opportunities for designers to make things better and The BLOCK Project gave me an opportunity to volunteer for something I see every day that could be made better; helping people without homes, find one. Not a shelter, not a temporary space or someone else's home but a permanent home of their own. I get to be a part of that!
So Architects, take the next step, remove those borders keeping you from getting involved and join the wonderful and amazing people at Architects Without Borders. This is an easy and important way to make a difference for the BLOCK Project! Details.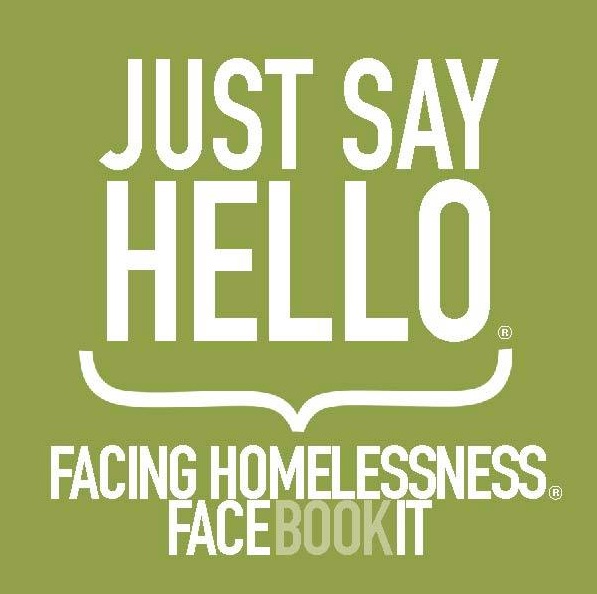 Please Share, Donate, Volunteer, Or Just Be Kind
And If You Can:  Say Yes In My Backyard
Do You Ever Say Someone Needs To Do Something And Realize That Someone Is You?
The Block Project Seattle