Tiny Home Industry Association Formed A New Board Of Directors
The Tiny Home Industry Association ( THIA)  has formed a new Board Of Directors and we just launched our new website on August 27th, 2019 thanks to the sponsorship and dedicated hard work of  web designer Lloyd Mabuto with Final Touch Lab. Lloyd also built my website. Beyond his amazing work, what stands out is is infinite patience and kindness that is always present while working with him. I am the Media Coordinator For The Tiny Home Industry Association.
Tiny Home Industry Association ( THIA)  Mission And Vision
Mission
Unifying A Movement By Developing Standards And Promoting Best Practices In The Construction, Placement And Widespread Use Of Tiny Homes As Permissible And Permanent Housing.
Vision
We envision a world in which people are allowed to choose from a broader range of economical, ecologically responsible, safe and healthy housing solutions.
Media Coordinator OF The Tiny Home Industry Association
I am the Media Coordinator for  the Tiny Home Industry Association ( THIA). I was tasked with breathing life to a website that had not been active in years and never really highlighted the members that were working behind the scenes on behalf of  the tiny home industry. We ended up starting from scratch. I spent two solid months, working full time adding content to the blog, creating a news page per state and went back a few years because I want to capture as many pivotal moments as I can, documenting the progress that is literally on fire.
Tiny Homes Are Saving The World
I feel tiny homes are saving the world- it is not an exaggeration. As I have been steeped in the daily news to add content to the website, I cannot tell you the joy and emotions I feel as I add the news and almost everyday, I have tears in my eyes-in so many ways-tiny homes bring out the best in humanity. In the midst of a world that seems like there is only chaos, with devastating news everywhere, the tiny home movement is becoming a focus that is creating real world solutions to immediate problems and needs and fueling so much needed hope.
I was especially touched to learn about the economic and social effect that Airbnb's have had in civilizations that were on the brink of being lost that have revived not only benefits for the host-but in some cases-entire towns. Towns prosper by creating tiny home destinations that are on the beaten path and in some cases not even on a map. To the delight of their guests, the hosts can share their beautiful cultures and preserve a legacy for future generations. Creating tiny home destinations also impact so many other industries, Airlines, Ubers, shopping, events, etc……….resulting in the demand for tiny homes.
Demand For Tiny Homes
The demand for tiny homes is on the rise and supports so many industries, including local manufacturing, materials, builders, engineers, architects, work trades, inventors, craftsmen, business developers, online businesses including website design and hosting, trade shows, events and more. I have barely scratched the surface in  naming the trickle effect of the tiny home industry.
The Best Way To Know Our Future Is To Create It
One of the most immediate needs I am sure most would agree is to give hope to our youth- which I want to cover in depth at a later time. The future is in our hands and molding our youth and giving them inspiration is a task we need to take on. Students are learning Math by building tiny homes in school which leads to a trade with a future. Kids are building homes for our heroes and the homeless and learning empathy and compassion-resulting in self esteem and pride which could just be the key -a change of destination and direction NOT to seek out drugs that devastate us all which often is chosen because their is no sense of hope.
There are so many articles that I have documented that restore my faith in humanity, that is a truer picture of who we are.  Affordable housing is the hottest topic and cities all over the nation are  tasked with finding solutions for the homeless, veterans, children aging out of foster care and seniors.  Tiny Homes are always in the conversation. We need to create communities to support each other.
If you are tired of the daily bad news, head on over to THIA and you will be rejuvenated.
What's Your Tiny Story?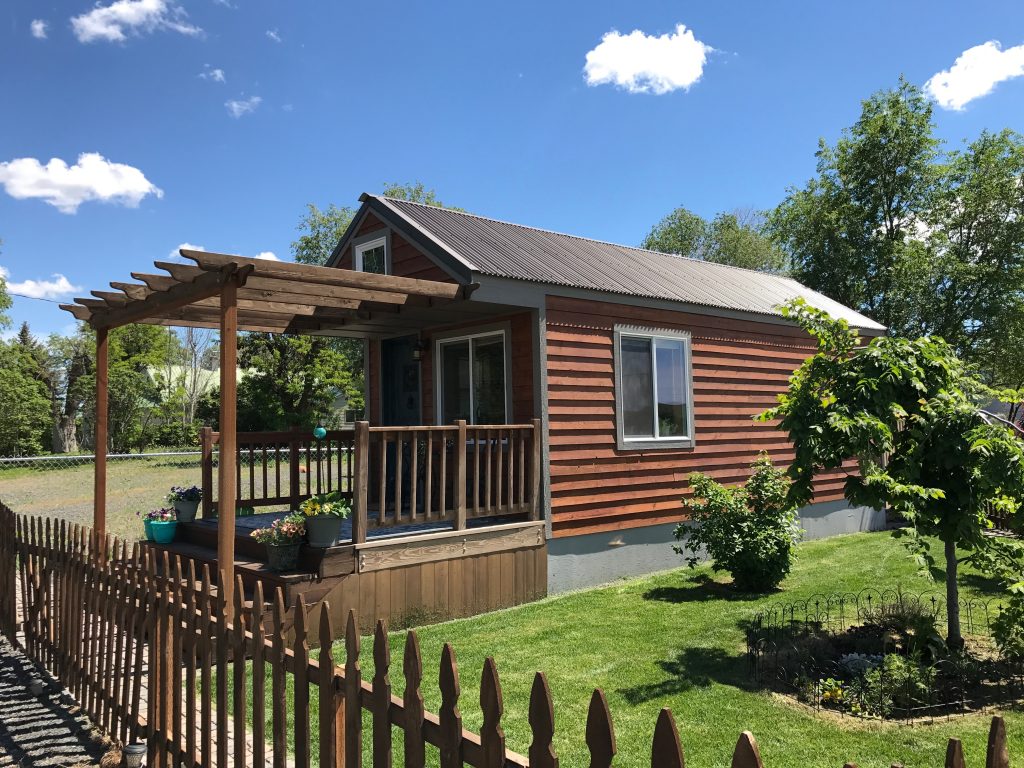 What's Your Tiny Story? THIA wants to know. We want to know your story, it could be the key to help someone else to  keep forging on! I cannot wait to tell you about a woman and a the changes she made to a county that is behind her all the way that will open many doors for more tiny home dwellers. I spent 3 hours on the phone with her and learned about her entire journey.
We are waiting to get documents from the county to support her story. She is such an amazing advocate and she was forced to live under the radar for many years and now she has the backing of an entire county behind her. She will be able to live in her tiny home on wheels on her newly purchased land as a single family dwelling that will close in early October.
They are going to be classifying her home as a dwelling, which means a permanent residence, she can keep the wheels on and come and go as she pleases!  They will require tie downs, allow her compost toilet and she could even add another tiny home as an ADU if she wanted as long as it supports the septic.
This lovely woman worked with the zoning, health department, building  inspector and tax assessment office to make this happen, not only for herself but for the future of other tiny home dwellers. She will have full approval by next week and then we can celebrate her name and help open doors for others.  A lot of land is available at reasonable prices. Stay tuned.!
THIA Welcomes New Members !
At this time, new members are free. Please join the movement and help us Make Tiny Possible! We have a Resource and  Events Page, an Appendix Q Page in progress and we are aiming to be one of the best sources for tiny home industry news. Visit the Blog.
Janet Thome 509 345 2013
janet@tinyportablecedarcabins.com