Delivery Of Your New Cabin
December 24, 2014 by Janet Thome
The Hitch Is A 2 And 5/16 Bumper Pull
Cabins will need to be professionally delivered unless you choose a cabin that is 8.6′ wide. You will be able to pickup an 8.6′ wide cabin with either a 3/4 or 1 ton truck depending on the length of the cabin. The Hitch Is A 2 And 5/16 Bumper Pull.
Dave suggests a 3/4 ton truck for a cabin that is no longer than 24′ in length. A 1 ton is a truck needed for 25 to 30′ in length.
Picking Up Your Cabin
If you decide you want to pick up your cabin and especially if you are going to be moving the cabin often,  you will need to have Dave add breaks and lights to the trailer.  Cabins wider than 8.6′ will need need a wide load permit per state that you travel through.
Address From Transport
241 Industrial Park Ave. Spirit Lake, Idaho 83869
Dave Bates : Builder of Portable Cedar Cabins 208 255 9640
Cabins Over 8.6 '  Will Require A Semi Truck to Deliver : Starts Between $5.00 to $10.00 A Mile Plus Permits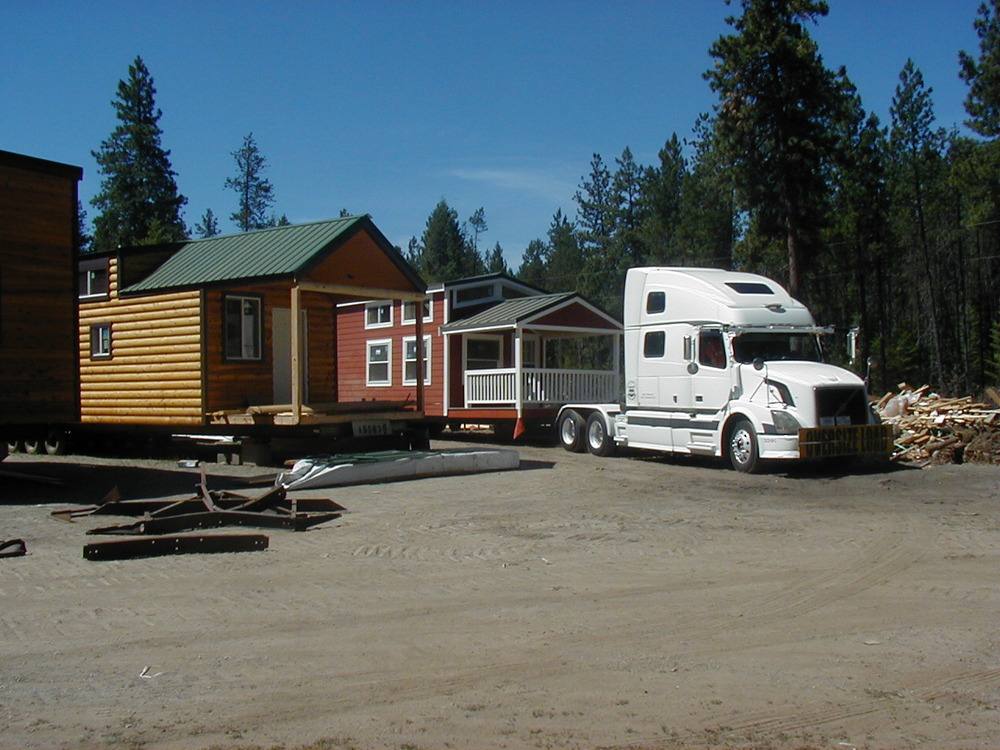 For the added safety of the cabins, Dave has decided all cabins wider than 8.6 ' will be delivered by a semi truck. The professional transport company has cargo and liability insurance and will arrange all permits and pilot cars, if needed. Dave has confidently used them for years.  We cannot quote the price exactly for the cabins delivered by a semi truck, because there are many factors that are involved, including longer routes because of construction or road closures and the added cost of permits and often pilot cars. Dave can only give a rough estimate for delivery. Semi trucks will also be needed to deliver cabins that are over height even if it is 8.'6 , because they will require one to 2 pilot cars depending on the width.
Prices Are Subject To Change: At Anytime The Prices Can Change

You Are Welcome To Arrange Your Own Delivery Through UShip
Make sure the driver you chose has cargo and liability insurance.  
Delivery is available  anywhere in the US, including Alaska and to Canada
Janet Thome
Cell 509 770 1694
509 345 2013
janet@tinyportablecedarcabins.com
Save
Save
Save
Save
Save
Save
Save
Save
Save
Save
Save
Save
Save