Introducing Handcrafted Custom Log Beds: North Idaho Log Furniture Company
I am very excited to introduce everyone to North Idaho Log Furniture Company. They are a perfect compliment to our custom cabins and make beautiful rustic furniture, including log beds. There are so many, I decided to make a quick video of all the choices. If you need to add custom furniture to your cabins, I highly recommend them. They are conveniently located to Dave in Spirit Lake, Idaho so he can pick the furniture up without adding a delivery charge to you,  which is a tremendous savings. You can look over their website and let us know on your quote what you want and Dave will add it to the price of the cabin.
About North Log Idaho Furniture Company
North Idaho Log Furniture Company has been in business in Couer D' Alene since 1996 and  specialize in log beds, cabin furniture and more. They  take great pride in their work and their  goal from the beginning has been to offer customers access to unique furniture pieces made with artisan care and craftsmanship.  If you do not see what you want on their website, the challenge is their specialty to bring to life, unique one of a kind treasures that last. Dan Booterbaugh is the owner and builder.
Options Of Log Beds
There are many log beds to choose from and I will highlight a few of my favorites.
Blued Pine T&G Iron Scene Log Bed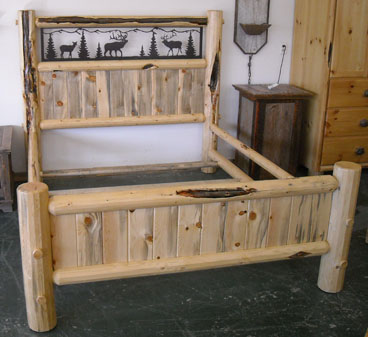 Dave uses a lot of blue pine as an accent that breaks up the interior look of our cabins and this bed would be a nice compliment. Most beds are  available in twin, double, queen and king.
Custom Log Bear Bed With Wagon Wheel Spindles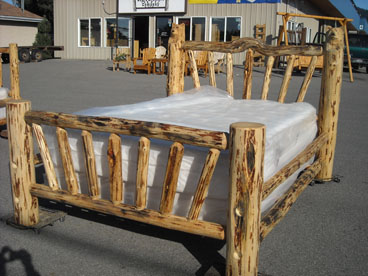 Log Sleigh Bed

Weathered Twin over Full Bunk Bed With Wagon Wheel Spindles

janet@tinyportablecedarcabins.com
509 345 2013
509 770 1694
Save
Save
Save
Save