The Lake View Extended Has Two Decks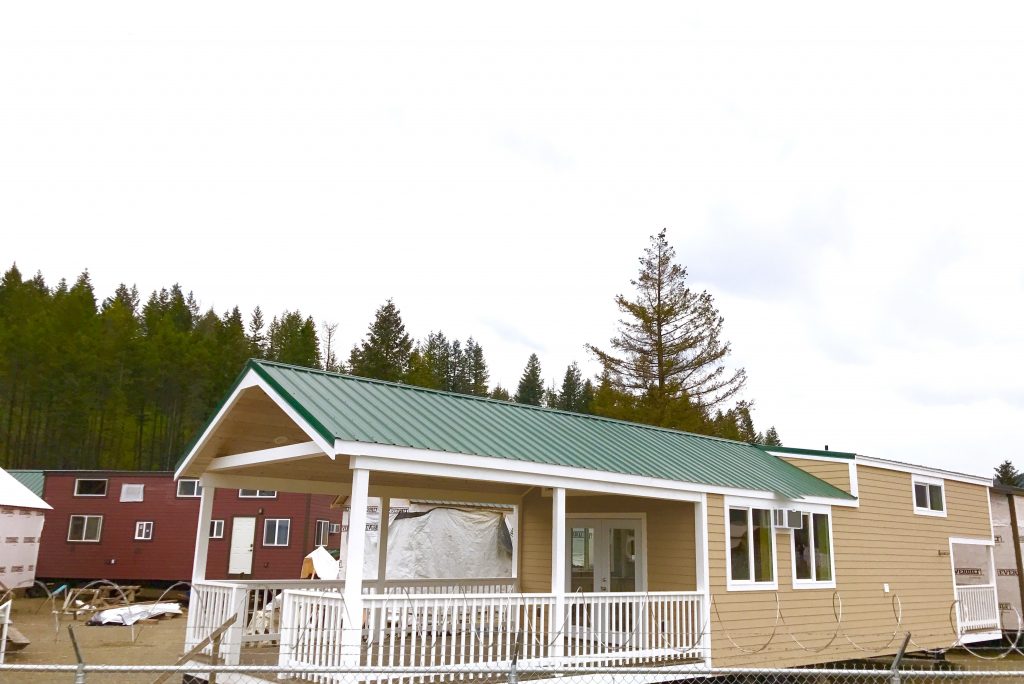 Four Hundred Square Feet: 14′ Wide X 28′ In Length
I just went back to see Dave and filmed the Lake View Extended that is on it's way home and it is a beauty. I  love the french doors and white rails on the deck and the color choices for the roof and Hardie Plank Siding.
Advantages of Hardie Plank Siding
Resists damage from moisture
Resists cracking, splitting, rotting and swelling
Resists termites and insects
Superior performance in high wind and hurricane areas
Resists flame spread
Complete exterior available in lap, shingle, panel, fascia, trim and soffit
Paint lasts longer than on wood
The Lake View Extended  has a 20′ covered deck in front with recessed lighting and a ceiling fan. There is a bedroom on the ground floor with french doors that go out to a back 8′ deck. Over the 8′ deck is 14′ X 8′ storage area. Make sure you watch the video above, it is a very well throughout floor plan and the 14′ wide opens up the living/kitchen area to a warm welcoming room.
Extend Your Living And Storage Space With Decks And Lofts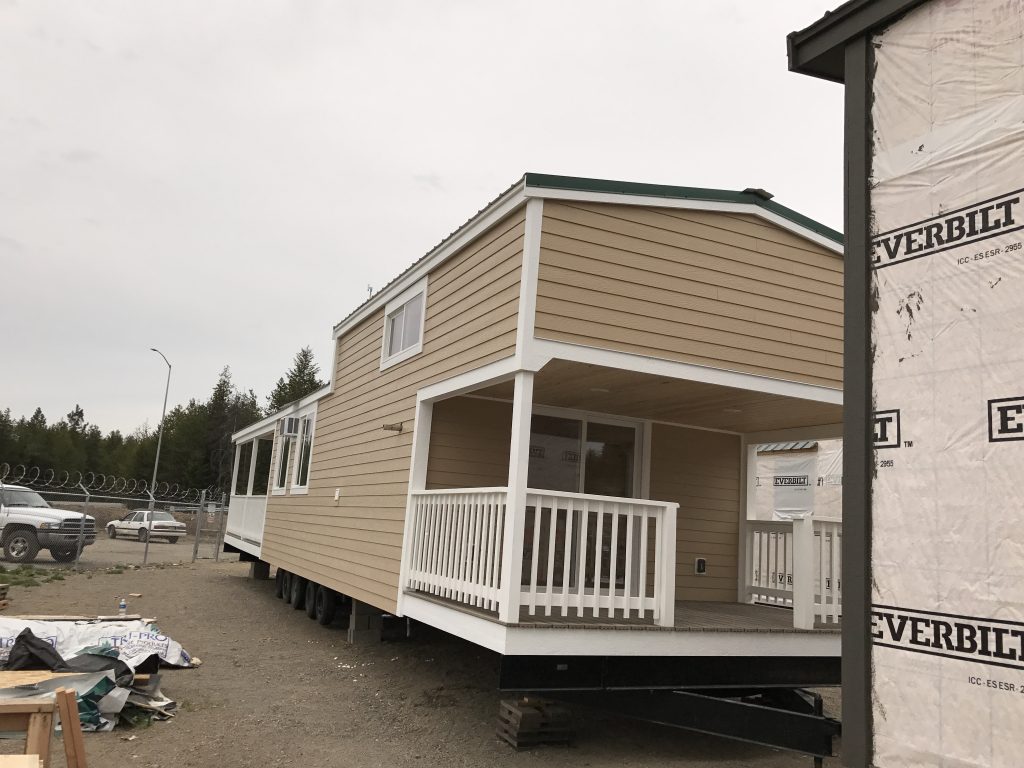 This model is becoming one of my favorites with the high pitched gable roof over the deck that can really extend your living space for dining, gardening, crafts and just enjoying nature. The ground floor is four hundred square feet. Lofts and decks are not counted in square footage, so by  adding decks, you can extend your living space over them.
The video shows a large 14′ X 16′  loft with a 14′ X 8′ storage area behind the loft. Just a reminder, the floor plans can be customized to your needs and dreams. You can also design it where there is not a separate storage room and the loft extends over the back deck. My other favorite is especially if you have children, is to create two divided rooms in the loft. I created a short video  showing this from another cabin Dave is building.  It could actually be extended longer if there was a deck below.
Two Divided Rooms In A Loft
The Lake View Extended Features
The standard price for the Lake View Cabin without lofts are decks is $50,000 and I will list the standard specs under the features as well as upgrades.
Hallway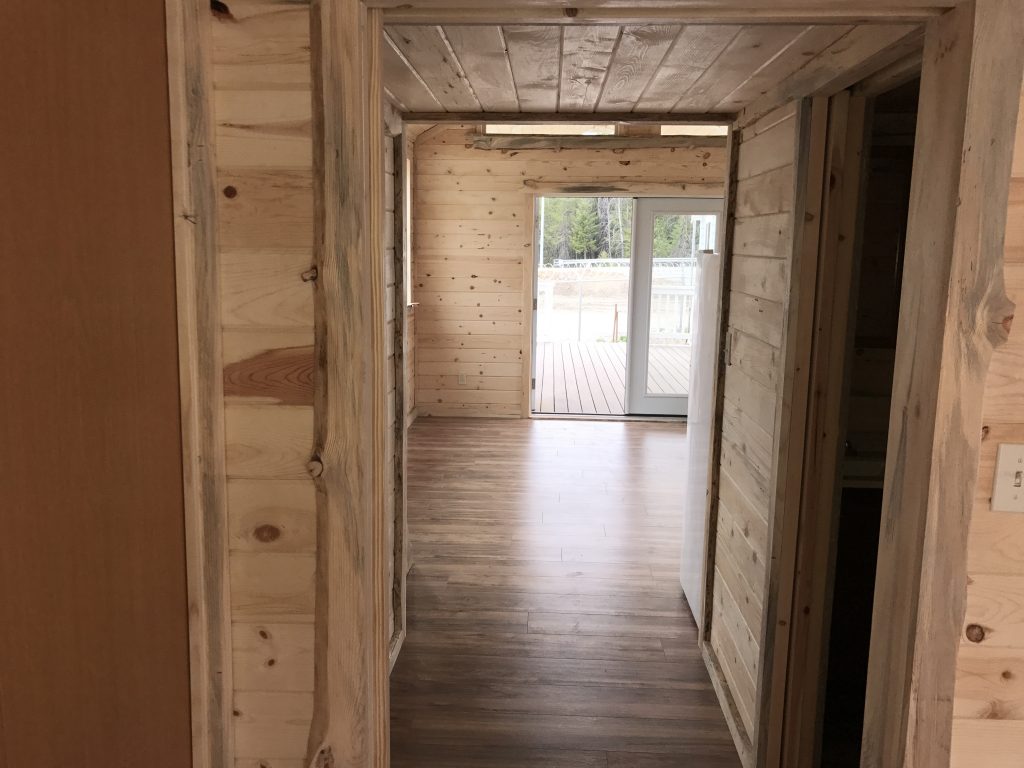 One benefit of building a 12′ to 14′ wide cabin is the ability to have really divided rooms and a hallway.
Washer And Dryer Tucked Away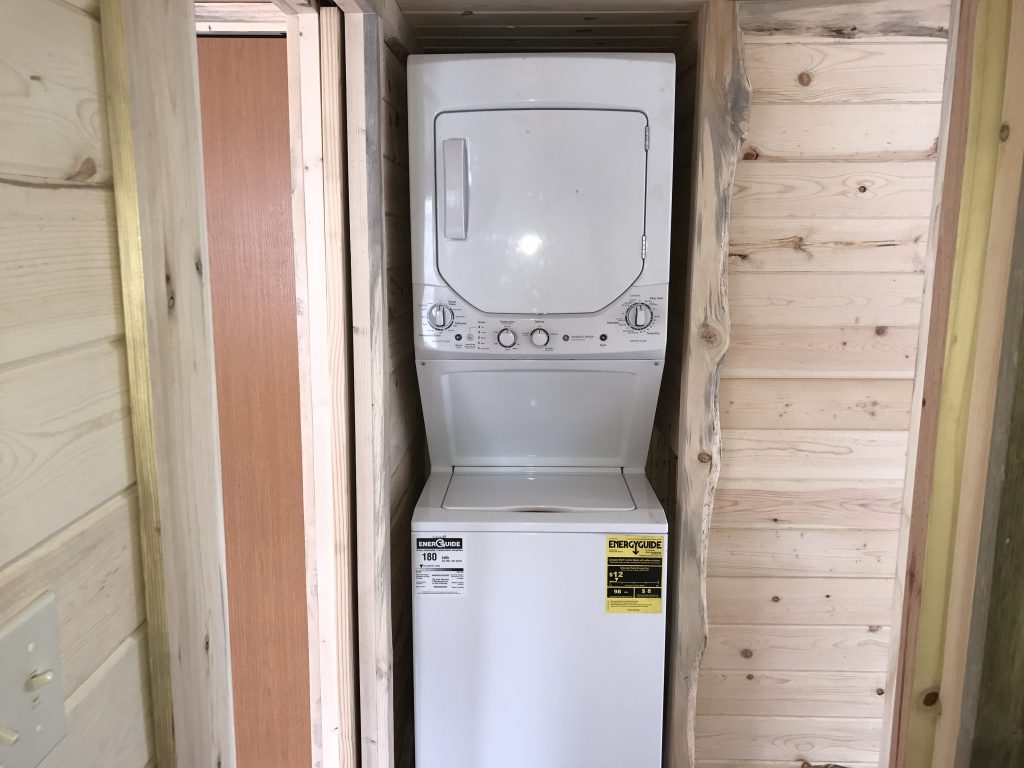 The stack able washer/dryer is tucked away on the right as you go down the hall.
Large Double Closet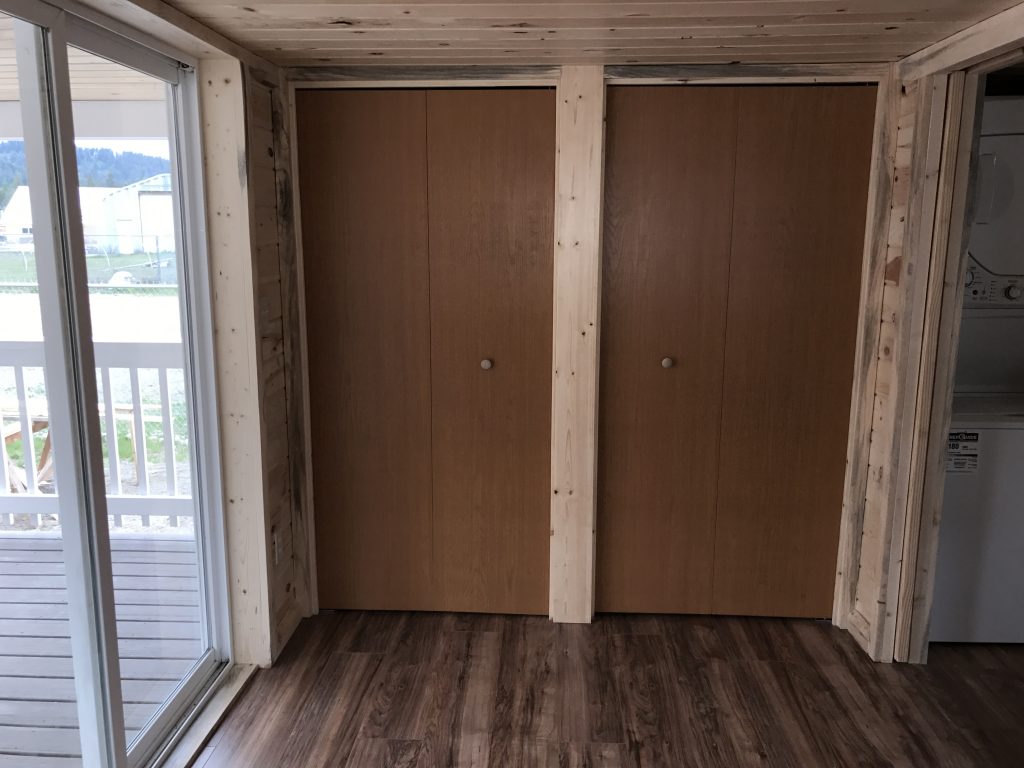 The on demand hot water heater is discretely hidden in the closet.
Plenty Of Room For A Cozy Wood Stove In A 14′ Wide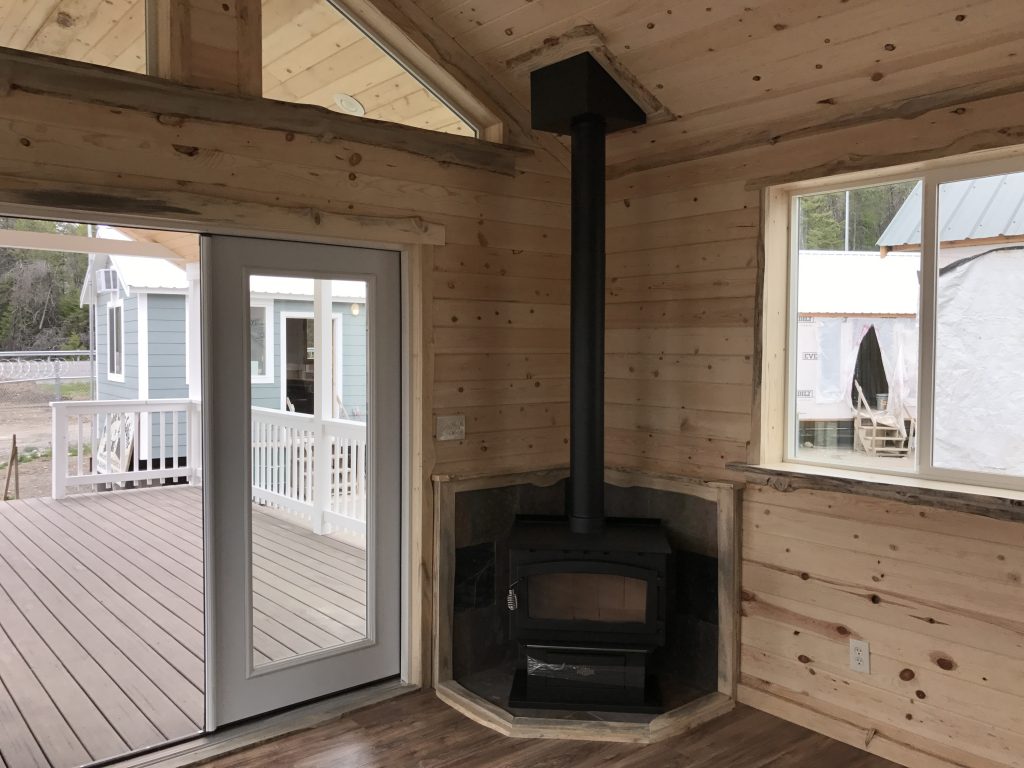 This featured cabin has radiant floor heat and a wood stove for back up heat.
Cabin Safely Delivered!

Standard Base Price Without Decks Or Lofts Include: $50,000
Custom Built Steel Trailer
2 x 6 floor joist 16″ O/C T&G OSB sub floor.
2 x 6 sidewalls 16″ O/C.
Vaulted, Engineered trusses w/ 60# snow load.
7/16″ OSB sheeting with vapor wrap.
8″ cedar lap siding ( Siding Choices )
Metal roof  ( Your Choice Of Color )
Insulated 36″ steel door.
Insulation: Ceiling R-21, Walls R-21 and Floor R-21.
Vented attic space.
Ceiling fan with  light kit in living room
1 x 6 T&G Pine ceiling.
1 x 6 T&G Pine on walls.Upper and lower kitchen cabinets.
Laminate kitchen counter tops w/ back splash.
Recessed lighting in kitchen and bathroom.
Stainless steel double kitchen sink w/ faucet and sprayer.
10′ Cubic Refrigerator
2 Burner Propane or Electric Cook Top
Laminate flooring
Linoleum Flooring in bathroom
Shower/ Tub Combo or 32" or 36" Shower
Bath vanity w/ sink and back splash, faucet, mirror
Toilet
20 gallon electric water heater.
PEX pipe with low point drain.
Electric baseboard or wall mounted heat
GFI breaker in bathroom and kitchen.
50 Amp service panel
Additional Upgrade Options
Radiant Floor Heat / $1500.00
EPA Certified Wood or Pellet Stove/From $1500.00 to $ 1800.00 : Includes Slate or Stone
Dickinson's Propane Marine Heater: Installation and inverter $ 1100.00
Propane OR Natural Gas Log Fireplace With TV Mantle 30" or 36"-$2200.00 to $2400.00
Washer & Dryer / $1250.00 ( $ 200.00 extra to convert gas dryer to propane)
Washer Dryer In One $1800.00 ( Includes Installation )
Propane on demand hot water heater / $950.00
10′ Cubic Refrigerator $599.00
17′ Cubic Refrigerator $799.00
20" 4 Gas Burner Stove And Oven $800.00
24" 4 Gas Burner Stove And Oven $950.00
30″ 4 Gas Burner Stove And Oven $1050.00
Dishwasher $ 600.00
Storage Loft $ 1000.00
Sleeping Loft $1500.00
AC / $550.00
Sliding Barn Door $ 600.00
French Doors 6′ $ 800.00
Sliding Patio Door 6′ $ 500.00
Nature's Head Compost Toilet $960.00
Two 5 Gallon Propane Tanks with gauge and regulator $ 250.00 ( propane not included )
Utility Shed for propane tanks $ 800.00
Stairs with storage $ 1000.00
Additional Upgrade Options: Add To Your Quote Notes
Decks
One Inch Foam Insulation
Wainscotting
Granite Counter Tops
Wainscotting
Blue Pine Accents
Heating Options
Custom Upgrades
janet@tinyportablecedarcabins.com
509 345 2013
509 770 1694
Save
Save
Save
Save
Save
Save
Save
Save
Save
Save
Save
Save