Operation Tiny Home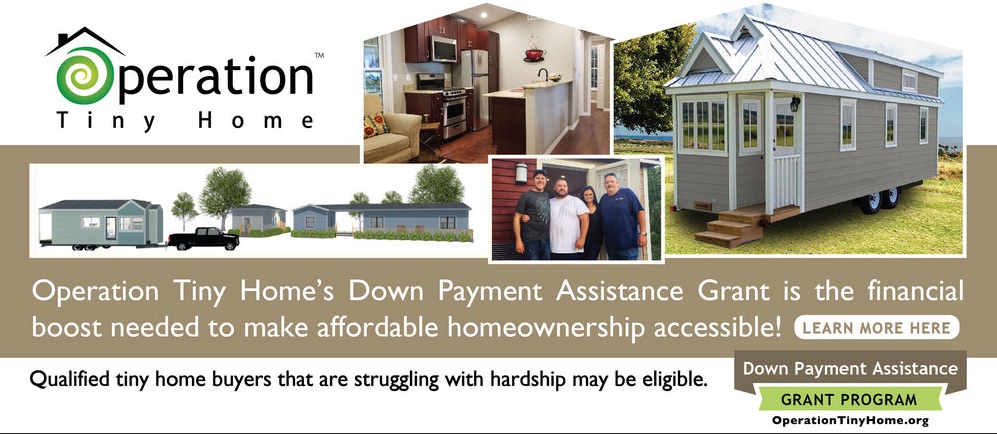 Welcome Home Down Payment Assistance Program
I am so over the moon, we have just been approved to be a listed  builder with Operation Tiny Home for their down payment assistance program! Operation Tiny Home as joined together with Sutter Home Family Vineyards and Wells Fargo to provide a down payment assistance grant to qualified applicants.
The  Down Payment Can Be The Challenge
Many potential tiny home buyers are well qualified and ready for homeownership, but often the down payment is often a hurdle that is too high and often seems like a fruitless effort. Help is here!
Down Payment Assistant Grants
The Down Payment Assistance Program provides stable housing opportunities for our community heroes and/or those that are dealing with hardship, such as natural disaster from fire or hurricanes. Eligible applicants can receive a down payment assistance grant, which applies toward the down payment on a loan for a professionally built custom tiny home that is either built on a trailer or a foundation.
Our program is designed to offer the support, training, and resources needed for successful tiny home ownership, including offering ongoing mentorship resources and an online tiny home ownership course.
Operation Tiny Home Matches The Down Payment Funds 2: 1
We are committed to providing access to affordable housing choices. Down payment assistance grants empower those that are struggling with hardship. For those that need support to overcome housing instability and meet our eligibility requirements, a down payment assistance grant may help.
Do You Qualify for Down Payment Assistance?

The application process consists of completion of the application form, background check, and a phone interview.  Operation Tiny Home considers applicants without regard to race, religious preference, gender, handicap, familial status or national origin.
You must meet the following criteria listed below.

Requirements:
You must be pre-qualified for financing and working with an Operation Tiny Home approved professional tiny home builder;

The purchased tiny home must be your primary residence;

You must be a US citizen or permanent resident;

You must have a verifiable long-term legal location secured to build or place your tiny home.
Who Can Apply:
The applicant must demonstrate that they are in need of housing and fit the following criteria:

Community Heroes:
Military and Veterans

Law Enforcement

Fire Fighters

Emergency Medical Personnel

Pre-K – 12th Grade Teachers
And/Or
People Struggling with Hardship:
You Live In An Area That Was Affected By A Hurricane, Wildfire, Or Any Other Natural Disaster;

Illness;

Aging Out Of Foster Care;

Disability;

Surviving Spouse Of A Military Member Or Public Protector

Application Process:
Once we receive your application we will review your information and contact you within 14 business days.  You may be asked to provide additional information (including, but not limited to the following):

Proof of Identity

Proof of Military Service

Proof of Disability

Signed Authorization to Release Information

How To Apply
The first step in applying for a down payment assistance grant is to contact an Operation Tiny Home professional build partner. You will work together with your builder to discuss your specific tiny home living needs and obtain pre-approval for a bank loan. Once you have been pre-approved for your loan and your builder has determined that you are eligible for down payment assistance, your builder will contact us to request that we send you a grant invitation from Operation Tiny Home.
Are You Interested In Sponsoring The Welcome Home Down Payment Assistance Program? Click Here.

Additional Operation Tiny Home Programs
Building A Better Future For Our Veterans

Tiny Home Building Workshops with Zack Giffin
Our free workshops are led by Operation Tiny Home team member, Zack Giffin, co-host of A&E's popular TV show, Tiny House Nation. Zack not only brings star power but a wealth of knowledge and experience to every workshop, offering veteran participants a once in a lifetime chance to have hands-on instruction from one of the industries most recognized experts in the field.
Our program objective is to go beyond providing a simple housing solution. We provide hands-on educational training opportunities for veterans to enhance their building skills while offering a unique opportunity for them to give back to a fellow veteran in their community.  Participants learn carpentry skills, build confidence, and develop a supportive community as a resource to overcoming housing instability. Learn More
Dignity Housing For Native Americans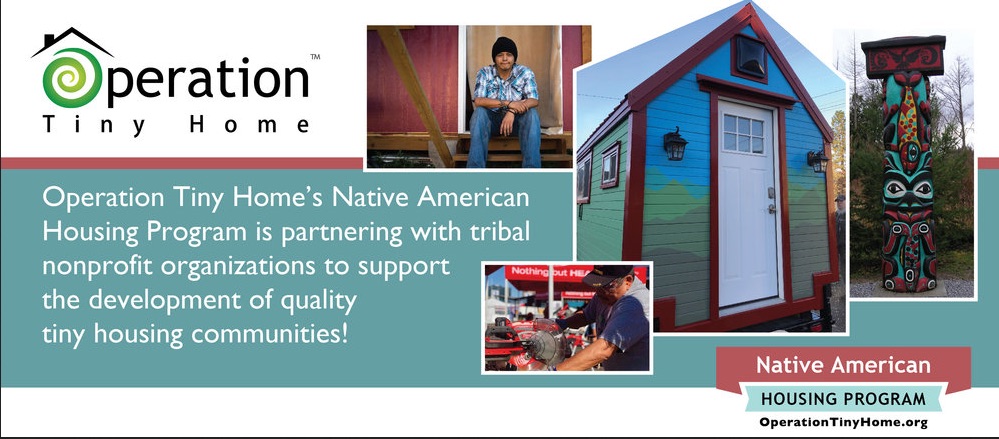 Affordable Tiny Housing Solutions & Community Workshops
Operation Tiny Home partners with like-minded nonprofits across the nation to provide apprenticeship training workshops for Native Americans that seek to build high quality alternative housing options and tiny home communities. We teach program leaders and community volunteers how to build custom tiny housing solutions through hands-on construction and carpentry training workshops while building a home that will be donated to support housing needs in their community.
Our objective is to go beyond providing a simple housing solution. Our focus is to empower participants to build a better future for themselves while cultivating sustainable communities to create lasting transformation in housing stability within their community.
Our free workshops provide participants with access to resources, education, and new opportunities to facilitate personal growth, self-sufficiency, and fulfillment. Over the course of our immersive hands-on workshops, we cover a wide range of topics including construction terminology, foundation considerations, design, framing, sheathing, roofing, siding and trim, windows and door installation, finish carpentry, and multi-functional furniture design to creatively maximize small spaces. Learn More
Check Out Another Down Payment Assistance Program For Oregon Residents: Nedco
If you feel you will meet the qualifications for a grant, please call or email me and I can can get you pre approved for a loan and send you an invitation to the Operation Tiny Home Grant!
janet@tinyportablecedarcabins.com
509 345 2013
Cell 509 770 1694