Aberrant Creative in Los Angeles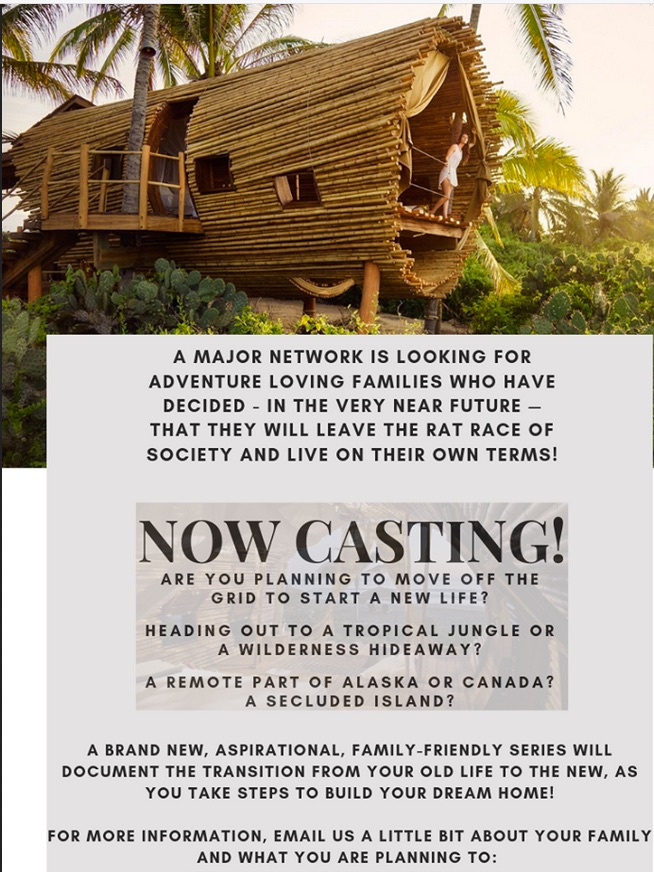 US or Canadian Families
Aberrant Creative, a  Major TV Network is casting a new show  where they will  follow a U.S. or Canadian families with kids ( ideally teens)  who dream of leaving the rat race and live life on their own terms, even  for perhaps just a trial period. Think modern day Swiss Family Robinson :).  They  are looking for adventurous and outgoing families with plans or even just dreams for magical off-grid home builds.  It can be a mud home or a multi-million dollar project! This is not a typical home show, as it will follow the challenge of the remote build and the transition to a new way of living.
This could catapult a family to international levels and give a family the ability to influence millions of other families.
About Aberrant Creative
Aberrant Creative is a boutique casting and production services company with a focus on scripted and unscripted TV, digital, branded, and commercial projects. The company was founded by Matt Shelley and Francine Dauw, a team with 20+ years of experience in story development, casting, field production, and editorial across multiple formats. They have worked in various capacities on a wide range of projects for Netflix, Hulu, Vice, MTV, TLC, Food Network, Discovery, Lifetime, NatGeo, Animal Planet, and Vh1, as well as dozens of other high-profile digital and branded clients throughout the USA and internationally. Aberrant Creative is committed to raising the bar when approaching casting and production, challenging norms and thinking outside the box to bring the client's creative vision to life.
More Casting  Opportunities
There are more casting opportunities with Aberrant Creative, including one of my favorite subjects, Dogs!
Contact JP Lean For More Details If You Would Like To Be Featured Or Can Recommend A Family
JP McLean
Casting Producer
Aberrant Creative
mbl  ‪(323) 207-5345‬