Assisted Living Cabin: 12 X 20:  $ 45,000
We have had a lot of requests for a cabin for someone's mom or dad and Dave just finished a very nice model.
Great Alternative To Assisted Living
This cabin is a great alternative to assisted living, especially if the person is still mobile and needs limited care. With the cost of assisted living going from $ 3000 to $6000 a month, this is quite a savings!
This is a wonderful solution for families to live together on the same property, but to still have privacy and independence.
It is so precious to me to talk to the kind children who want to give their parents a better quality of life and keep their family close.
Assisted Living Cabin Special Features
The bathroom is very large 5′ X 12′ room with safety bars by the shower, in the shower,  by the toilet and is wheel chair accessible with a walk in shower. The shower is 36".
The cabin is basically the bathroom, one long room with kitchen, the sleeping area and sitting area in one room. A five foot deck is included in the price! 
Kitchen  Appliances And Air Conditioner Included
A ten cubic foot fridge, a 20" propane stove and oven, a propane on demand hot water heater  and an air conditioner is included in the price.
Wheel Chair Friendly
Doors have 36" openings to be wheel chair friendly.
Lofts Can Be Added
The Assisted Living Cabin featured has no lofts, but they can be added. Lofts are a great addition, especially if your loved one has a caregiver that  sleeps over. You could have one loft for sleeping and one loft for storage.
The Layout Can Be Adjusted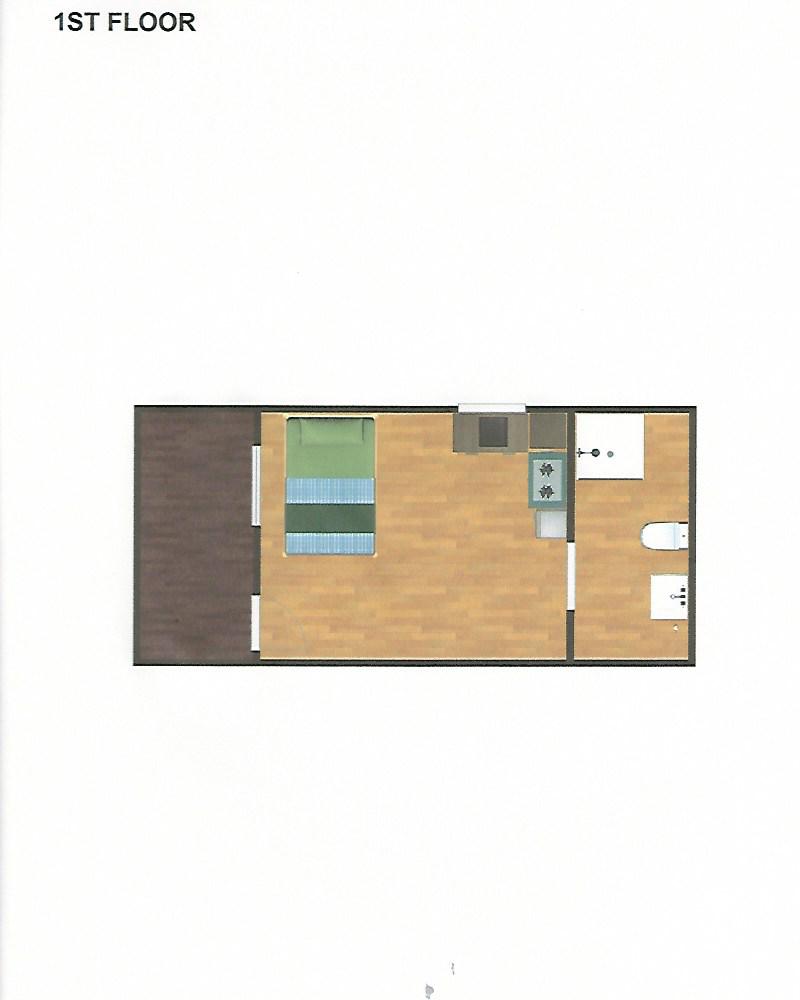 Assisted Living Cabin Built For Sale: Details
The layout is not set in stone, a bedroom can be added, it can be longer or even 10 to 11′ wide, just specify in your notes on the quote form, what you prefer. It can also be built without a kitchen.
Specs For Assisted Living Cabin
Custom Steel Trailer
Metal Roof ( Your choice of color )
8" Cedar lap siding
T&G 3/4 Sub floor
7/16 OSB sheet vapor wrap
2 X 6 walls 16" 0/C
2 X  6 floor joist16" O/C
36" Steel front door
36" Bathroom pocket door
Laminate Flooring
Linoleum Flooring in bathroom
Pine Interior on walls and ceiling
Pine trim
Ceiling fan and light kit
Standard toilet
36" shower
Bathroom sink
Medicine Cabinet
Propane on demand  hot water heater
20" Propane stove and oven
Stainless steel kitchen sink
Kitchen base cabinets: upper and lower
Base board heat or wall mounted heat
Air Conditioner
50 amp electrical panel
5″ Deck
Lighting above kitchen sink
Porch Light
Light and fan in bathroom
25 Foot RV Cord
R21 insulation in the walls, ceiling and flooring Kitchen  Appliances And Air Conditioner Is Included
Windows Are Included In The Base Price
Additional Upgrade Options

Radiant Floor Heat / $2000.00
EPA Certified Wood or Pellet Stove/From $1500.00 to $ 1800.00  : Includes Slate or Stone
Dickinson's Propane Marine Heater: Installation and inverter $ 1100.00
Propane OR Natural Gas Log Fireplace With TV Mantle 30" or 36"
Washer & Dryer / $1250.00 ( $ 200.00 extra to convert gas dryer to propane)
Washer Dryer In One $1800.00 ( Includes Installation )
Propane on demand hot water heater / $950.00
10′ Cubic Refrigerator $599.00
17′ Cubic Refrigerator $799.00
Dishwasher $ 600.00
AC / $550.00
Sliding Barn Door $ 600.00
French Doors 6′ $ 800.00
Sliding Patio Door 6′ $ 500.00
Nature's Head Compost Toilet $960.00
Two 5 Gallon Propane Tanks with gauge and regulator $ 250.00 ( propane not included )
Utility Shed for propane tanks $ 800.00
Stairs with storage $ 1000.00
Built In Desk $ 250.00
Breaks on lights on trailer $350.00
Additional Upgrade Options: Add To Your Quote Notes
Decks
Lofts
One Inch Foam Insulation
Wainscotting
Granite Counter Tops
Custom Upgrades
janet@tinyportablecedarcabins.com
509 770 1694
509 345 2013
Save
Save
Save
Save
Save
Save
Save
Save
Save
Save
Save
Save
Save
Save