City Council Of California City, California Adopted Ordinance NO. 20-779 On August 11th, 2020
The city council of California City, California adopted Ordinance NO. 20-779 at it's second reading on August 11th, 2020. The vote was 4 to 1 and creates an overlay zone for tiny and small homes specified within the city.
The purpose of this ordinance is to further the goals of the city's housing element to provide additional non-traditional housing opportunities in the city to stimulate the development of underutilized properties in the city.
California City Municipal Code was amended to add a new Article 24.5 titled Residential Small Homes Overlay Zone.
The Residential Small Home (R-SHO) Overlay Zone District is established to provide affordable housing options in specified tracts within the City by permitting homes smaller in size than the current City minimum square footage of 1200 square feet of living area and shall be used for independent living quarters, designed as a permanent, year-round residence.
California City Definitions Of A Tiny Home
A tiny home is a residential structure between 200 to 500 square feet of living area under roof installed on a permanent foundation intended for independent living quarters, designed as a permanent, year-round residence.  A tiny home must have 200 square feet of interior living space on the first floor, windows must be double pane and labeled for building use and include exterior trim.
The ordinance requires insulation with values of at least R19 for the walls, R38 for ceilings, and R19 (for the floors if on a raised foundation).
Highlights Of The Ordinance: Applies To Tiny Homes Between 200 to 500 Square Feet And Smaller Homes Between 500 To 1200 Square Feet
The minimum lot area in the R-SHO District is 6,000 square feet.
Setbacks shall be the same as those of the underlying residential zone.
Garages, Covered Parking Structures, and Accessory Buildings shall be no larger than 400 S.F. when constructed on a lot where the primary building is a Tiny Home or Small Home.
Tiny Homes and Smaller Homes shall be connected to water supply source, sewer/septic, and electric utilities or solar with battery backup.
Tiny Homes and Smaller Homes are not required to have covered parking.
Tiny Homes and Smaller Homes are required to have sprinklers and sufficient water supply for fire protection.
Mechanical equipment shall be incorporated into the structure and not located on the roof.
All Small Homes must be placed on a permanent foundation and all undercarriage, foundation system, and external elements below the finished floor shall be screened or constructed with architectural elements that complement the main structure.
Tiny Homes Must Have A Minimum Of 4 Of The Following Design Features
(1) Upgraded entry feature, such as transom or side windows around an exterior
( 2) Exterior accessories, such as permanent shutters, or fixed sunshade devices, or gutters/downspouts;
(3) Pitched roofline (4:12 pitch or steeper);
( 4) Dormers;
5) Premanufactured skylights;
(6) Built-on porch or deck;
(7) Exterior residential light sconces or downcans; or
(8) Other features as otherwise approved by the City Planner.
(9) The provision of more than one item within the same category of design
features may be counted independently towards the overall minimum
requirements (e.g., including both a sunshade and shutters).
California Ordinance NO. 20- 779
About California City, California
California City, abbreviated as Cal City, is a city incorporated in 1965 located in the northern Antelope Valley in Kern County, California, United States, 100 miles (160 km) north of the city of Los Angeles. The population was 14,120 at the 2010 census. Covering 203.63 square miles (527.4 km2), California City is known for having the third-largest land area of any city in the state of California. It was a master-planned community, created in the post-World War II boom years with grand aspirations, that failed to grow and fill the lots, blocks, and streets that were laid out in the remote Mojave desert.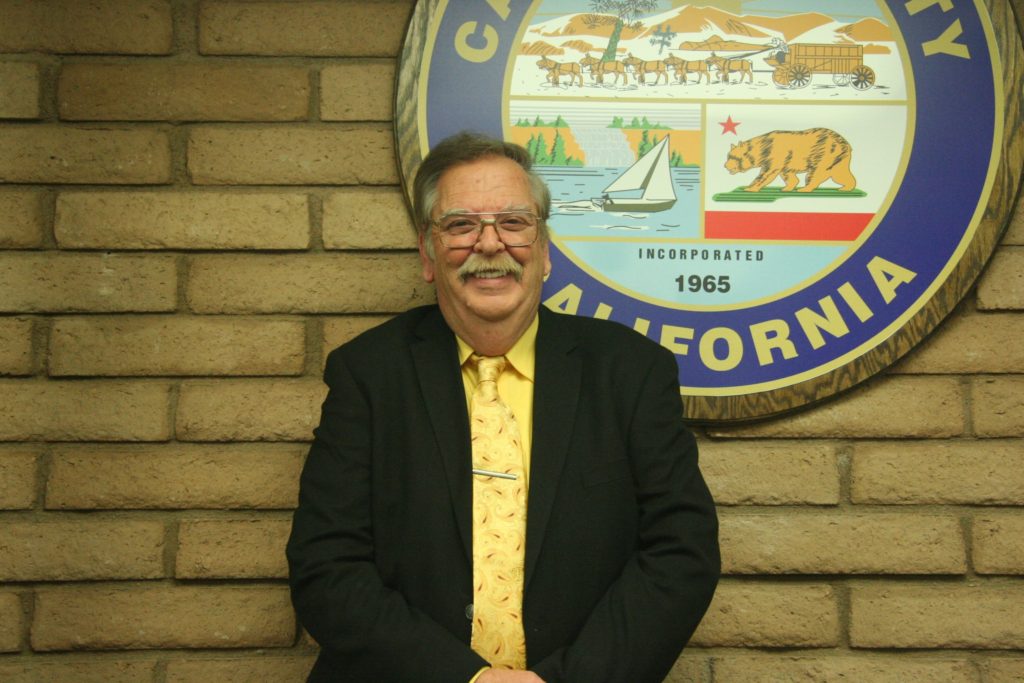 Photo Credit: Mayor Charles McGuire
From The Mayor's Desk: Why California City?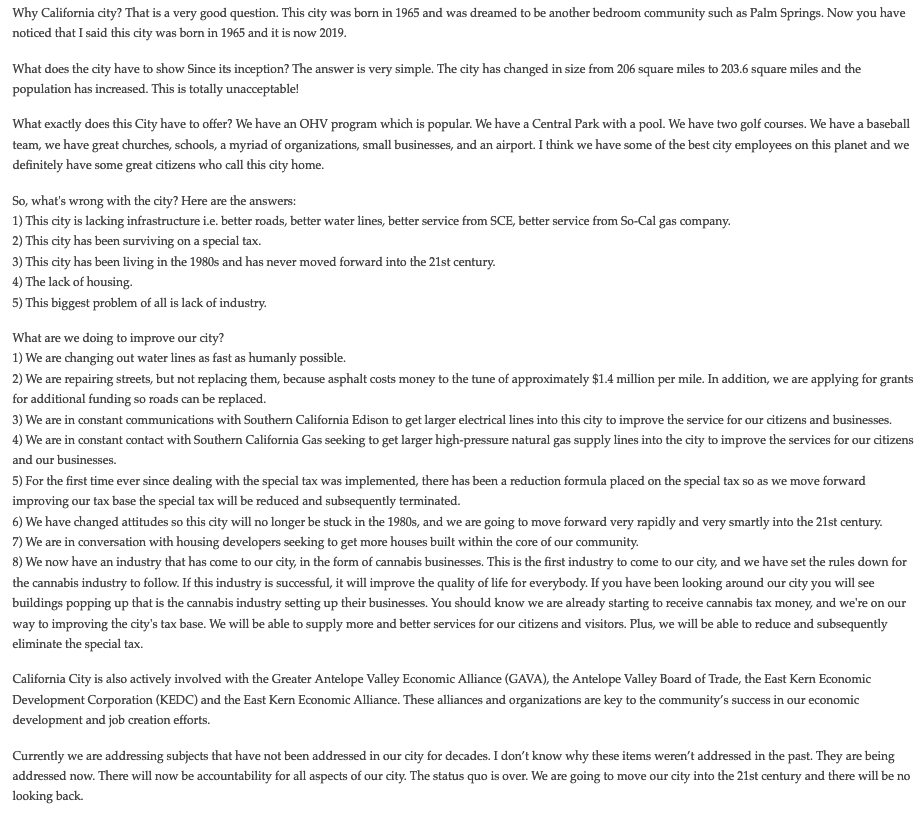 City Of California City, California
Statement From Dan Fitzpatrick, President Of The Tiny Home Industry Association ( THIA)
California City, City Council, approved Tiny Homes as units that can be placed on foundations on single-family lots in designated areas of the city. The chief building official will accept movable tiny homes that meet the requirements of the ordinance if placed on a city-approved foundation and provisions made for water and sewer. All such units must have fire sprinklers and must be at least 200 sq. ft. in size.
The Tiny Home Industry Association (THIA) has spent many months working with city officials on this tiny friendly ordinance. We are very pleased with the city's approval.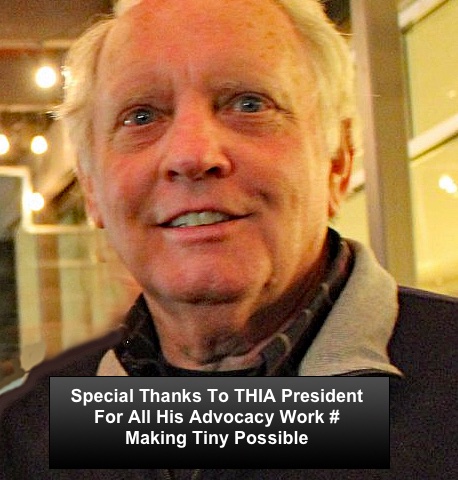 Special thanks to Dan Fitzpatrick, President of THIA for his continued advocacy work opening doors for tiny homes as permanent, permissible dwellings and # Making Tiny Possible.
Please contact Janet Thome to get your tiny home built in California City.
janet@tinyportablecedarcabins.com
509 345 2013
509 770 1694