SOLD
Caretaker's Cabin Is Built And Ready To Roam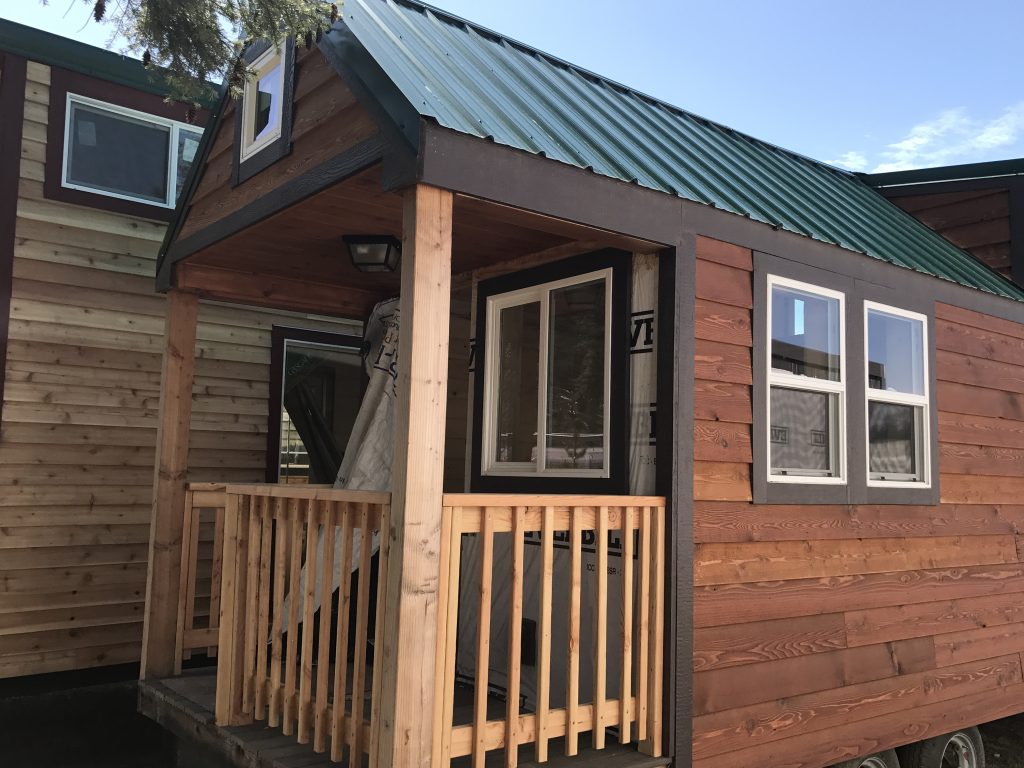 I have a rare opportunity to offer a Caretaker's Cabin that is for sale and ALL READY BUILT! Yes, you get to avoid the 24 week waiting period. Dave is finishing up a few things and this sweet cabin will be ready to hit the road in a few days. The beauty of this size cabin is that you need no special permits to travel with this cabin. The Caretaker's Cabin is 8.6′ wide and 24′ in length with a four foot deck in front.
The cabin has real maple hardwood floors and two lofts, one for sleeping and one smaller one for storage. The standard fridge for this cabin is an under counter fridge, but you will get an added bonus of having a 10 cubic foot refrigerator included in the sale price.
Attention Washington Residents
If you are a Washington resident and have 20% down with excellent credit, we can get you an RV loan with great terms and an interest rate between 5 and 6%. because the cabin is all ready built. All other states would be a line of credit for around 8% unless you have premier credit and I can hook you up with an RV loan anywhere.
Special Features Of The Caretaker  Cabin
Cedar Siding
Pine Interior
Green Metal Roof
Four' Deck
Small Living And Kitchen Area
Carpeted Sleeping Loft
Wall Mounted Electric Space Heater
Standard Toilet
26 Gallon hot water tank
32" Shower
Small Bathroom sink with custom cabinet
2 Burner Electric Cook top
10 Cubic Refrigerator
Maple Hardwood floors
32" Front door
25′ RV Cord
50 Amp electrical panel
Additional Upgrade Options
Radiant Floor Heat / $1500.00
EPA Certified Wood or Pellet Stove/From $1500.00 to $ 1800.00 : Includes Slate or Stone
Dickinson's Propane Marine Heater: Installation and inverter $ 1100.00
Propane OR Natural Gas Log Fireplace With TV Mantle 30" or 36"-$2200.00 to $2400.00
Washer & Dryer / $1250.00 ( $ 200.00 extra to convert gas dryer to propane)
Washer Dryer In One $1800.00 ( Includes Installation )
Propane on demand hot water heater / $950.00
10′ Cubic Refrigerator $599.00
17′ Cubic Refrigerator $799.00
20" 4 Burner Gas Stove And Oven $800.00
24" 4 Burner Gas Stove And Oven $950.00
30″ 4 Burner Gas Stove And Oven $1050.00
Dishwasher $ 600.00
AC / $550.00
Sliding Barn Door $ 600.00
French Doors 6′ $ 800.00
Sliding Patio Door 6′ $ 500.00
Nature's Head Compost Toilet $960.00
Two 5 Gallon Propane Tanks with gauge and regulator $ 250.00 ( propane not included )
Utility Shed for propane tanks $ 800.00
Stairs with storage $ 1000.00
Built In Desk $ 250.00
Breaks and lights on the trailer $350.00
janet@tinyportablecedarcabins.com
509 770 1694
509 345 2013
Save
Save
Save
Save
Save
Save
Save