Country Cabins: Saint Maries, Idaho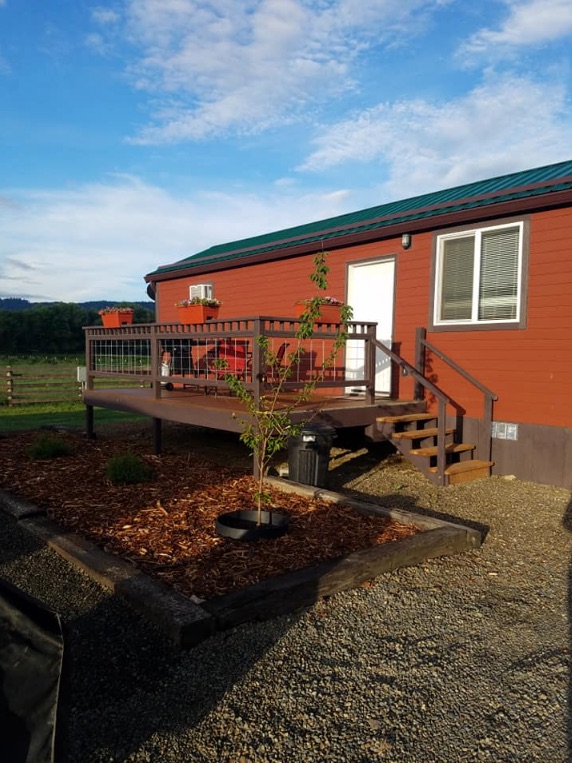 Country Cabins in Saint Marie's, Idaho offers short term vacation rentals and two spaces for  long term rentals for a Tiny Home or an RV.
The cabin featured was built by Dave Bates. It is 12′ wide X 33′ in length. The cabin is 400 square feet and is actually a duplex. Each side has 200 square feet and I love how the Michelle, the owner designed it where the doors are on opposite sides for more privacy. If you would love to stay in one of our cabins  and you are visiting the build site, it is only a 2 hour beautiful drive.
Duplex Features
12′ Wide X 33′ In Length
400 Square Feet: Each Side Has 400 Square Feet
Bathroom With Shower, Toilet And Sink With Vanity
Large Sleeping Room / Sitting Room
Kitchen With Under Counter Fridge
2 Burner Cook Top
Built In Table
Custom Closet
Doors On Opposite Ends For Privacy
Book All Year Around: Easy Access To The Highway
Country Cabins is available to book all year around, located on a picturesque 25 acre ranch. The ranch has farm animals and is rich in wildlife. Great destination for hunters and fishermen. The cabins have great reviews!
Country Cabins Amenities
Queen Size Bed
Wifi
Cable With 250 Channels
Air Conditioner
BBQ Grill
Kitchen With Pots And Pans
Coffee Pot
Microwave
Deck With Seating
Community Fire Pit
Walking Trails
Tiny Home Or RV Space Rental
Michelle offers long term rental spaces for someone who has their own tiny home or RV and one space is available now. The  space rent is only $300 a month and includes a 10 X 20 shed. The rent includes water, sewer and garbage. Tenant pays for their own electricity that has a separate meter. Call Michelle for availability.
About Saint Maries, Idaho
Saint Maries has a population of around 2800 and is located in the lush valley of the St. Joe River, a 120 mile river offering the best in outdoor activities, including water sports,winter sports,  boat races, whitewater rafting, bike trails
St. Maries is located 2.5 hours from the Canadian Border in the county seat of Benewah County.
To find out more about Saint Maries, the chamber of commerce has a lot of helpful information about the activities and business in the area. Click Here.
 Call Michelle Directly To Book Your Stay
208 582 1723
1277 Riverdale Dr.
Saint Maries, Idaho 83861