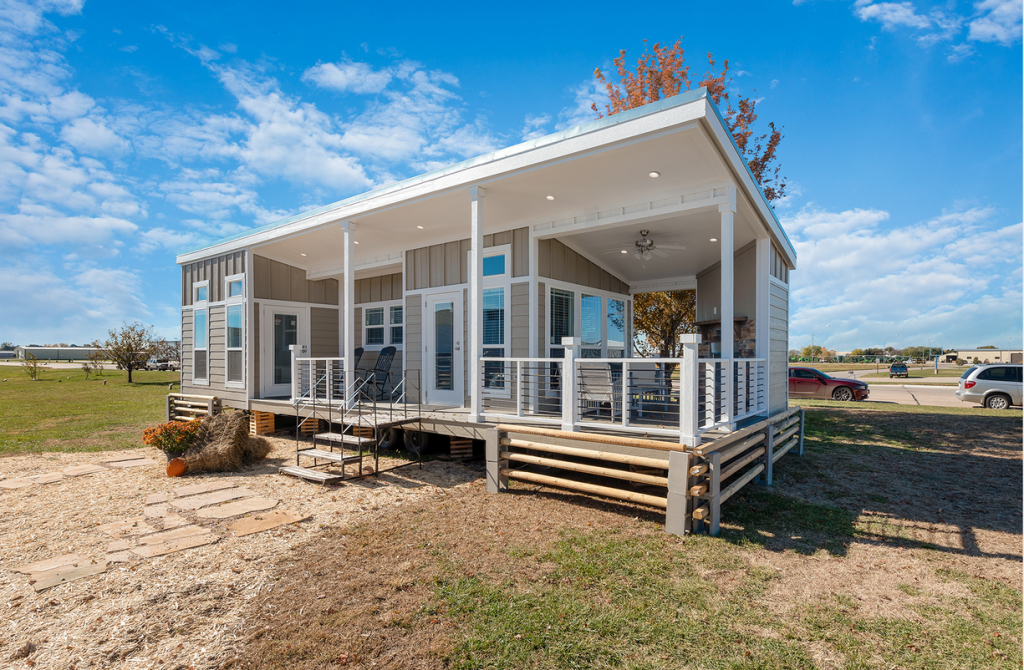 Tiny Homes On A Foundation And Movable Tiny Homes As ADUs!
Statement From Dan Fitzpatrick
Yesterday, the Humboldt County Board of Supervisors approved an ordinance to permit movable tiny homes as ADUs. The vote was 4-1. Humboldt County becomes the second county in California, and the state's first rural county, to permit movable tiny homes as habitable ADUs.
 Dan Fitzpatrick, President of the Tiny Home Industry Association, said, "The Planning staff of Humboldt County has been great to work with this past year in writing this groundbreaking ordinance.  I think this action will lead to many of California's other rural counties to consider such ordinances."
Daniel R. Fitzpatrick
President
Tiny Home Industry Association (THIA)
The Humboldt County Planning Commission reviewed the ADU ordinance and related amendments in a series of five public hearings, beginning in May and through July of 2020.  At its July 23, 2020 meeting, a virtual meeting, the Commission recommended the following Drafts to the Board of Supervisors for adoption.
Inland Accessory Dwelling Unit Ordinance PC Recomm
Coastal Accessory Dwelling UnitOrdinance PC Recomm
Alternative Owner Builder Amendment PC Recomm
Tiny House Ordinance PC Recomm
Highlights
314-154 DEFINITIONS (S)
Delete current definition, "secondary dwelling unit".314-155 DEFINITIONS (T)
Tiny House. A structure intended for separate, independent living quarters, designed as a permanent, year-round residence for one household that
Is built or installed on a permanent foundation or anchored with a foundation system meeting the state-approved requirements for manufactured housing, or that is designed by a licensed architect or engineer to meet those requirements
Is no larger than 400 square feet;
Has at least 120 square feet of first-floor interior living space;
Is a detached self-contained unit which includes basic functional areas that support normal daily routines such as cooking, sleeping, and sanitation.
14-69.05 ACCESSORY DWELLING UNITS 69.05.1
P69.05.1 Purpose and Findings.
The provisions of this chapter are intended to set forth standards in accordance with state law for the creation or conversion of at least one Accessory Dwelling Unit (ADU)per lot zoned to allow single-family or multifamily dwelling residential use.
In addition, this ordinance allows a Tiny House or Moveable Tiny House as defined in sections 314-155 and 314-148 as an ADU when developed consistent with this section.
An ADU does not exceed the allowable density for the lot on which it is located. For purposes of this section, a junior accessory dwelling unit (JADU) is an attached unit as defined in Govt. Code section 65852.22.
JADUs are principally permitted in all areas where ADUs are principally permitted, and special rules apply as set forth in section 69.05.3.8of this code.
69.05.2 Accessory Dwelling Units Generally Permitted.
Accessory dwelling units may be principally permitted in any zone that allows single-family or multifamily dwelling residential use and includes a proposed or existing dwelling if the General Provisions in 69.05.3 are met, and the ADU meets the Development Regulations and Standards of section 69.05.4.
9.05.3.5.2 Tiny Houses and Moveable Tiny Houses As ADUs
A Tiny House as defined in Section 314-155 that meets all applicable building and development standards in this code is deemed a single-family dwelling and is allowed as an ADU. A Moveable Tiny House as defined in Section 314-148 that meets all applicable building and development standards in this code, and meets the criteria in 69.05.5, is deemed a single-family dwelling and is allowed as an ADU.
69.05.5 Moveable Tiny House as an ADU
In addition to the other provisions of this section, Movable Tiny Houses as defined in Section 314-148 used as ADUs shall comply with all of the following provisions.
69.05.5.1 Skirting.
The undercarriage (wheels, axles, tongue, and hitch) must be hidden from view.
69.05.5.2 Foundation or Pad.

69.05.5.2.1 Foundation.
If the wheels are removed so the unit may sit on a foundation, the foundation requirements for a Movable Tiny House shall follow the State approved requirements for foundation systems for manufactured housing, or follow an alternative design certified by a licensed engineer.
69.05.5.2.2 Paved or Alternate Pad.
If the wheels are not removed, the parking area shall include bumper guards, curbs, or other installations adequate to prevent movement of the unit. The wheels and leveling or support jacks must sit on a paving surface compliant with either the following.
69.05.5.2.2.1 Paving.
A parking area for a moveable tiny house on wheels shall be paved with hard, durable asphaltic paving that has been mixed at a plant and is at least two inches thick after compaction, with Portland cement paving least three inches thick, or an alternative as described below.
69.05.5.2.2.2 Alternative Paving Materials.
An alternative paving material is one of the following: porous asphalt, porous concrete, permeable interlocking concrete pavers, permeable pavers, decomposed granite, crushed rock, gravel, and restrained systems (a plastic or concrete grid system confined on all sides to restrict lateral movement, and filled with gravel or grass in the voids.) Alternative paving materials are permitted subject to all the following requirements:
a)Permeable interlocking concrete pavers and permeable pavers shall have a minimum thickness of 80 mm (3.14 inches).
(b)Products and underlying drainage material shall be installed to meet manufacturers' specifications. Sub-grade soils shall be compacted as required to meet the product installation specifications.
69.05.5.3 Mechanical Equipment.
Mechanical equipment shall be incorporated into the structure and not located on the roof.
69.05.5.4 Sprinklers.
Movable Tiny Houses are not required to have sprinklers but shall follow the ANSI 119.5 standards relating to health, fire, and life-safety.
69.05.5.5 Applicable Codes.
Moveable Tiny Houses shall meet either the provisions of ANSI 119.5or NFPA 1192 standards, or the provisions of the California Building Code, including the 2019 CA Residential Code Appendix Q Tiny Houses or other adopted alternatives, or both.
69.05.5.6 Design Standards.
Movable Tiny Houses must comply with all requirements for Detached ADUs and shall have the following design elements:
a)Materials used as exterior wall covering shall be natural or man-made, non-reflective materials; and no more than 10% of the exterior may be reflective in nature;
(b)Windows shall be at least double pane glass and labeled for building use, and shall include exterior trim;
(c)Roofs shall have a minimum of a 1:12 pitch for greater than 50%of the roof area;
(d)The unit shall be plumbed to allow connection to an approved means of sewage disposal, septic system, or waterless toilet. Portable or enclosed waste storage tanks are not allowed for sewage disposal.
(e)A Moveable Tiny House need not be connected to a source of electrical power, but if it is, the installation shall be in accordance with the California Electrical Code, Part 3, Title 24, California Code of Regulations.
Complete Ordinance
Inland Accessory Dwelling Unit Ordinance PC Recomm
Special Thanks To Dan Fitzpatrick, the President of the Tiny Home Industry Association. Dan worked alongside Mary Milner and Michael Richardson, the planners of Humboldt County to craft one of the most groundbreaking ordinances to date for tiny homes.
This is one more historic win for tiny homes that will open up more doors in the future, # Making Tiny Possible.
Contact Janet Thome to get your ADU or tiny home started!
janet@tinyportablecedarcabins.com
509 345 2013
509 770 1694