Nostalgia Cottage Video Tour: My Rental In Marlin, Washington
I finally got to do a Nostalgia Cottage Video Tour. This is the cabin Dave built for me. I have a small tiny home community in Marlin, Washington called The HeartHouse Village. My renter was kind enough to let me have the day to film and stage it a little. Pictures never really do the cabins justice, especially if you want to share the true beauty of Dave's craftsmanship and the dimensions of a room, so it is very exciting to learn how to create the videos.
Nostalgia Cottage Features
The cabin is 10′.6" wide X 24′ in length. We added the  deck and pergola after it was delivered. It has a sweet combination kitchen/dining area with a custom pantry with extra storage on the outside of the pantry. All the cooking is portable that is put away after you are done. I love how Dave builds really nice window ledges that you can add plants, lamps or whatever you would like.
There is a small bedroom large enough for a double bed that has a closet and two custom built blue pine doors that are on either side of the bedroom. The bed size in the video is a twin. There are two storage lofts not coded for sleeping where you can tuck everything away discretely or even make the long loft a movie binge room.
Benefits Of A 10′ Wide
If you want to be very mobile and travel around with your cabin and enjoy the benefits of no special permits, an 8.6 cabin is  a great choice, but if you are only moving it or very rarely, you might go with a 10′ which only requires a wide load permit per state.  I am 139 miles from Dave and my delivery was only $390.00. That included the wide load permits. A 10′ opens up some nice options and is a must if you want a bath tub shower combo. As you can tell from the video, the bathroom is not cramped and easily fits a stack able washer and dryer as well. A washer and dryer in one could also fit nicely there.
WOW! This Is The Desert: Just Add Love And Water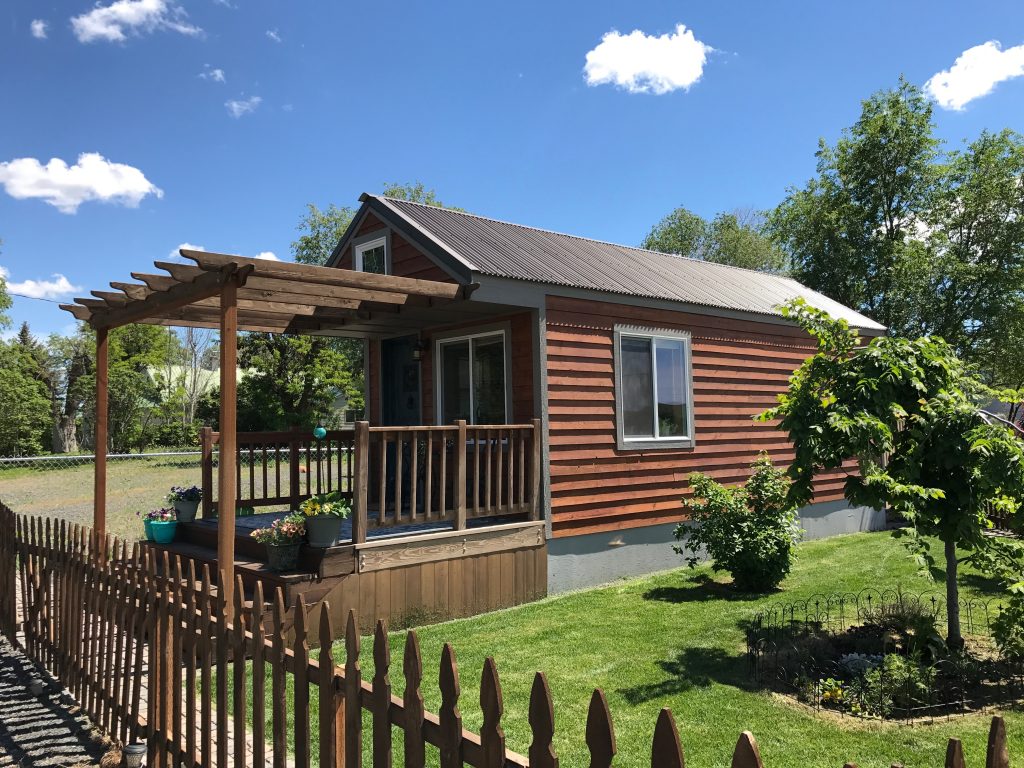 You can read all the details of my cabin HERE and see the before and after pictures from a rough desert to a green oasis of paradise. We have been blessed with an amazing amount of rain and everything is happy and in bloom! I am in awe of the beauty.
Hope You Enjoyed The Nostalgia Cottage Video Tour!
janet@tinyportablecedarcabins.com
509 345 2013
509 770 1694
Save
Save
Save
Save
Save