Streamlining The Process
Pre-Approved DADUs
To simplify and streamline permitting, the City of Seattle developed pre-approved DADU construction plans that offer a faster, easier, and more predictable design and permitting process. Here's how it works:

Browse the pre-approved designs in the gallery below. They also showcase more than 160 design submissions from which we selected our 10 pre-approved plans.
Ready to move forward? Review these program details, read Tip 310, and contact a designer to proceed. Then check out our step-by-step guide for information about ADU financing,
permitting, and construction.
Pre-Approved Plans
This gallery showcases 10 DADU designs that have been pre-approved by the Seattle Department of Construction and Inspections (SDCI). Scroll through the gallery, view images of the design, and connect with its designer to use the plan.
Note: the City makes no guarantees, representations, or warranty with respect to the DADU design or construction plans, including their quality, safety, compliance with building codes or state or federal laws, or suitability for a homeowner's property. Homeowners using a pre-approved plan rely solely upon the designer, architect, or contractor for any representations, warranties, assurances with respect to the DADU design and construction plans.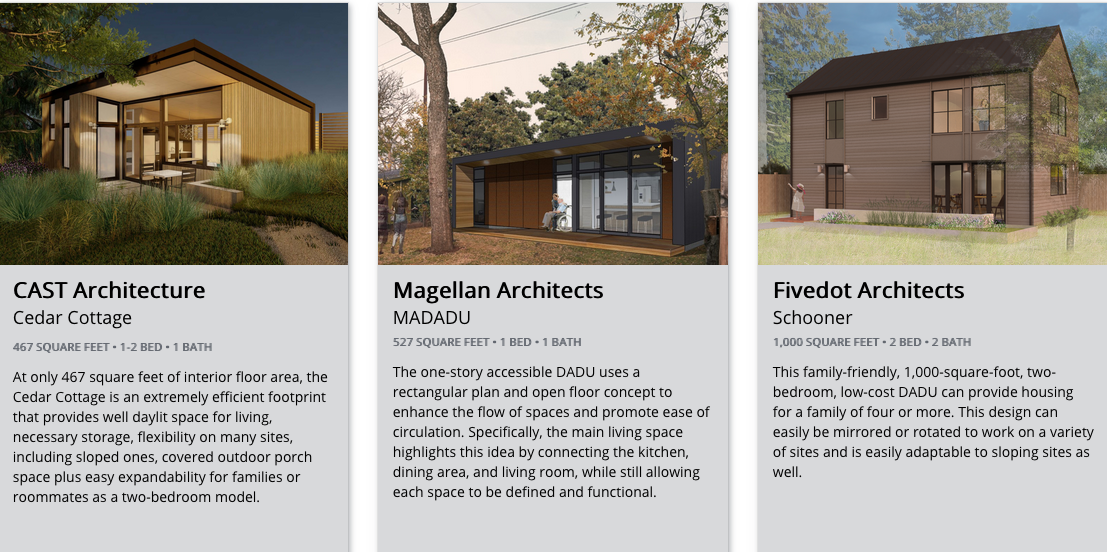 janet@tinyportablecedarcabins.com
509 345 2013
509 770 1694