Testimonies
December 2016 we hired Dave Bates of Portable Cedar Cabins to build us a version of a Lakeview cabin aka Tiny House. Dave was more than accommodating. Throughout the process we made a few changes which he always said "no problem, we can do that". He is very knowledgeable, always had a suggestion or a solution. He and his crew were always pleasant and answered any questions or concerns we had. Hats off to all of them! We love our tiny house! Another check mark off the bucket list. Steve and Punky Rasor
____________________________
You Made Our Dreams Come True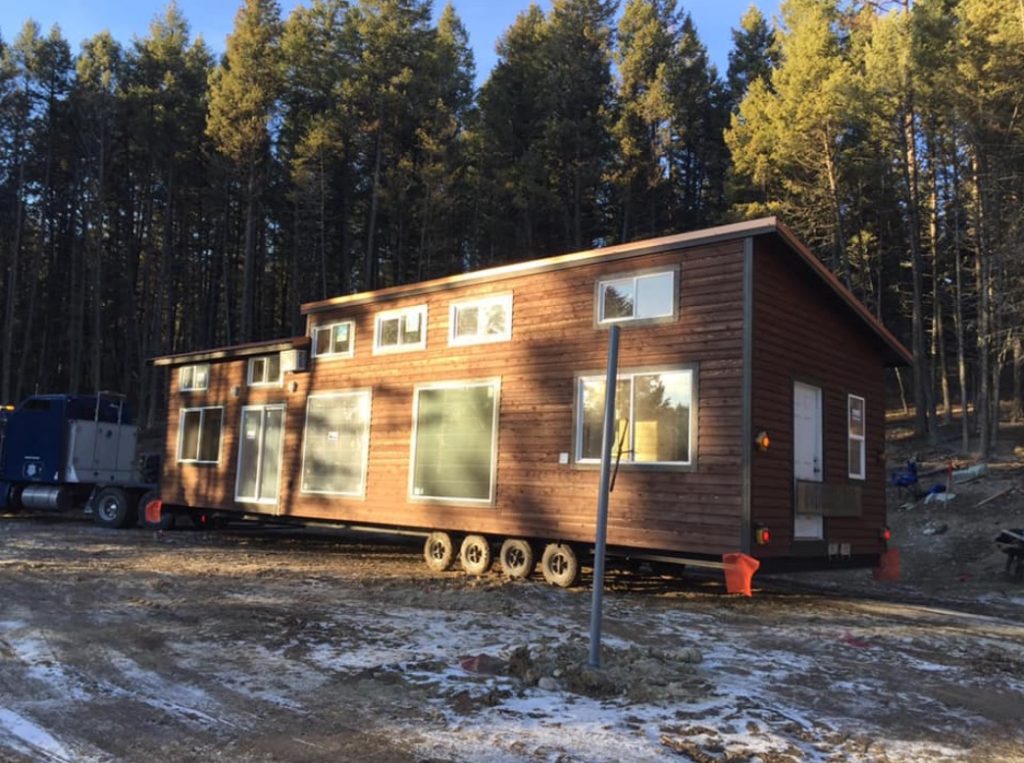 We got our house a year ago today! Love it so much, and we're so grateful for the your company- you made our dreams come true!
This Is An Amazing Place And Was Made Really Well
I have been living in my new house and I can't say enough about it. I am so happy. This is an amazing place and was made really well. I just wanted to let you know that you made me my home and I cannot thank you enough.
Hope all is well with you and yours.
Martha Wolf
My Cabin Has Arrived!!!!
Dave,
The house arrived in one piece. It's absolutely stunning!! You guys did a beautiful job. It's the envy of the area! EVERYBODY wants to come see it! Hahaha. I just can't thank you enough for building me exactly what I asked for and accommodating my little must haves. You built my dream house and I couldn't be happier or more proud to show it off. Thank you again.
Chrystal
Winter In Montana From Chrystal:
With spring on the horizon the tiny house has made it through its maiden Montana winter. Heavy snow fall to sub zero temperatures and it has handled all of it like a pro! I love my house!!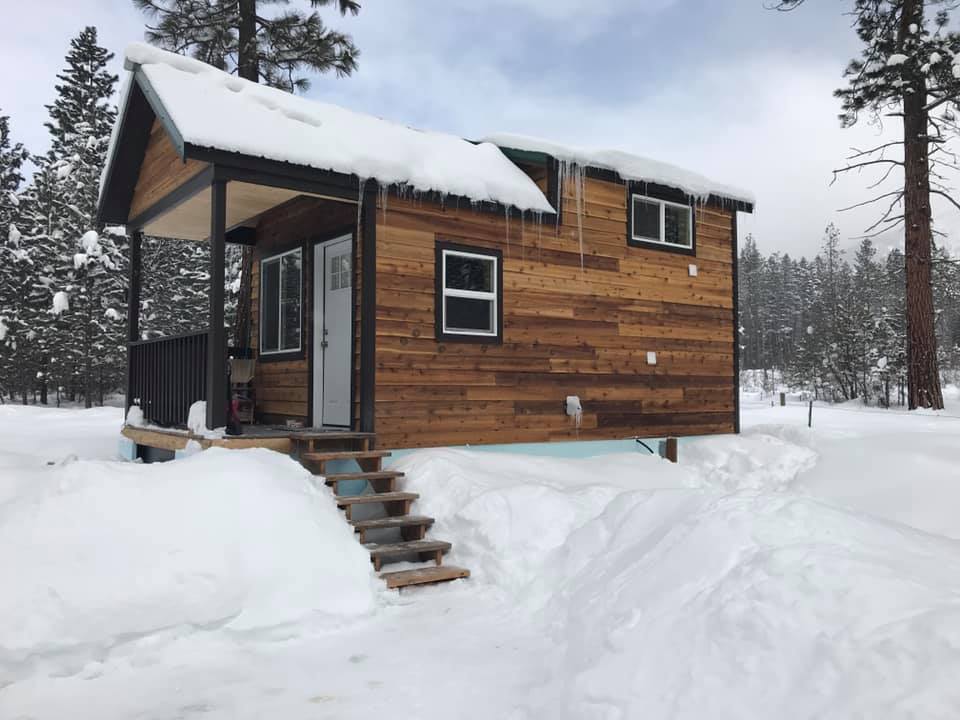 Love The Trim And Live Edge Boards
Dave the house looks great…. We love it.  I haven't even been in it yet, we just got it unhooked.  But I looked in there and I love the trim and live edge base boards….  It really is perfect for our place.   Thanks again and God bless.   I will be putting a good advertising blurb about your business on our Facebook page,  Bull Creek, Nevada.
Take care, Chuck
Dave, Thank You Again For Great Quality Work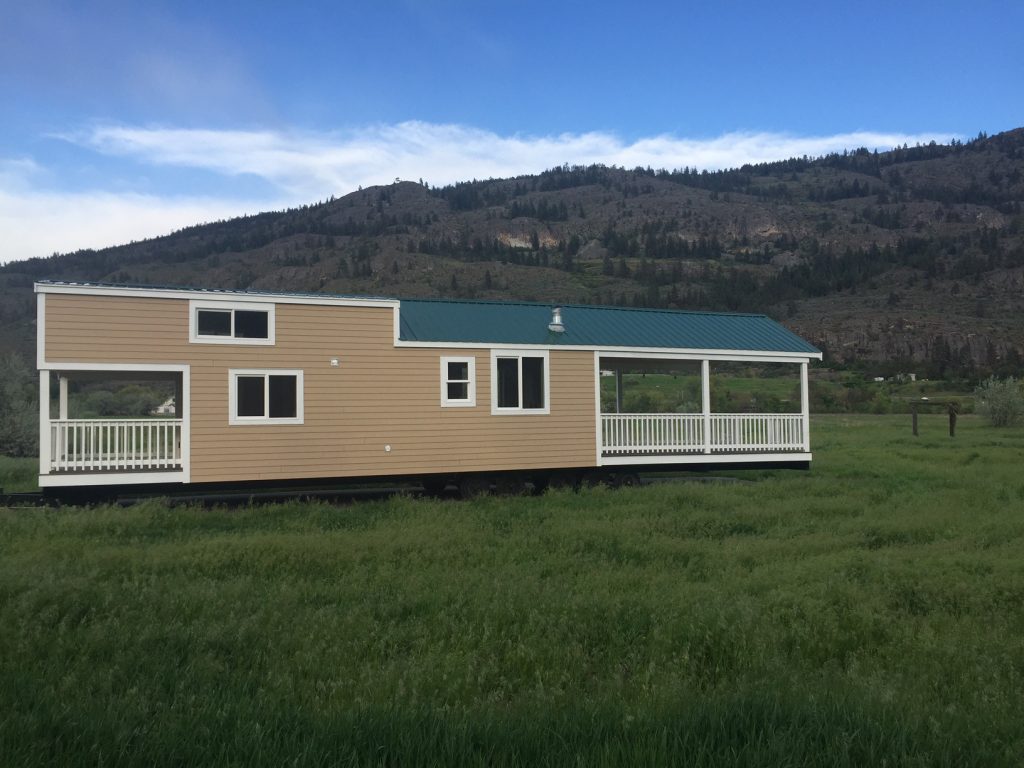 Hi Dave,
I just want to thank you again for the great quality work on my cabin . Also, I would like to give my highest recommendation to your delivery crew. It was dicey getting over the humps and bumps and around corners but clearly the driver was very experienced and creative. Mission accomplished! Have a great weekend. Btw, feel free to use me as a reference if you wish.
Dennis Gusman
The Quality And Craftsmanship Are Outstanding
Working with Portable Cedar Cabins has been an excellent experience!  Right from the start they were able to answer all of my questions regarding possible financing sources and insurance.  From there my wife and I had a great time looking at other tiny houses in various stages of completion to get ideas to make our custom tiny house perfect.  Dave was very helpful and flexible through the entire build out sharing his years of experience.  The quality and craftsmanship are outstanding and I'm very excited to spend the next chapter of my life in our custom tiny house. I can't thank Portable Cedar Cabins enough for their help in making our vision a reality!
We Love It !
Hey Dave, Just want to let you know that our cabin was delivered last Friday & we love it! The construction is very impressive and the finishes are so nice. We are still working on set up and plan to build a small deck off the front – so excited to finally have it.
Thanks for making the whole process so user-friendly & being so pleasant to do business with. I'll try to send you a picture when it's done on our end.All the best,
Camy & Jeff Ditter
My New Tiny Home On The Island
My new Tiny Home has exceeded my expectations by far. I love the beauty of the wood interior and the functionality of the limited space. It is very comfortable and livable from the moment it arrived. I have already had three drop-in visitors in the first four days and they all loved it. Your attention to detail is very evident. The craftsmanship from floor to ceiling raises the bar for small homes from good to excellent. I am excited to own this quality home and look forward to enjoying it for years to come.

I want to thank you so much for building it. It is the best tiny house I could ever ask for. It is my dream come true. I get to live in this house in the woods on an island. How cool is that? You have made this possible. I love waking up in the morning in it. I love the rustic look. It is built very solid. I love the tiny kitchen. It has all the appliances that I need. Adequate cupboard space. It keeps me from having too much clutter. I love the tiny bedroom. I love all the details you put into this house. I love the hardwood floors. The radiant heat is the best. it keeps me pretty toasty.

Dave you and Janet have been great. You guys were very easy to get a hold of. You responded to all my questions very quickly. From the planning phase, building phase, delivery and set up phase you were there supporting and walking me through this complex process. Thank you again Dave.

Melanie Ellis San Juan Island
Dave, loved the cabin and all the extra work you put into it and thank you for helping me sell it,  when I needed it to.

Roger W.
Janet,
I just want you to know that everyone that sees this cabin loves it. My dad is very happy and we appreciate Dave's craftsmanship.
Thank you!
Beth
My Tiny Bahay!
Hi Janet and Dave,
I just wanted to drop a "thank you" note for all that you've done in helping me with my journey to going Tiny!
I especially wanted to thank Dave for his wealth of wisdom, his commitment to customer service, and his patience with a "tiny newbie" like me.
If anyone is serious in getting a Tiny House, they cannot go wrong with both Tiny Portable Cedar Cabins and builder Dave Bates at Portable Cedar Cabins. They'd be crazy not to, IMHO!
I'm not a gambling man.  However, this is one of those rare times that my gamble paid off.  I'm so glad I took a chance with your respective companies – no regrets!  Just so you know, I went with you guys because the personal service and industry experience were top notch. Not to mention, I felt having a RV certified builder like Dave was very important – it adds to credibility in the tiny home industry. And, the most important factor was honesty/integrity. Dave was very upfront and open. And, I do appreciate your integrity as well, Janet.
It's been several months now and I've been very, very happy with my Tiny House. I call her 'Tiny Bahay' by the way. Bahay is a Filipino Tagalog word for home.  My Tiny Bahay has exceeded most of my expectations. I especially love the cedar walls that line my bathroom walls.  The cedar scent comes out well when I take a hot shower.  Dave is also a miracle worker when it came to helping me fix my hot water heater issues (over the phone!). I do love the rustic craftsmanship used throughout, especially the rustic desk unit in my "tiny" home office.
As I write this, I'm considering my next tiny house build project which is going to be an AirBNB tiny house cabin rental unit on wheels.  I hope to launch this project in late 2016/early 2017 and it would be an honor to have both of you again as my seller/builder of choice!
Lastly, it feels great to finally be a REAL homeowner!
Happy New Year!
Girard
Dave and his crew built a fantastic cabin for my wife and me. The building process was incredible and Dave was amazing to work with as he was so knowledgeable with great ideas. We live in Alaska and could not have been more pleased dealing with Dave from the planning stage to actual delivery of the cabin.
We already had family stay in the cabin and they had a fantastic vacation. My mother is already planning to come back and stay with us. What a wonderful little house.
– Andre and Kari van Delden
Thought you would like to see the cabin finished. Thanks for
the great service!
– Peter Link
---
Save
Save
Save
Save
Save
Save
Save
Save
Save
Save
Save
Save
Save
Save
Save
Save
Save