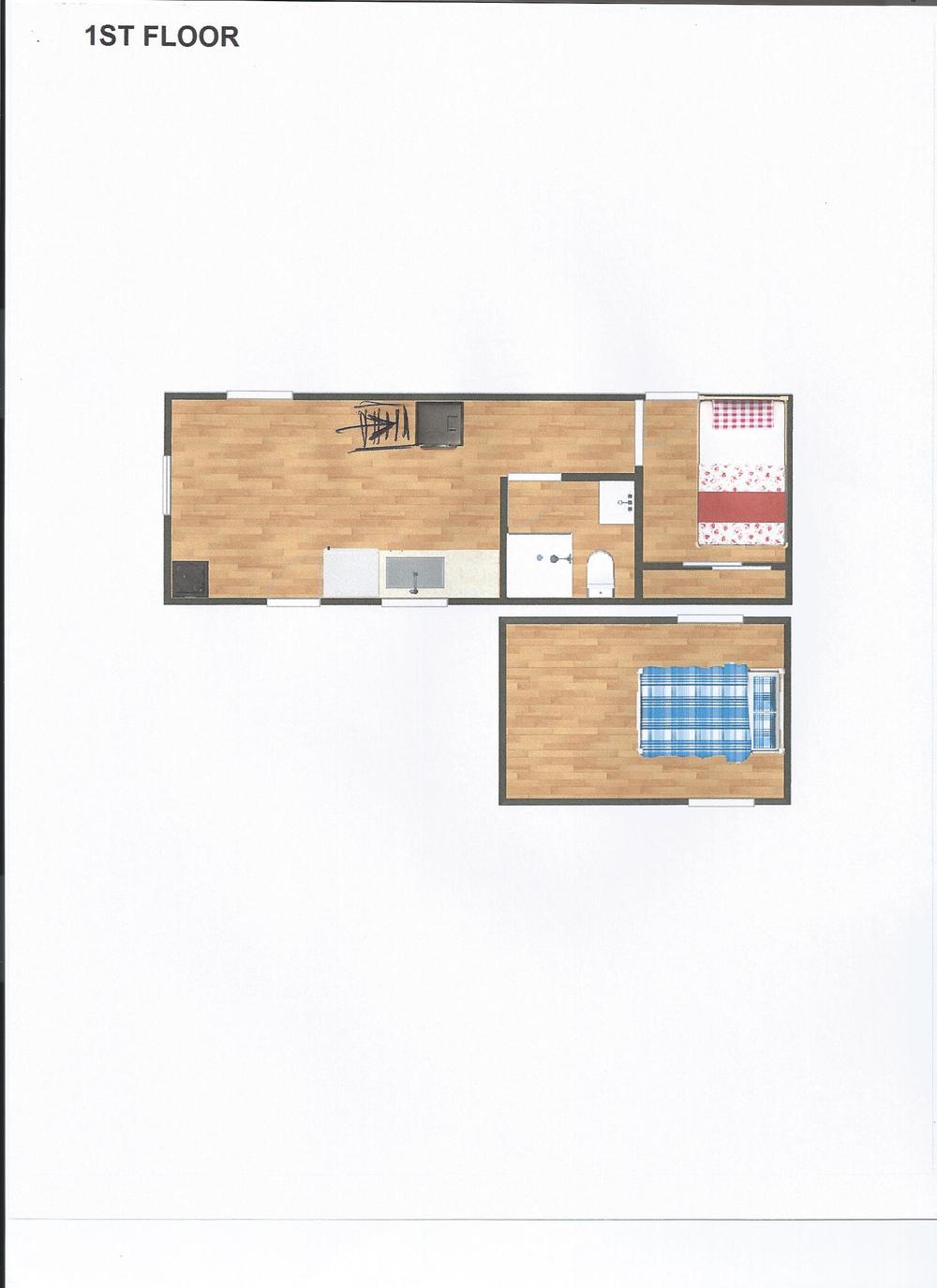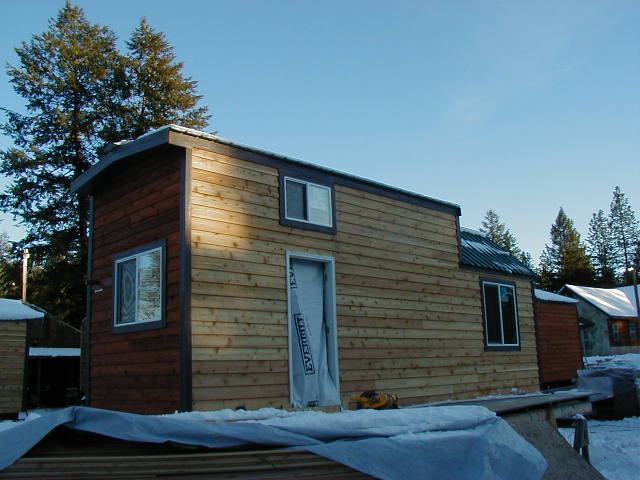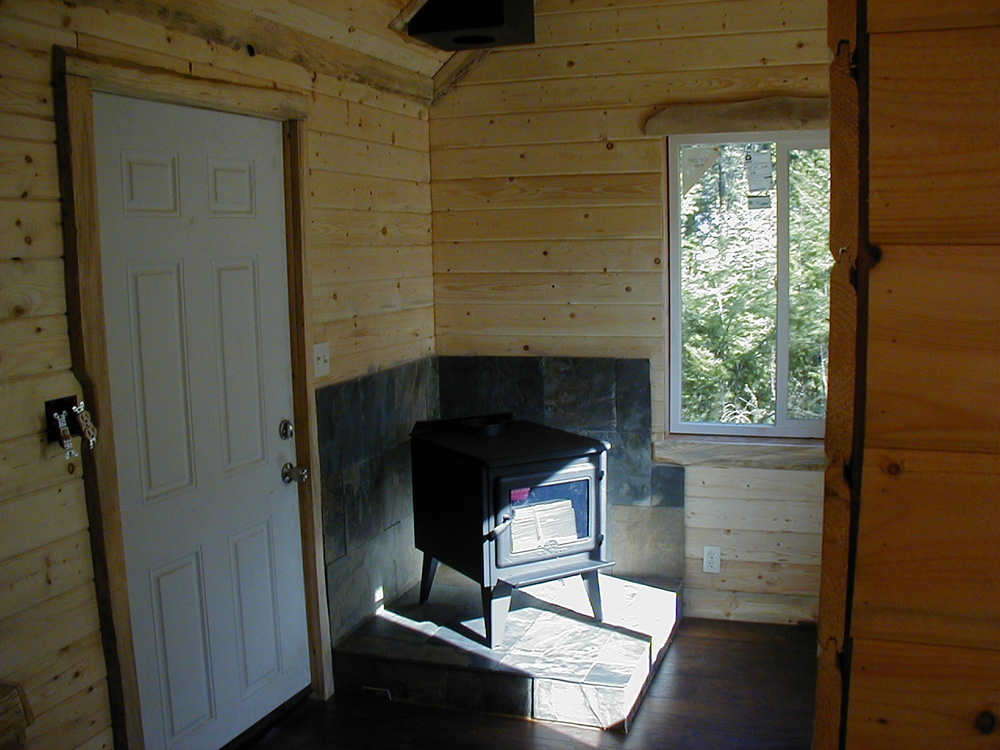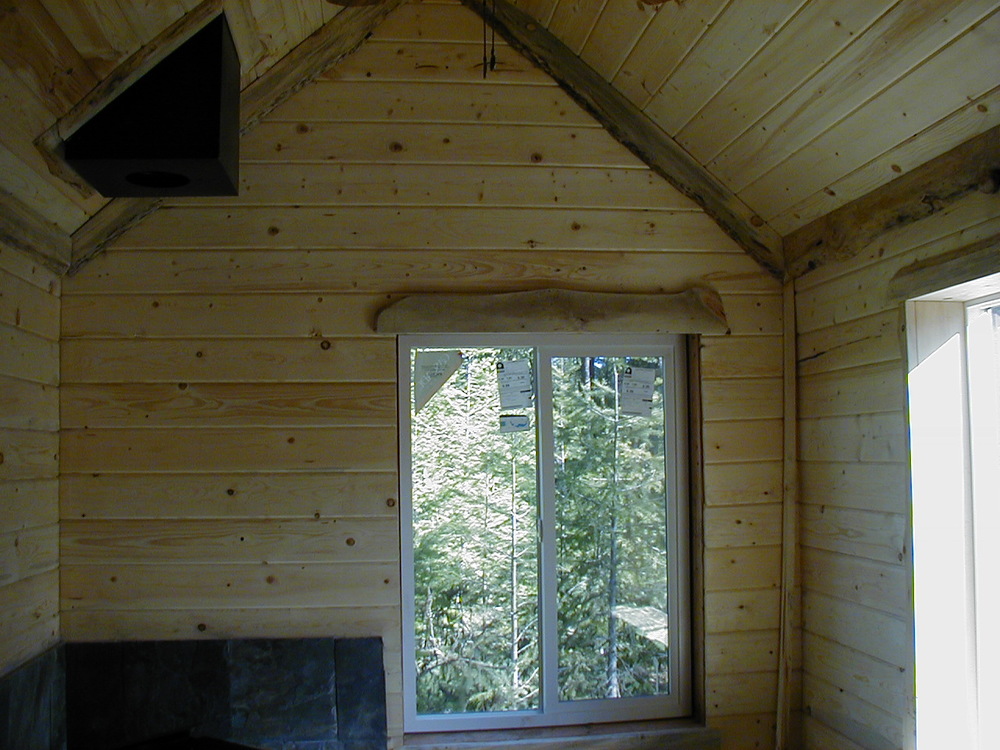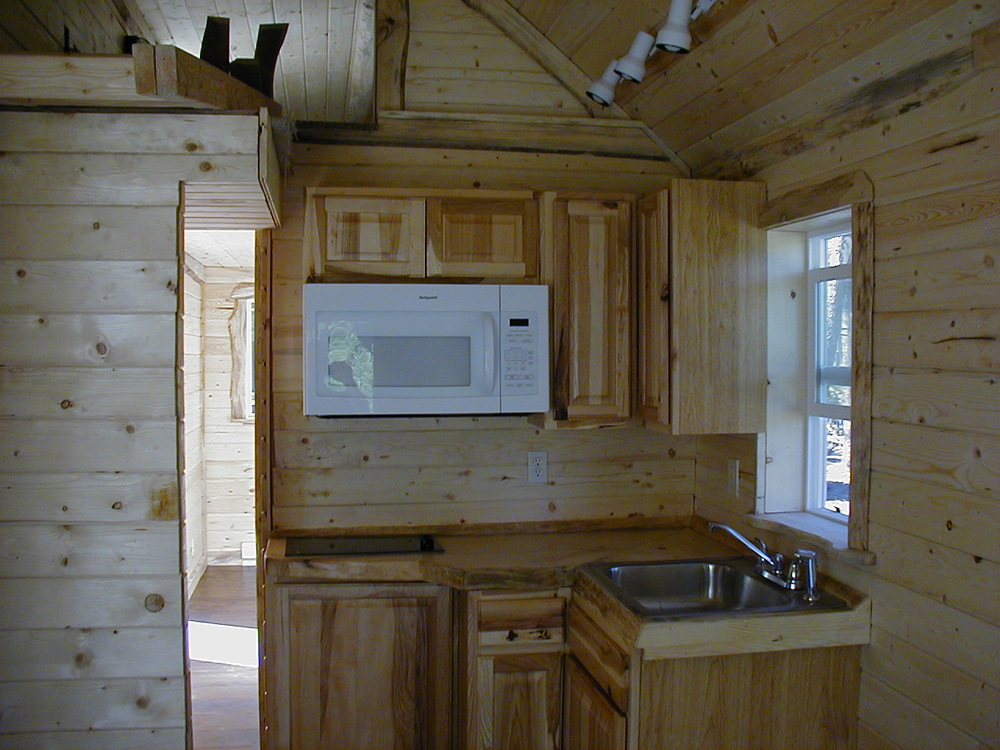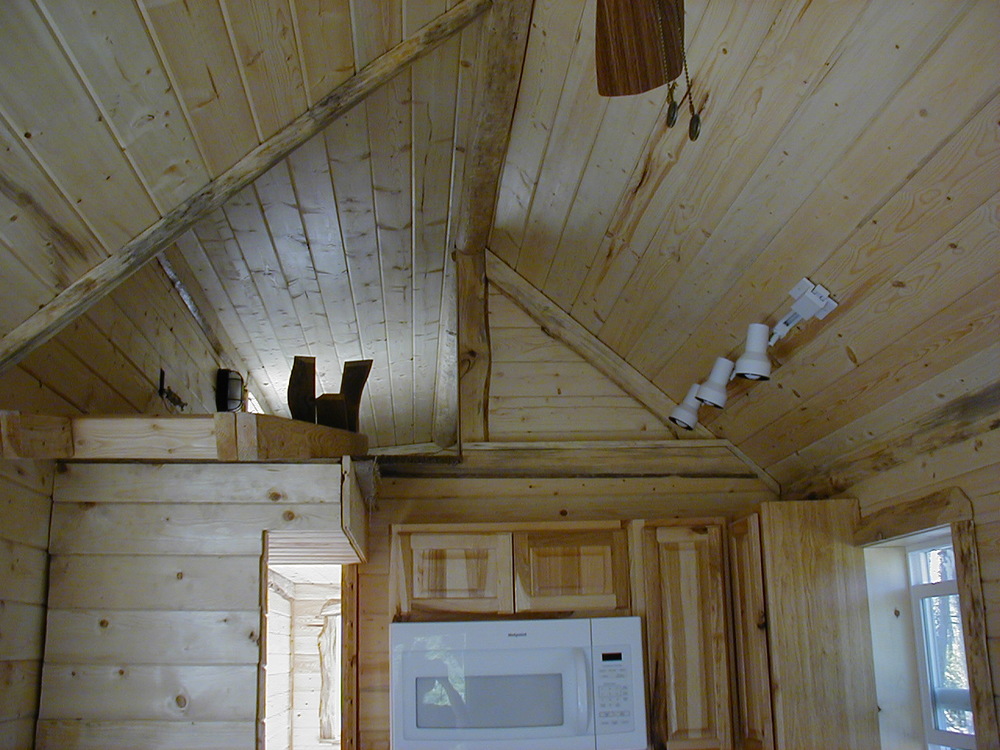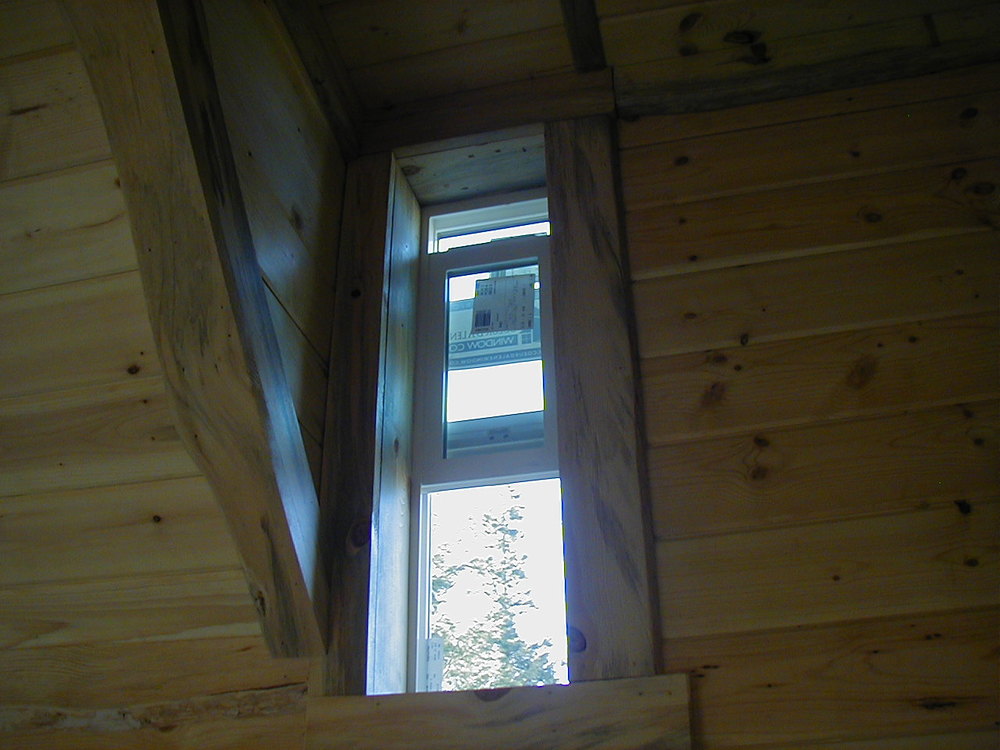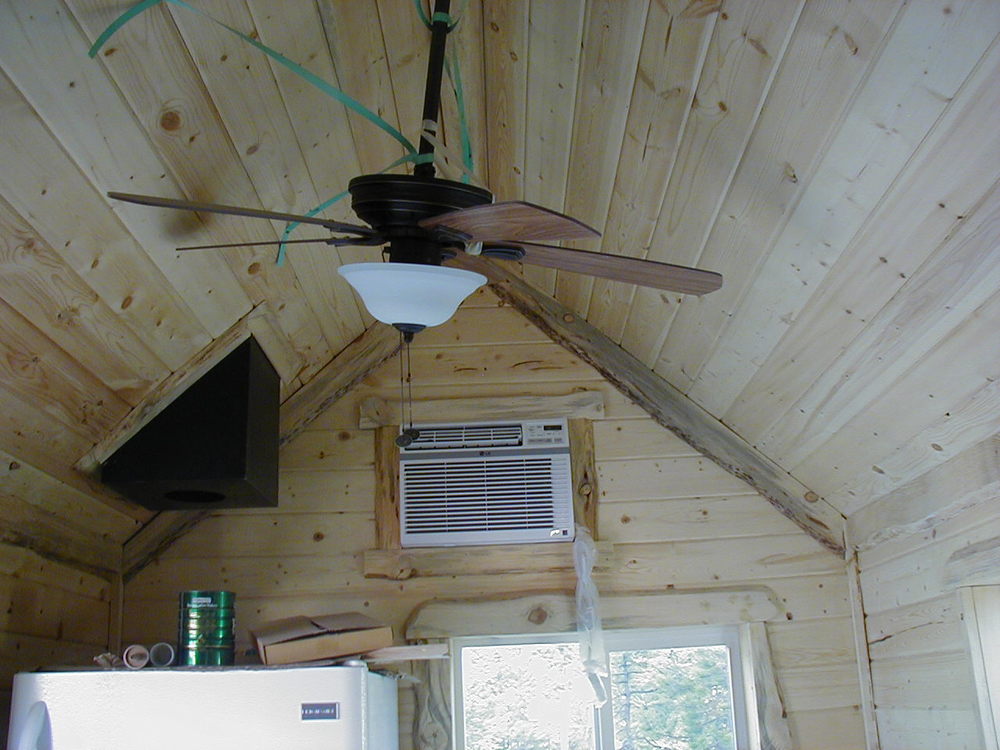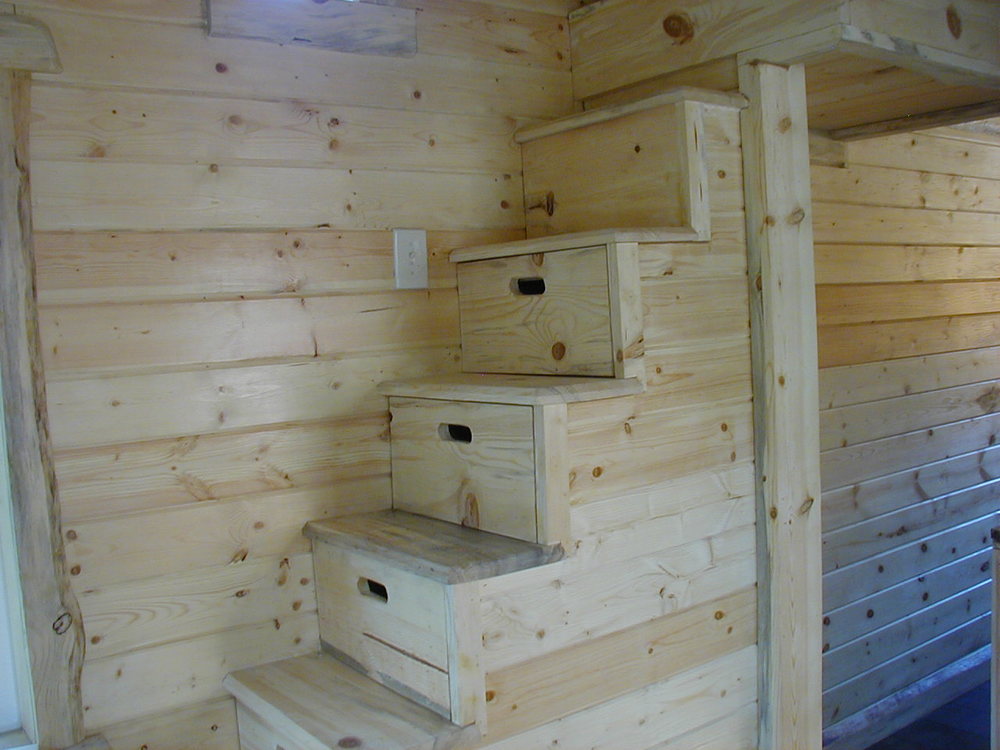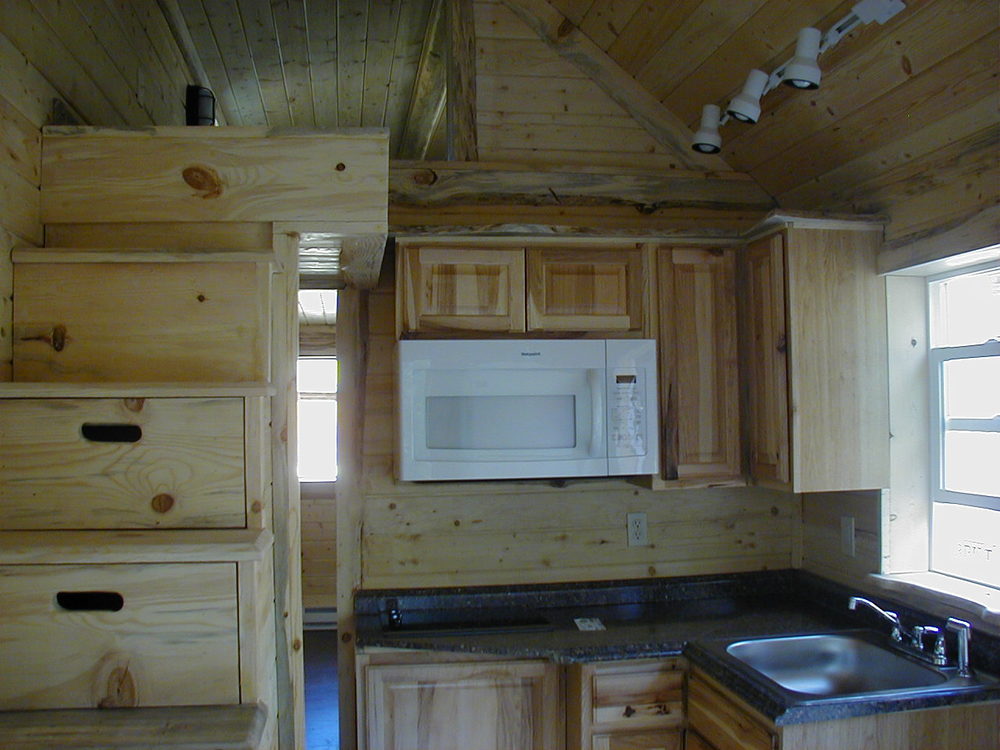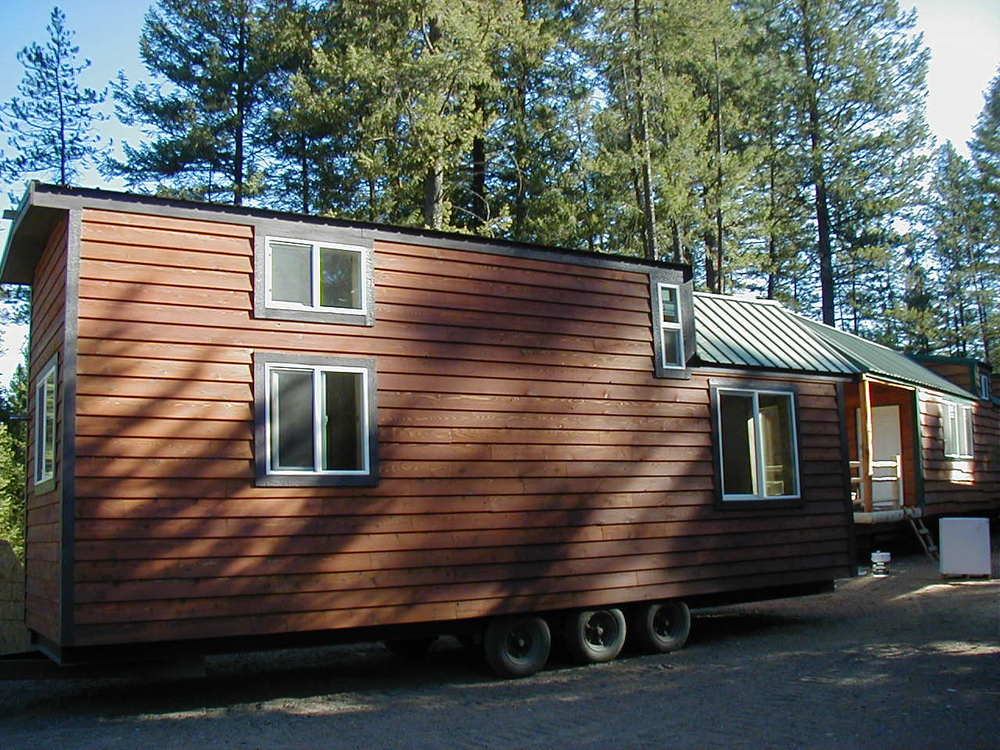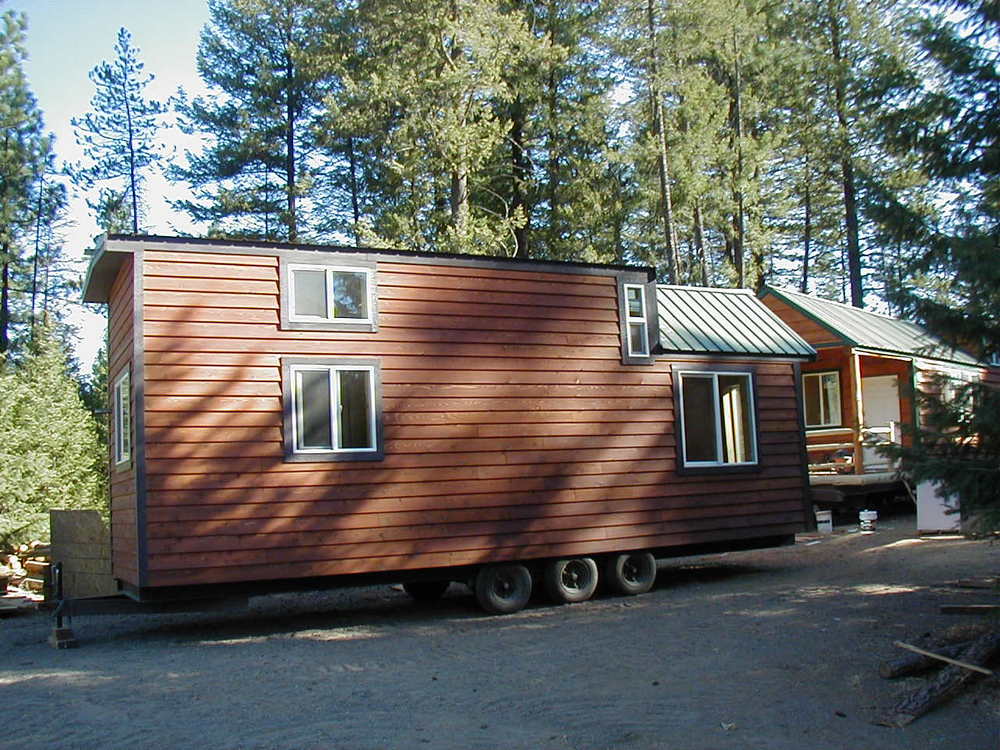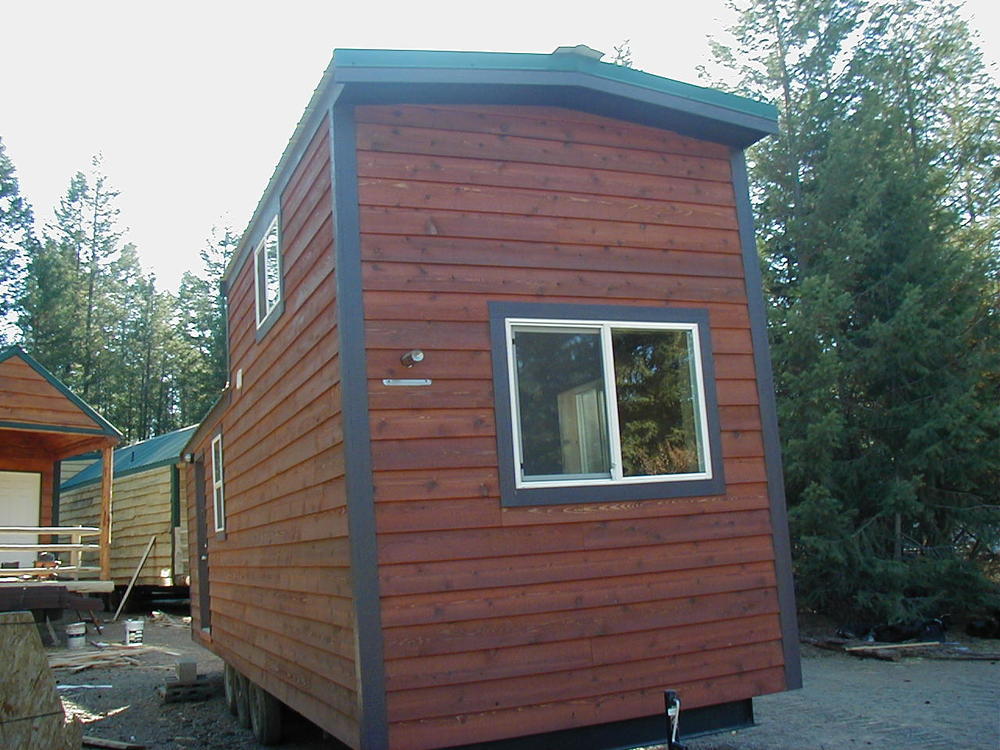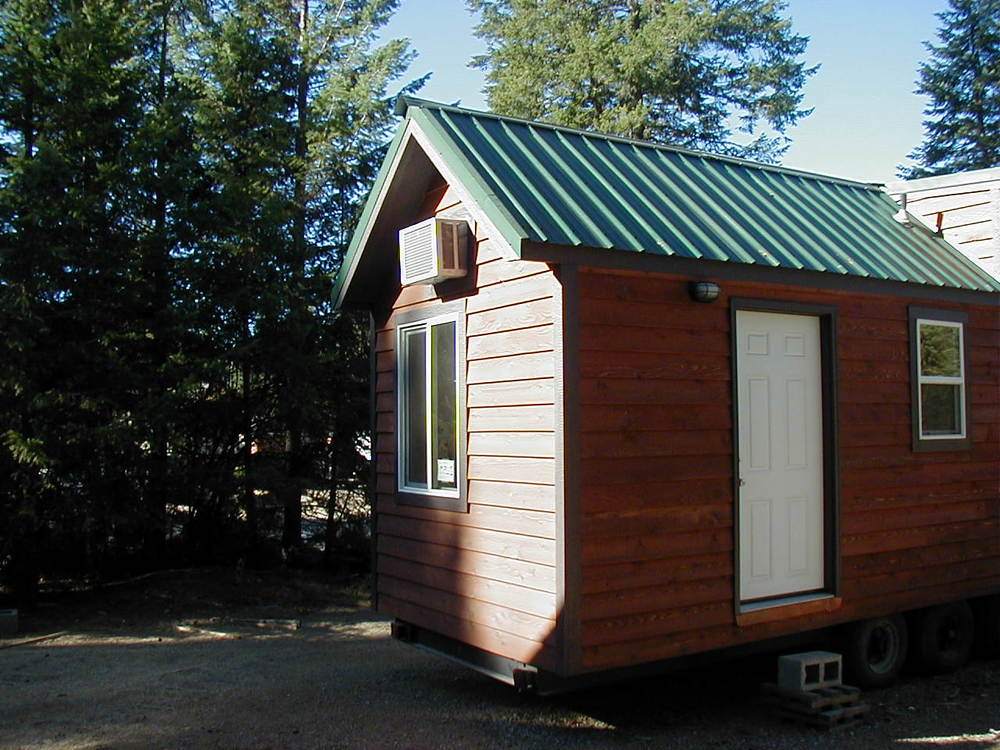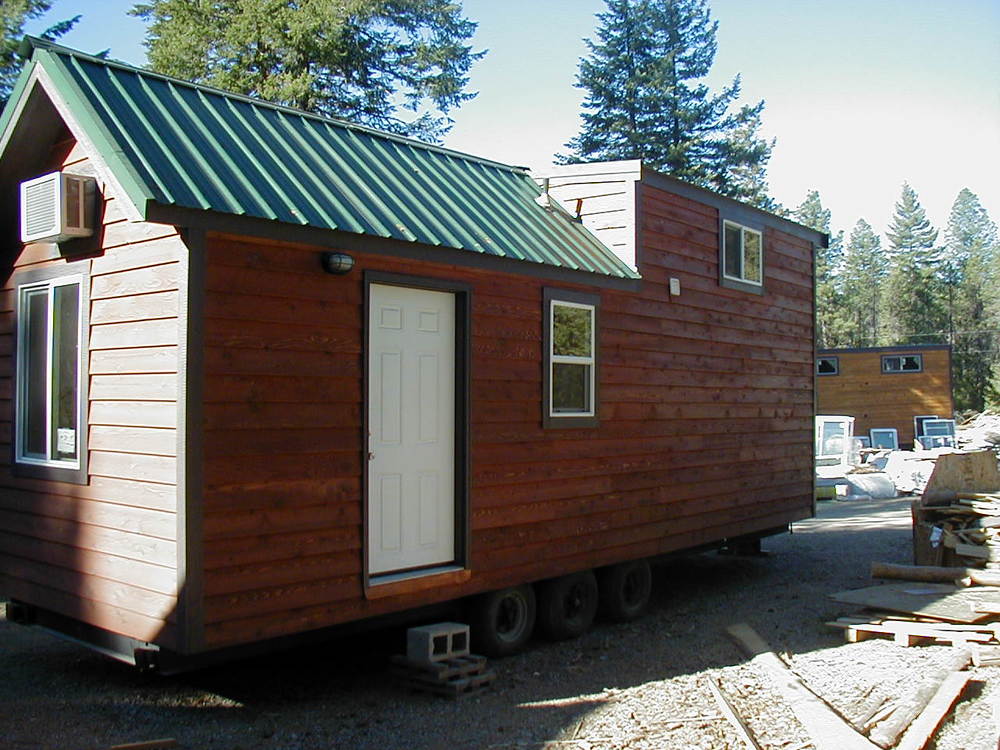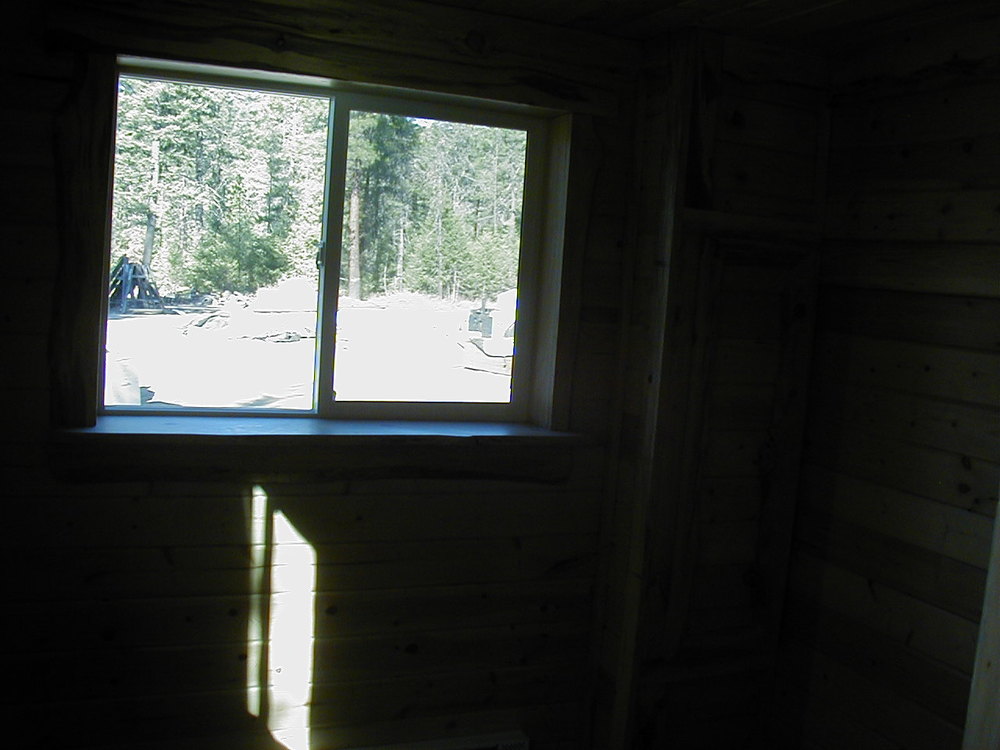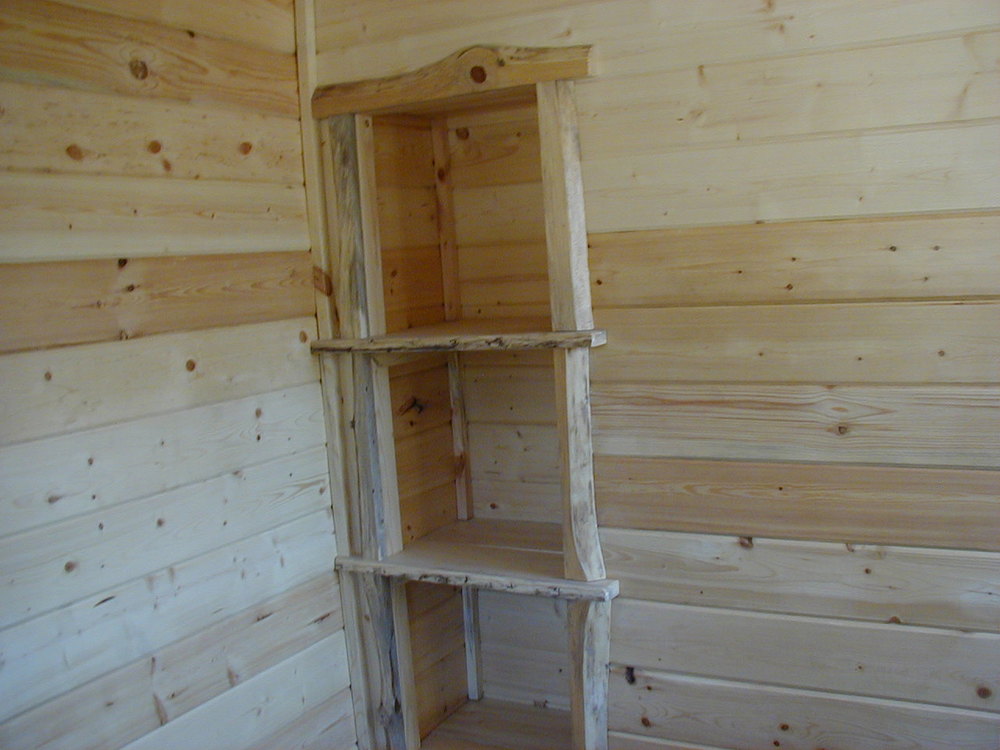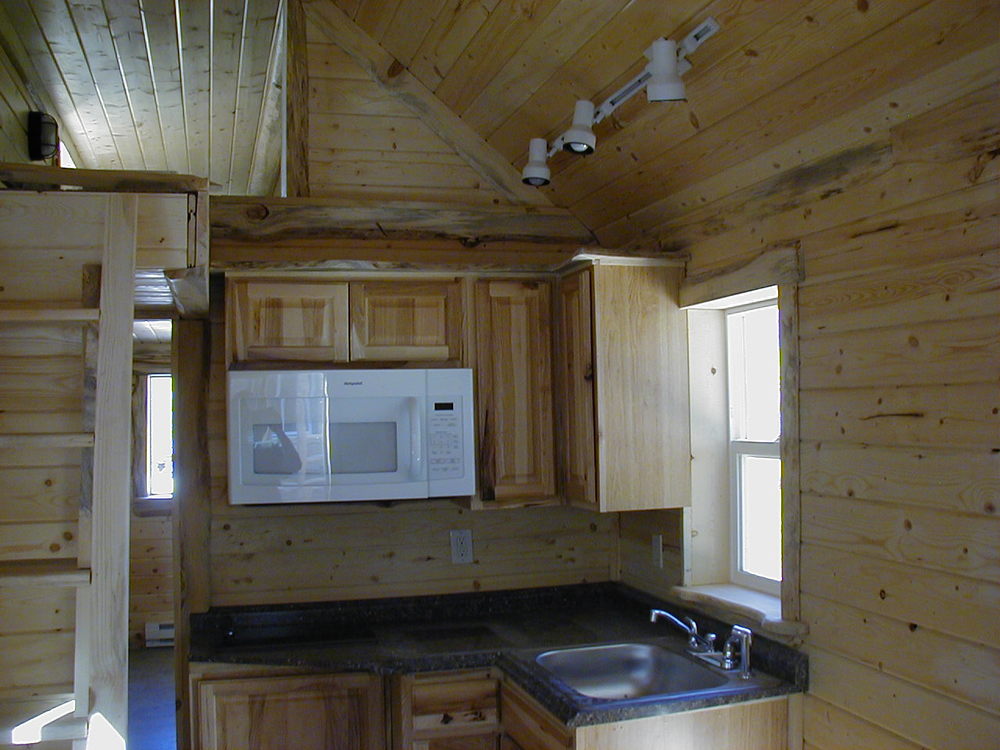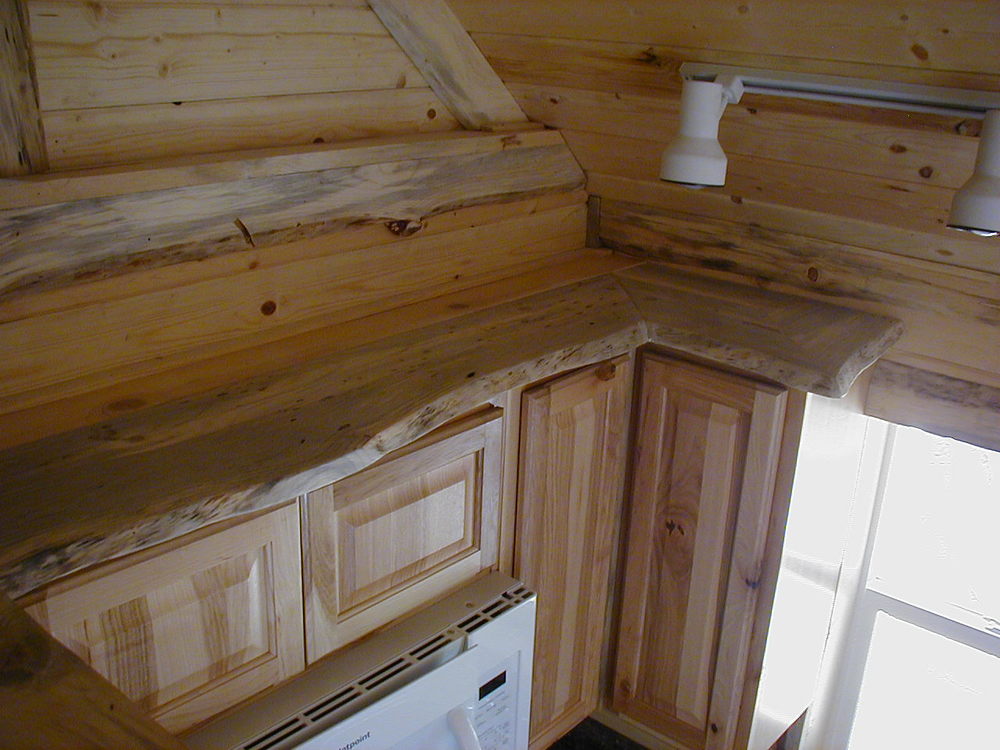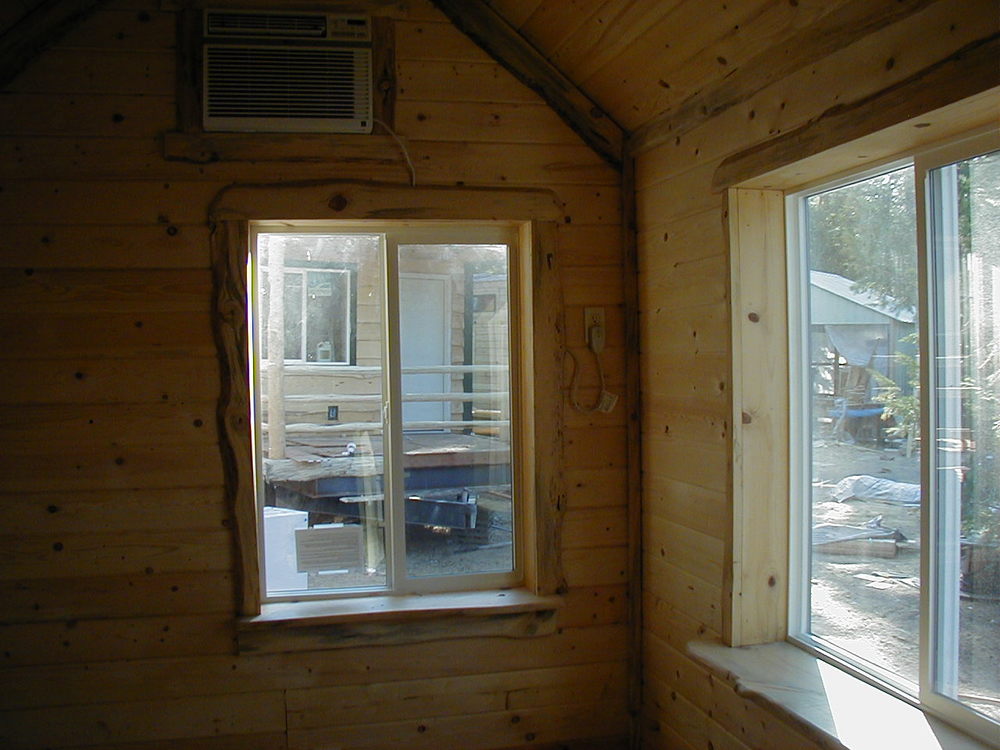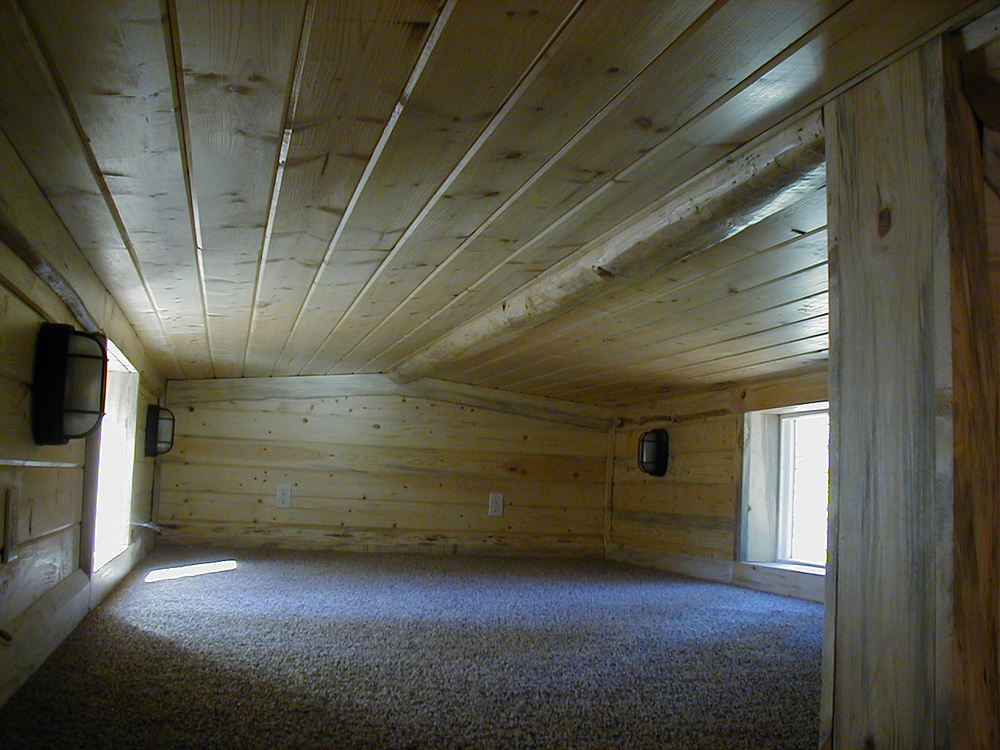 One Bedroom Cabin With Loft
The Eagle's Nest Cabin is a brand new model we just created that is 8.6x 28 for $ 44,000   It includes one back bedroom on the ground floor a kitchen and bathroom. It is built on a custom steel trailer on wheels.
The featured cabin  has the door on the side instead of the front. When designing your cabin, you always have the option to choose which side you want your kitchen on and where you want your door.
Electric Baseboard Heat Is Standard
Wired electric baseboard heat is the standard heat choice, but you can add radiant floor heating, a wood stove or a propane fireplace for an upgrade price. For insurance purposes, it is always wise to get electric as your primary heat source and a wood stove or propane as a back up heat source. Insurance companies also want a wood stove or propane to be installed to code by a professional so it will be inspected after installation.
Please Note: The photos show a lot of upgrades, woodstove, A/C. storage stairs, microwave  and loft.
Standard Base Price Includes:

Custom Built Steel Trailer
2 x 6 floor joist 16″ O/C T&G OSB sub floor.
2 x 6 sidewalls 16″ O/C.
Vaulted, Engineered trusses w/ 60# snow load.
7/16″ OSB sheeting with vapor wrap.
8″ cedar lap siding  ( Siding Choices )
Metal roof  ( Your Choice Of Color )
(1) Insulated 36″ steel door.
Insulation: Ceiling R-21, Walls R-21 and Floor R-21.
Vented attic space.
Ceiling fan and light kit
1 x 6 T&G Pine ceiling.
1 x 6 T&G Pine on walls.
Upper and lower kitchen cabinets
Rustic shelves
Laminate kitchen counter tops w/ back splash.
Recessed lighting in kitchen and bathroom.
Stainless steel  kitchen sink
Built in 2 burner cook top: Electric or propane
Under the  counter refrigerator
Laminate flooring
Carpeted Loft
Linoleum Flooring in bathroom
32" Shower
Standard Toilet
20 gallon electric water heater.
PEX pipe with low point drain.
Electric baseboard heat or wall mounted heat
25 Foot RV Cord
50 Amp Electric Panel
Additional Upgrade Options 
Radiant Floor Heat / $1500.00
EPA Certified Wood or Pellet Stove/From $1500.00 to $ 1800.00 : Includes Slate or Stone
Dickinson's Propane Marine Heater: Installation and inverter $ 1100.00
Propane OR Natural Gas Log Fireplace With TV Mantle 30" or 36"-$2200.00 to $2400.00
Washer & Dryer / $1250.00 ( $ 200.00 extra to convert gas dryer to propane)
Washer Dryer In One $1800.00 ( Includes Installation )
Propane on demand hot water heater / $950.00
10′ Cubic Refrigerator $599.00
17′ Cubic Refrigerator $799.00
20" 4 Burner Stove And Oven $800.00
24" 4 Burner Stove And Oven $950.00
30″ 4 Burner Stove And Oven $1050.00
Dishwasher $ 600.00
AC / $550.00
Sliding Barn Door $ 600.00
French Doors 6′ $ 800.00
Sliding Patio Door 6′ $ 500.00
Nature's Head Compost Toilet $960.00
Two 5 Gallon Propane Tanks with gauge and regulator $ 250.00 ( propane not included )
Utility Shed for propane tanks $ 800.00
Stairs with storage $ 1000.00
Built In Desk $ 250.00
Breaks and lights on trailer $350.00
Additional Upgrades: Add To Your Notes
Decks
Lofts
One Inch Foam Insulation
Granite Counter tops
Wainscotting
10 Foot Wide : Add $ 2000.00
Add $2000.00   if you want to extend your cabin to 10′. This additional feet will open up a whole new world of possibilities for space. The price would include the option of having a bath/shower combination instead of just a shower.
Call or email Janet Thome
Cell 509 770 1694
509 345 2013
janet@tinyportablecedarcabins.com
Save
Save
Save
Save
Save
Save
Save
Save
Save
Save
Save
Save
Save
Save
Save
Save