Brand New Tiny House: Outside Of Portland, Oregon
Hygge. Feng Shui. Minimalist
This tiny home was handcrafted & curated to fit a contemplative & creative lifestyle away from all the noise of the world. While it's minimal in design, it's very functional & makes the most of the small space. The design is inspired by the Nordic sensibility of clean, simple comfort & is accented with a touch of Japanese teahouse culture. And with mobility built into the foundation, you can literally take this on whatever road your dreams lead you down!
Currently located in the heart of the Columbia River Gorge, about 45 minutes East of Portland.
This tiny house is fully furnished & ready to hit the road today! All it needs is a loving family with an adventurous spirit.
Price = $89,000 or $99,000 fully furnished
(Price does NOT include the cost of transportation, which you'll need to setup & provide.)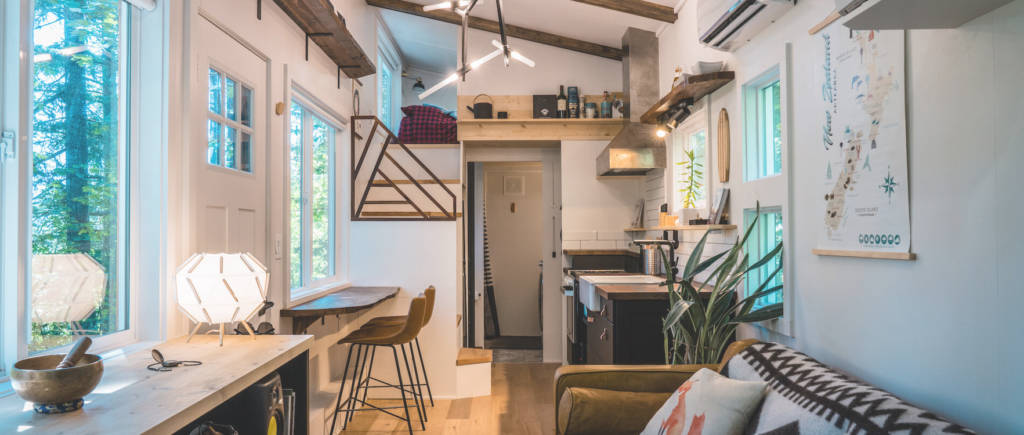 Inside
Internal Square Footage: 225 sq ft (30' x 7.5') + 2x Lofts around 50 sq ft each = 330' TOTAL sq ft

Full Kitchen w/ 21" SS 3-burner gas stove & oven (External Propane Tanks required)

3 Kitchen base cabs with butcher block countertop

Rustic metal hood w/ vent & light over the range

Dedicated Coffee Corner

An array of built-in storage cubbies, cabinets, closets & floating shelves

Recessed can lighting, Gallery-style spotlights, & one modern LED chandelier

White Porcelain Farmhouse Sink

Unique handcrafted woodwork throughout the space.

SS 2 door energy efficient 10.1 ft. refrigerator/freezer with automatic defrost

Mini-split AC/Heating Unit + Faux-Fireplace that puts out heat.

White blackout pulldown shades on all large windows. The one opposite of the projector shelf serves as a perfect projection screen.
Two loft spaces that can be used for sleeping, reading, & storage. The main loft is accessed by a staircase & features a chest of drawers. The other loft is accessed by a fixed ladder-like staircase (similar to an attic staircase) with a hatch door and railing on the edge (perfect for a reading nook &/or extra sleep space.

Dining table made from handcrafted woodwork

Full Bathroom: toilet w/ septic hookup, 32" bath vanity with porcelain sink, mirrored medicine cabinet & cabinet space below sink, 36" x 36" shower, & an All-in-One Combo Washer/Dryer Unit with hanging rod above.

Bookshelf/Entertainment System media cabinet that is HDMI ready & feeds to a shelf on the opposite wall where a projector sits.

The enclosed wooded area that can serve as the perfect workspace, or extend your living room area & make it the great reading nook.

You also have the option to buy this tiny house FULLY FURNISHED! See the purchasing details below.
Gross Square Footage = 264 sq ft (31' x 8.5')

Iron Eagle Tiny House Trailer with (3) 7K axles, trailer brakes, road lighting

LED Exterior Lighting on front

Black painted wood (board & batten siding) with Natural Cedar

Standing seam metal roof

Two moveable 6×6' cedar decks with a step up to door (combined makes it 12×6' – can travel inside the house)
Craftsman Exterior Door

3 exterior power outlets50 AMP electrical panel with 50 AMP exterior RV outlet

Propane hookup with auto-changeover valve

Energy-efficient LP tankless instant water heater

Built-in stabilizing jacks

Total Weight = ~ 12,000 lbs

And an OUTDOOR SHOWER!! (outdoor showers can change our life.)
Fully Furnished Option
• Italian Tan Leather Couch from Article.com (34″H x 88″W x 38″ D)
• Two 24" tan leather counter stools by Poly & Bark
• IKEA Desk (natural wood top w/ black legs)
•. Mounted Vertical Record Player w/ Pre-Amp
• Two KRK Rokit 6 studio-quality monitors w/ KRK Subwoofer (it shakes the house!)
• Pyle Audio interface/Stereo Amp w/ Bluetooth, Radio, Aux input + HDMI splitter
• Hitachi Projector: CP-X4041WN standard throw, 4000 lumens
• Retro-style blue microwave (brand new)
• Large cowhide rug
• MoonPod (the best beanbag ever)
• Full-Size Mattress by Tuft & Needle (2 years old)
Interested in buying?
If you're very interested in buying my brand new tiny house (that's never been lived in), please reach out via the contact form. I can schedule a virtual viewing & walk you through the entire house by Zoom or Skype.
The price is $89,000 "as is" and includes all the interior & exterior features listed. For an additional $10k ($99,000 total), you can get the tiny house fully furnished (items listed on the bottom of the main page.) The price is negotiable.
The price does NOT include any kind of transportation or shipping. You will need to secure & pay for that on your own.
The house is ready to go TODAY. And I need to sell it as quickly as possible, so I will be operating on a first-come-first-serve basis. Serious buyers who want to put it on hold can do so for a non-refundable deposit of $1000, which will put the house on hold for two weeks. The deposit will go towards the total cost once the sale is final.