Adding Lofts And Decks Is The Key To Create A Spacious Tiny Home For Four
Are you a small family wondering how you can downsize into a tiny home or build your first home?  I would like to share how to create a custom built tiny home for four with ample room for all. The largest cabin Dave can build is 400 square feet to stay in the required footprint for the park model code.
The square footage is only measured on the ground floor inside living space, so lofts and decks are not included. The key to having more space for your family is by having a longer trailer built with a deck and a long loft or even two lofts. I will show you several examples of how to do this.
The Urban Cabin: 12′ X 33′ With A 24′ Loft And 12′ Deck
The Urban Cabin is a customer favorite and it can be built in various dimensions from 144 to 400 square feet. I just went to visit Dave and I took a lot of pictures and made a few videos to share with everyone. The cabins are in various degrees of being built and I will be documenting their progress. I did not get the best inside shots because it was dark, so I will try to add better ones later.
24′ Loft With Two Divided Bedrooms And Child Safety Rails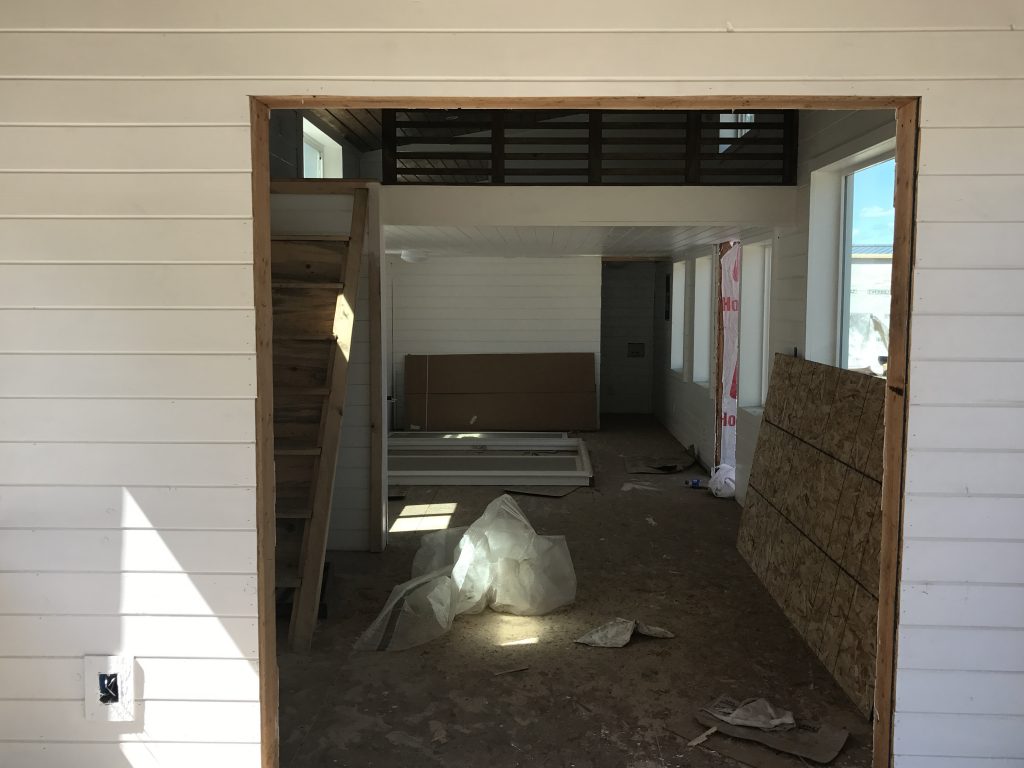 The family that is building this cabin has two small children and of course they want them to be safe. The dark brown rails are a way to protect them from falling, but also a great way so their parents can keep an eye on them. There  will also be a locking gate. It is hard to see ( I promise I will get better pictures) but the 24′ loft actually has two bedrooms with a divided wall and an entrance to the second bedroom. Perfect solution as the children get older and want their own space.
12′ Covered Deck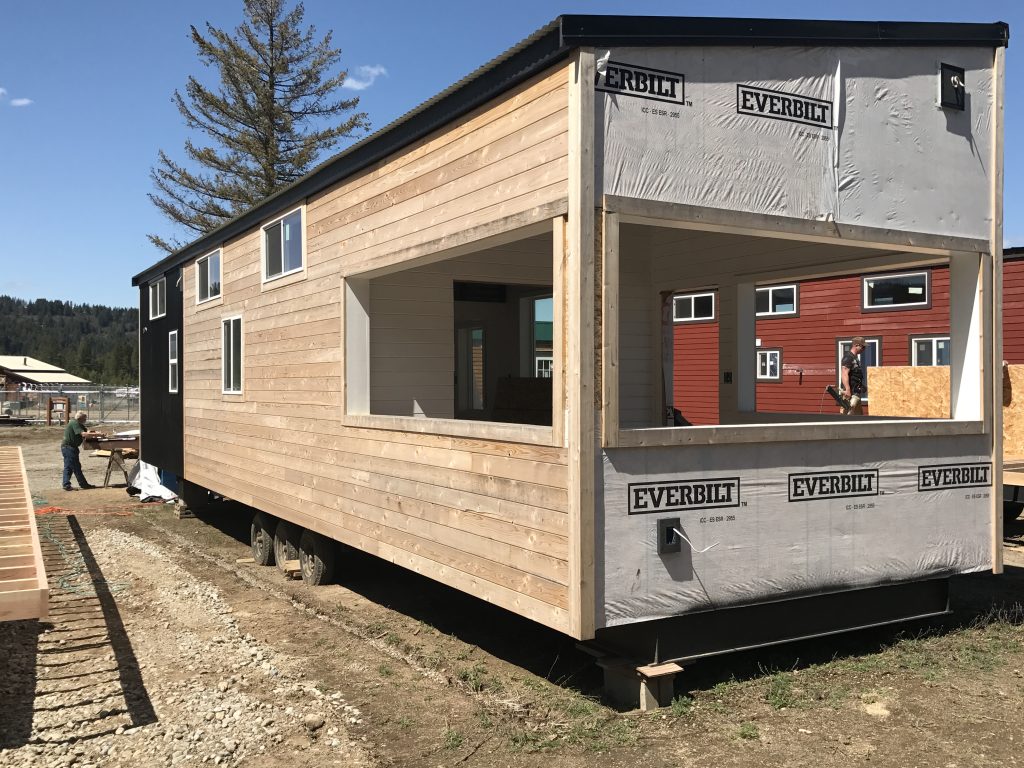 The addition of the 12′ deck allows room for outdoor dining and fun activities and a way to enjoy nature when weather permits.
Inside View Of The 12′ Deck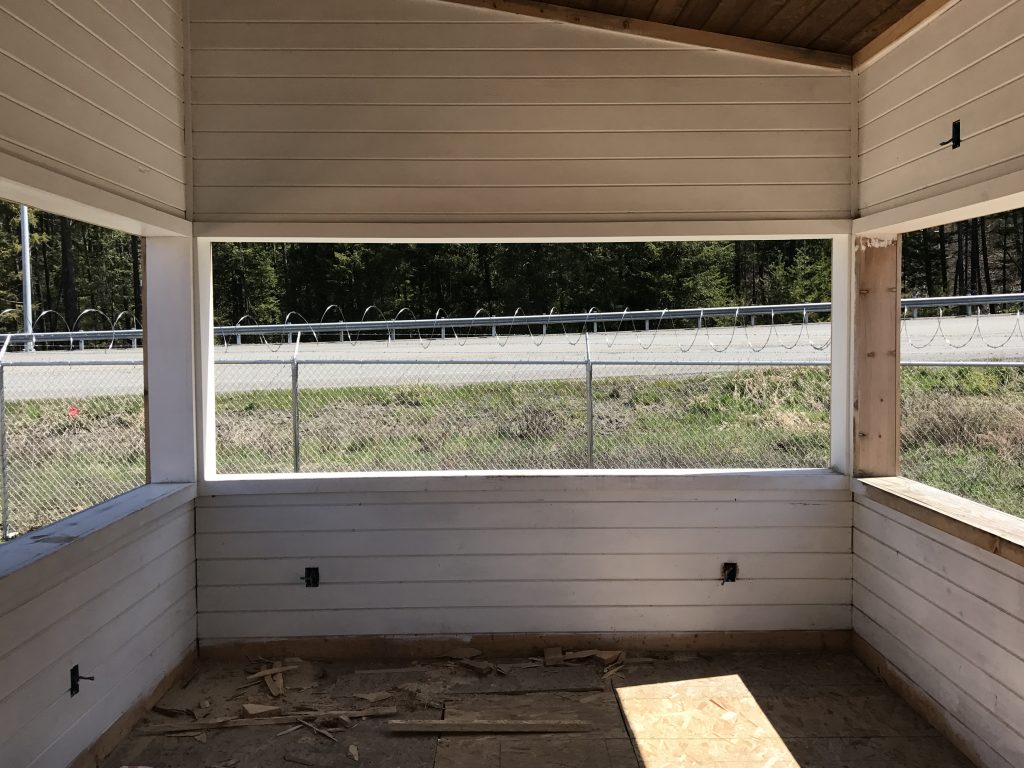 I love how the sides of the decks are extended that creates shelves for plants. It would be a great area for container gardening.

Love the two tone look of the deck walls and dark ceiling
The Lake View Cabin: 12 X 33 With A 24′ Loft And 16′ Deck
This cabin has a nice big 24′ sleeping loft where there can be two children or a couple and  a  bedroom on the ground floor.
24 ' Loft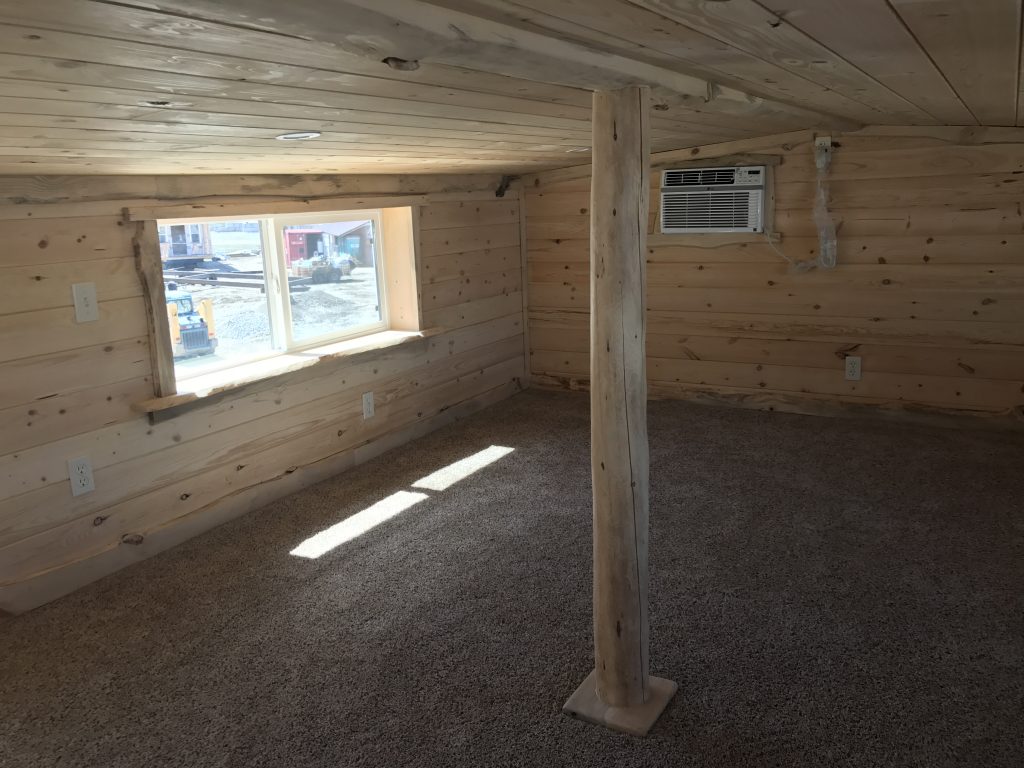 16′ Covered Deck With Outside Lighting And Ceiling Fan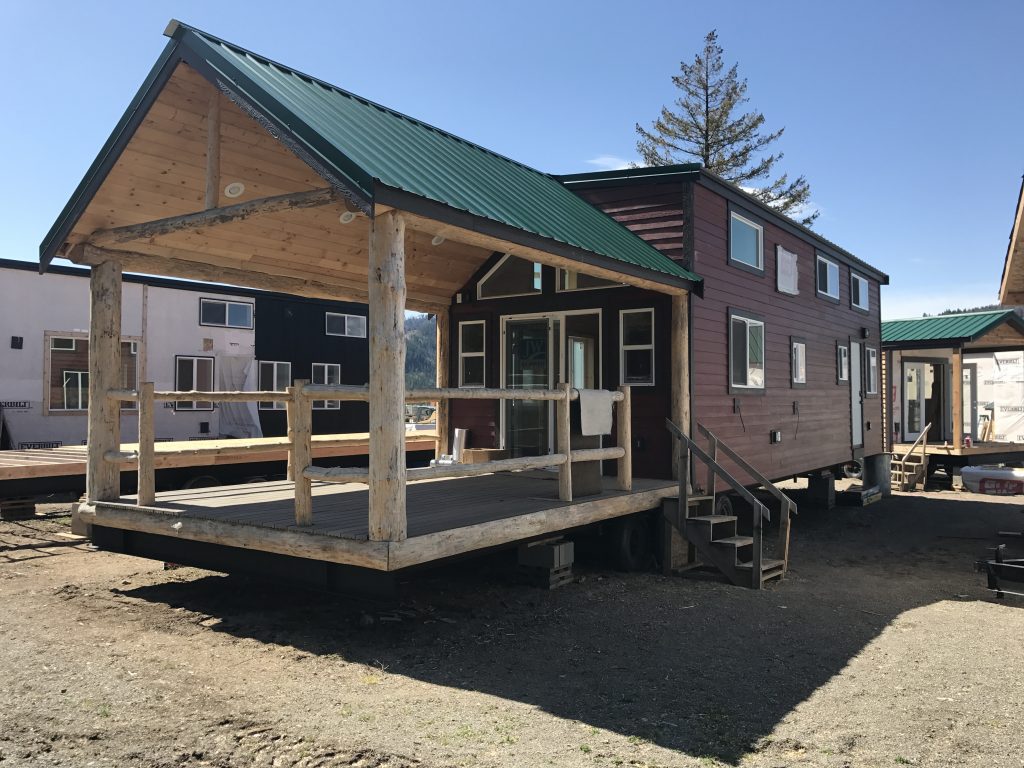 Love the high peak gable roof over the rustic deck and the sliding glass door. The covered deck will be an added bonus on hot summer days.
Inside View Looking Out Toward Deck
Pardon The Dust: Cabin Under Construction:  Short Video Walk Through
The bedroom is way in the back and there is a little corner for the stack able washer and dryer next to the closet.
Incorporating A Family Farm Sink The Kitchen: Love It!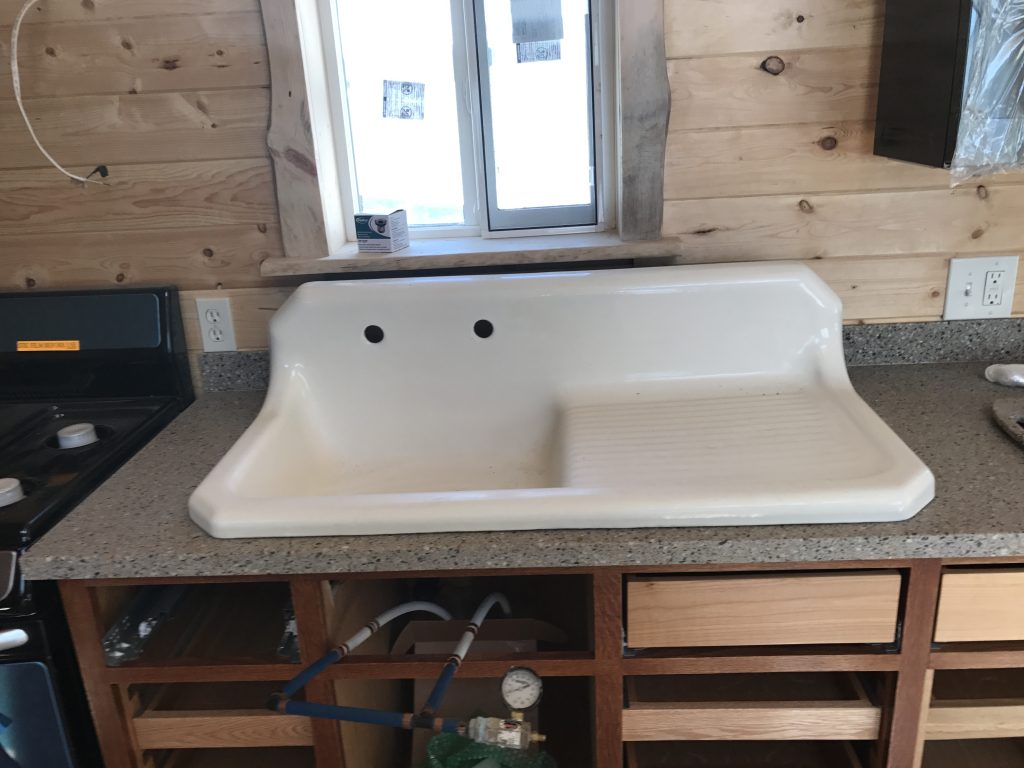 Utility Sink In A Small Alcove: Nice Touch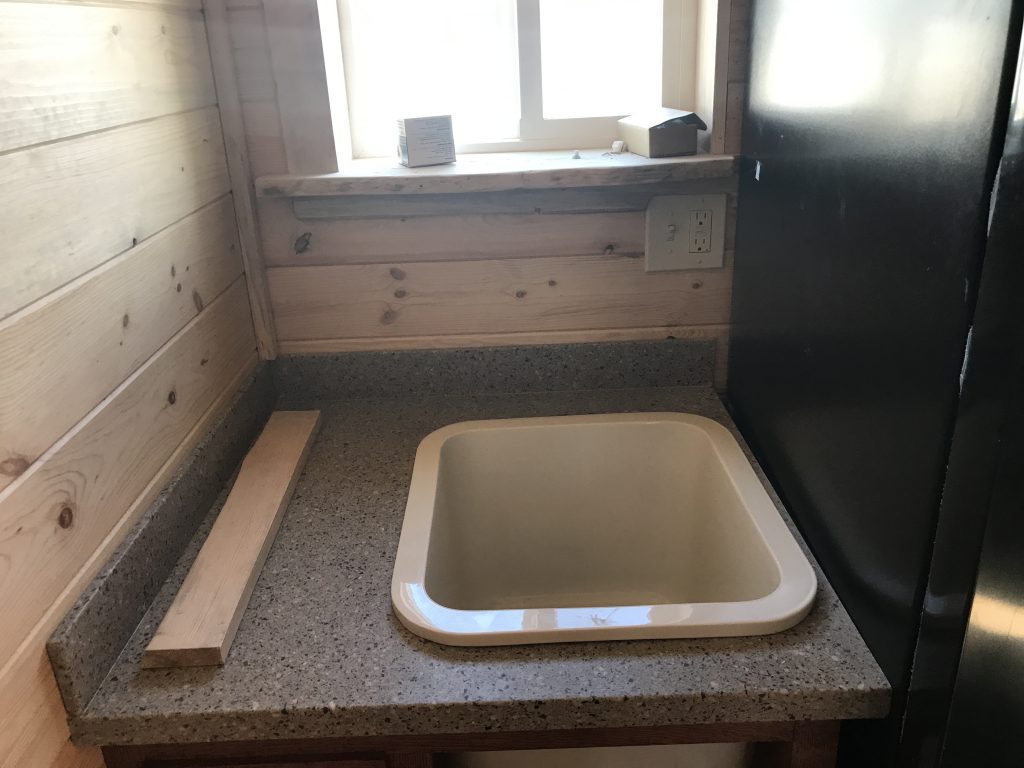 Double Divided Sleeping Lofts Over Decks On Each End
Lake View: 12 X 33 With A Low Pitch Roof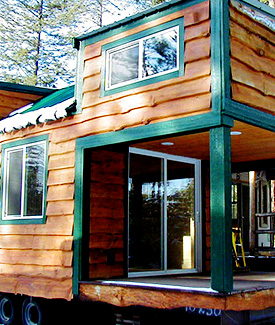 The Lake View Cabin with two divided lofts with a low pitch roof  is one more cabin I would like to show you that would be a great option for a tiny home for four  to create two lofts for even more privacy. Dave can build a cabin that has a deck on each end with a sleeping loft above it. I do not have the best picture describing this choice.
Adding Lofts And Decks To Any Models
The models we present here are just examples of what Dave builds. You can take almost any model and add lofts and decks to add more living space. Decks cannot be screened or closed in, because that is when square footage is added. Review the roof styles to determine what style you like best.
Seven Options For 400 Square Feet
Dave has seven options that are 400 square feet in several dimensions and will be the best size for a family.  Review to see what fits your taste.
Want To Get Started?
janet@tinyportablecedarcabins.com
509 770 1694
509 345 2013
Save
Save
Save
Save
Save
Save
Save
Save
Save
Save
Save
Save
Save
Save
Save
Save
Save
Save
Save
Save
Save
Save
Save
Save
Save
Save
Save
Save
Save
Save
Save
Save
Save