Groundbreaking Ordinance Passed
Tonight, The City and Borough of Sitka, Alaska creates history for the tiny home industry. The second and final reading for ORD 20-02S (A) passed at a vote 6 to 0 and is a great win for movable tiny homes. Sitka, Alaska has approved tiny homes on a foundation, but what is groundbreaking, they have written an ordinance that amends Appendix Q that applies to movable tiny homes. From the floor joists up, the tiny home will be built to the IRC Appendix Q.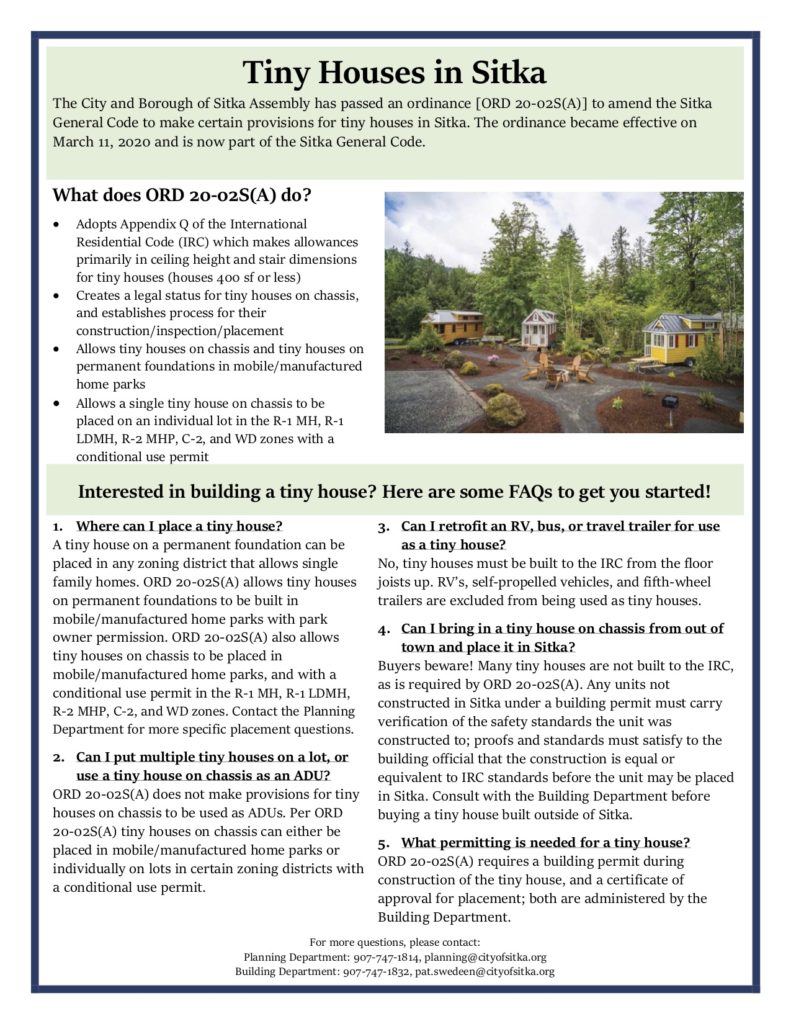 The chassis on which a tiny house is placed or constructed, including all components attached to the chassis, shall be of adequate structural strength to resist all dead and live loads imposed upon it and/or required by applicable safety standards. The Building Official may require third-party certification to ascertain compliance with this section.
Both tiny homes on a foundation and movable tiny homes will require a building permit and will be subject to inspection during construction. Legal Classification: Tiny House On A Chassis somewhat of a hybrid standard, built to local building codes, though Sitka created their own classification which allows for full time living with conditions. The trailer will need to be registered at the DMV for transport purposes and the trailer should be structurally rated to support the load which is placed upon.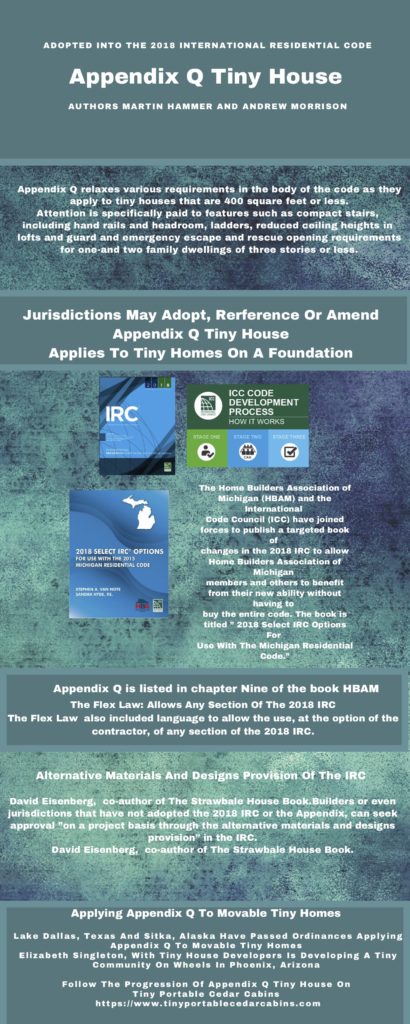 Appendix Q Tiny House
Appendix Q Tiny House was adopted  into  the 2018 International Residential Code ( IRC ) building code to provide regulations and standards for tiny homes on a foundation that is 400 square feet or less
Appendix Q relaxes various requirements in the body of the code as they apply to tiny houses that are 400 square feet or less.
Attention is specifically paid to features such as compact stairs, including handrails and headroom, ladders, reduced ceiling heights in lofts and guard and emergency escape and rescue opening requirements of lofts.
The International Residential Code is a comprehensive, stand-alone residential code that creates minimum regulations for one-and two-family dwellings of three stories or less.
The IRC brings together all building, plumbing, mechanical, fuel, gas, energy, and electrical for provisions for one-and two-family residences.  Appendix Q was adopted to the IRC building code standards through the ICC Code Development Process.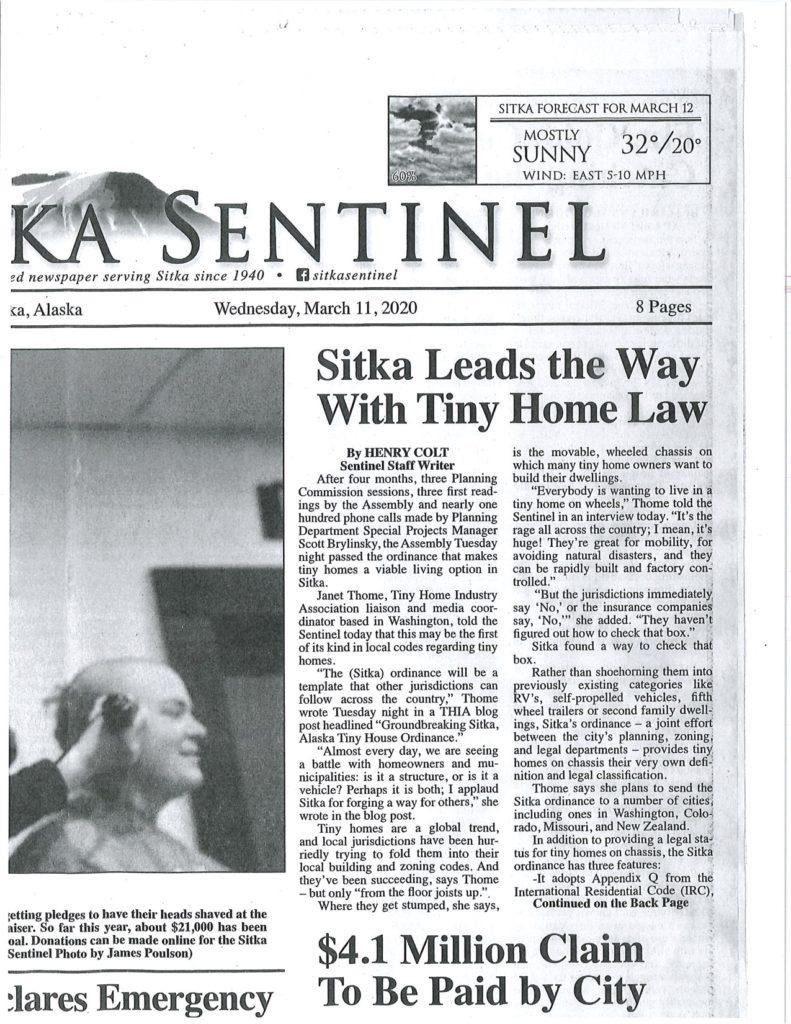 Sitka Leads The Way With Tiny Home Law
By HENRY COLT
Sentinel Staff Writer
After four months, three Planning Commission sessions, three first readings by the Assembly, and nearly one hundred phone calls made by Planning Department Special Projects Manager Scott Brylinsky, the Assembly Tuesday night passed the ordinance that makes tiny homes a viable living option in Sitka. Janet Thome, Tiny Home Industry Association liaison and media coordinator based in Washington, told the Sentinel today that this may be the first of its kind in local codes regarding tiny homes.
"The (Sitka) ordinance will be a template that other jurisdictions can follow across the country," Thome wrote Tuesday night in a THIA blog post headlined "Groundbreaking Sitka, Alaska Tiny House Ordinance."
"Almost every day, we are seeing a battle with homeowners and municipalities: is it a structure, or is it a vehicle? Perhaps it is both; I applaud Sitka for forging a way for others," she wrote in the blog post.
Tiny homes are a global trend, and local jurisdictions have been hurriedly trying to fold them into their local building and zoning codes. And they've been succeeding, says Thome – but only "from the floor joists up."
Where they get stumped, she says, is the movable, wheeled chassis on which many tiny homeowners want to build their dwellings.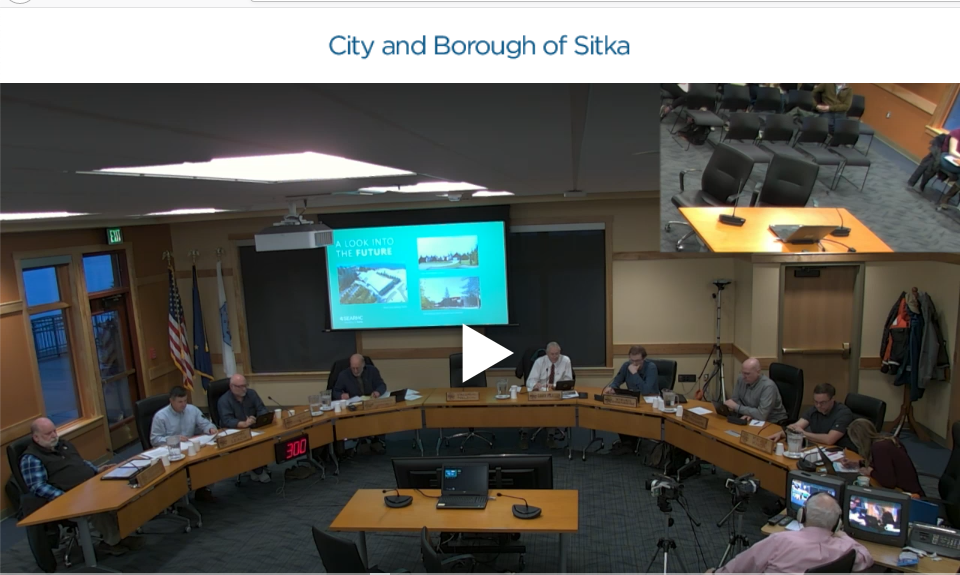 Listen To The Meeting On March 10th, 2020
janet@tinyportablecedarcabins.com
509 345 2013
509 770 1694